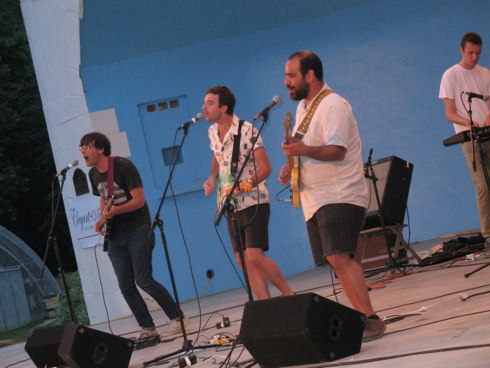 11 July 2012
Big Takeover writer Matt Berlyant's issue 70 interview with Brooklyn's Real Estate highlighted the band's early roots in the unassuming New Jersey suburb of Ridgewood, a Bergen County village which also spawned members of Vivian Girls, Titus Andronicus, and Big Troubles. So it was surprising when singer Martin Courtney admitted on stage that they'd never actually played in their hometown until this night, except for rehearsals. (I'd only been to Ridgewood once before, in July 2008, to see Robyn Hitchcock play at a bar/restaurant called Blend; its downtown area is quite inviting on summer nights.) The occasion was a benefit show to raise money for the Nick Currey Fund for Ewing sarcoma research, named for a 19-year-old Ridgewood resident who died of the rare bone cancer in 2005, and who graduated high school in the same 2004 class as Courtney and bassist Alex Bleeker.
Getting a late start, I missed both openers, fellow Ridgewood outfits Toasted Plastic and Spook Houses, arriving just as Real Estate took the stage shortly before sundown. I'd seen them twice before, opening for San Francisco's Girls at Manhattan's Bowery Ballroom in November 2009, and for legendary Jerseyites The Feelies at Brooklyn's Prospect Park in July 2011. But I hadn't actually heard any of their records prior to those gigs, so I came prepared tonight, immersing myself in their shimmering 2011 second LP Days. To my satisfaction, the band played eight of its ten songs, to go with a few from its 2009 self-titled debut.
Jonah Maurer & Jackson Pollis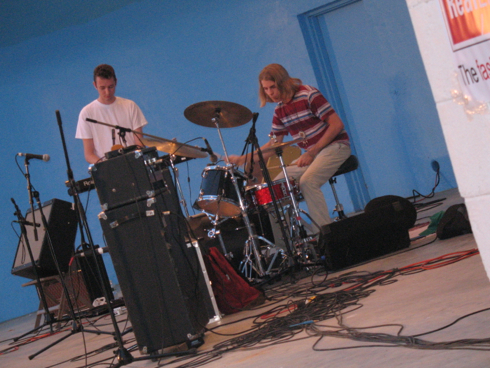 As I recalled from those previous shows, the band's playing doesn't knock you over so much as it lulls you in. Right from the opening song, Days' instrumental "Kinder Blumen," the twinkly, jangly guitars of Courtney and Matt Mondanile sounded as soothing as cicadas and wind chimes on a warm, breezy night. Other Days songs like "Out of Tune" and the main set closing "All the Same," as well as the debut's "Beach Comber," featured extended outros that filled the early evening sky. Though many relaxing on lawn chairs around Veterans Memorial Field were likely seeing Real Estate for the first time, the band endeared themselves to the hometown faithful by pointing out that most of the songs (especially the first LP's "Suburban Dogs," with its refrain "Carry me back to sweet Jersey/back where I long to be") were written about the town. They even gave a shout-out to its high school team nickname, The Maroons.
Their performance led to a well-deserved standing ovation after the main set, which prompted the band to come back on for an encore, "Suburban Beverage," with its one repeated line, "Budweiser, Sprite, do you feel alright?" As the show ended, the mosquitos were starting to bite harder, and Courtney said that he and his mates would be heading to his Mom's house for a swim. I'll bet it must've felt gratifying in that pool, reflecting on everything they'd accomplished since leaving their old stomping grounds.
Matt Mondanile, Martin Courtney & Alex Bleeker

Upcoming Real Estate dates:
7/14 Forecastle Festival – Louisville, KY
7/15 Pitchfork Festival – Chicago, IL
8/2 Belly Up – Solana Beach, CA
8/3 Henry Fonda Theater – Los Angeles, CA
8/4 Woodsist Festival @ Henry Miller Library – Big Sur, CA
8/9 MASS MoCA – North Adams, MA
8/10 Paradise Rock Club – Boston, MA
8/11 Webster Hall – New York, NY
8/12 9:30 Club – Washington, DC
comments powered by