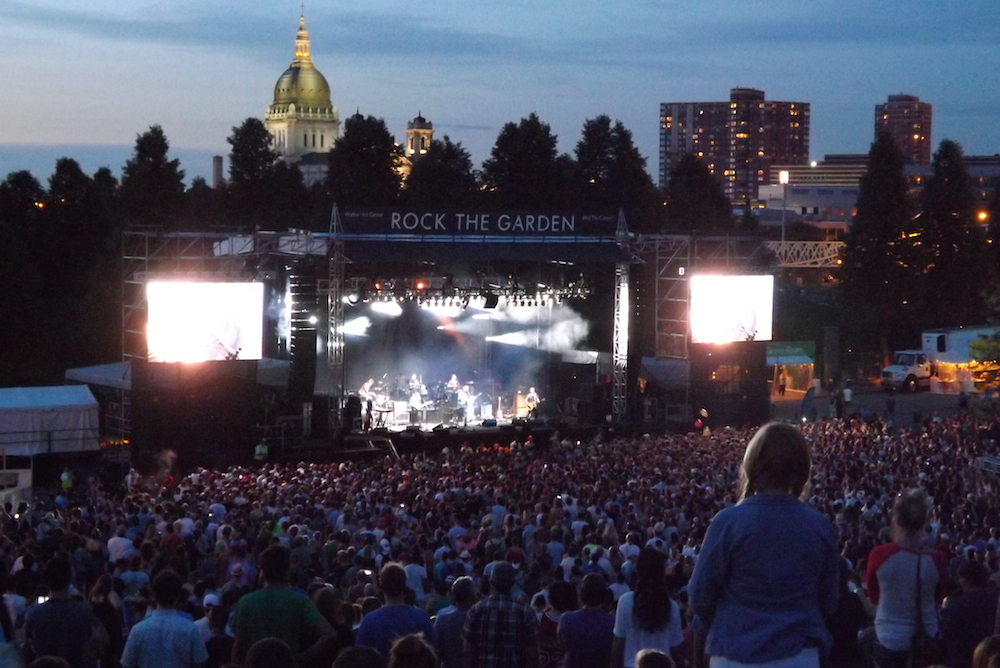 6 July 2015
As Rock the Garden, a joint venture of Walker Art Center and 89.3 the Current, continues to draw a bigger audience every summer, the lineup expands and improves. Programmers become better able to flatter regular Current listeners by bringing station favorites to the festival, and to schedule acts according to a tested formula. Like any festival that aims for broadest possible appeal without sacrificing the notion that it's geared toward the discerning listener, Rock the Garden increasingly seems to be predicated on the idea of music as authentic expression and a bridge between generations. This year's lineup balanced up-and-coming artists with veteran headliners, artists of famous musical lineage with those who have an almost fetishistic fixation on music's past. The festival's main problem is in finding artists who plausibly represent the future of music, and that's one that will likely persist as planners are beholden to thinking locally when filling the afternoon slots. When was the last time Minneapolis had any kind of fertile live music scene? thestand4rd, whose scene lives primarily on the internet, failed to suggest they're at the center of one.
Meanwhile, the headliners, Belle & Sebastian and Modest Mouse, who a mere (mere?) 15-20 years ago could count themselves part of youth music ("we're the younger generation," the former plausibly sang in 1997), still put on great shows even as their new material earns them few young fans. I'd seen both bands once before, roughly a decade ago, around the time the idea of either one headlining a major outdoor festival first ceased to be unimaginable. It was exciting, then, to see how far they'd come. Ten years later it's shockingly easy to take them for granted.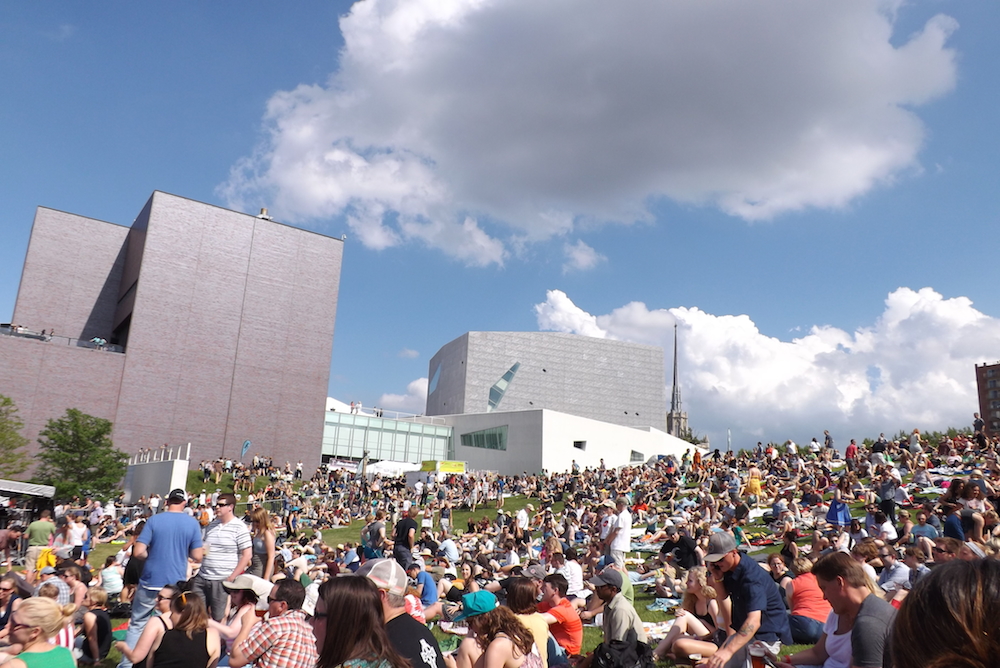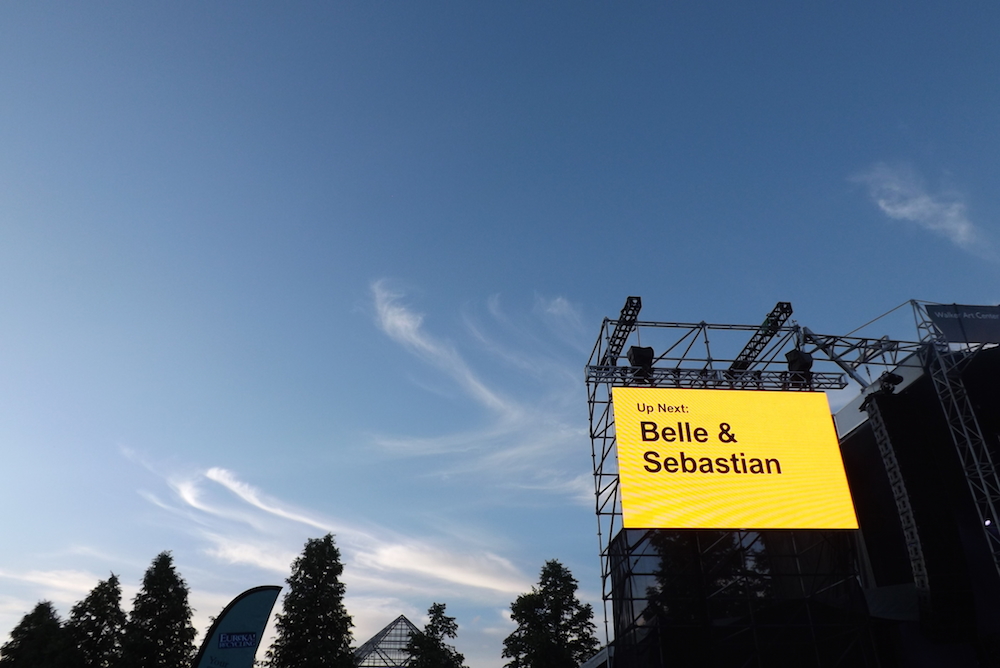 "Nobody writes them like they used to, so it may as well be me." That line used to sound like a glorious "fuck you," but now it's just Belle & Sebastian's inescapable lot as a mature pop band. Their music remains fresh and vibrant but certain other elements could use an upgrade. Just a few months ago, leader Stuart Murdoch became a central figure in a debate about indie's "unbearable whiteness," a situation not helped at Rock the Garden by the similarly whitewashed pictorial splendor, played on the big screens flanking the stage, that accompanied their opening song. If the music embraces variety so wholeheartedly, why can't the images?
In this tug of war between past and future, what gets left out is music's present. This year, only Courtney Barnett struck me as an artist who's truly of the moment. Here's what I saw:
SATURDAY
thestand4rd
It's no great mystery why Chance the Rapper would choose to make an album with a group of like-minded souls rather than immediately further his solo career after incredible early success (right?), so I guess I shouldn't hold Allan Kingdom to a different standard. But however one feels about his own social experiment and its members in their preferred internet context (I'm lukewarm), as live performers the rest of the group is clearly just holding him back. Among a trio of glowering Charlie Browns, Kingdom worked the crowd and was easy to spot as the guy who'd spent time on a stage with Kanye West. The songs dissipated by the time they reached me but he was magnetic.
Lucius
Brooklyn band played a nice version of the We Five hit "You Were On My Mind," but their originals failed to distinguish them from countless other overly punchy retro acts in heavy rotation on the Current. The gender differentiation of the band's wardrobe (bearded men in white suits, women in flowing yellow dresses) accentuated their roles in a way that was mildly off-putting.
Courtney Barnett
The best set of the weekend. Barnett needs to release a live album immediately, if only to keep people from pigeonholing her as a wordsmith. It finally struck me that she's a guitarist, first and foremost, and that her words spring from the ways that being a guitarist shapes her interactions with the world. The blues of her playing bloomed into full view, and though she only placed a beer bottle against her strings once, as a brief aside, I happily imagined a full instrumental set of slide guitar. "Small Poppies" became song of the year, in its live incarnation. The significance of Barnett following a lyrical moment of hard-earned self-acceptance with a truly liberated solo is hardly lost, on the recording, but this time she pushed all those elements even further, scraping out words with an intensity that even Kat Bjelland barely matched the next day. Later and to my right, a blond kid perched on dad's shoulders and mouthed some of the words to "Avant Gardener." She looked like she'd maybe been coached but I flashed back to how great it feels to get that invitation to the musical world of adults, when you're young.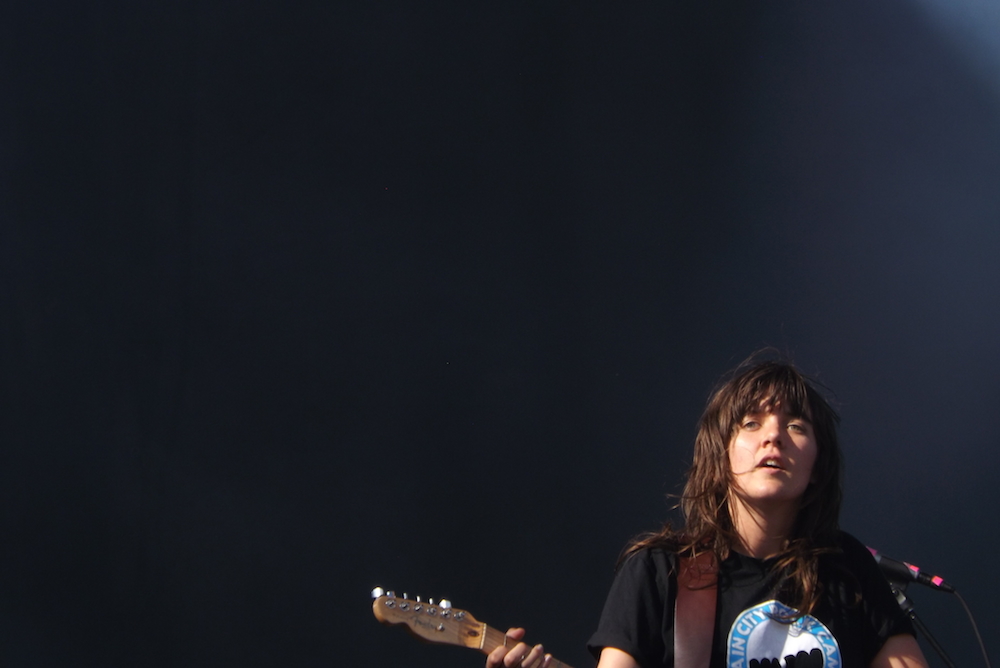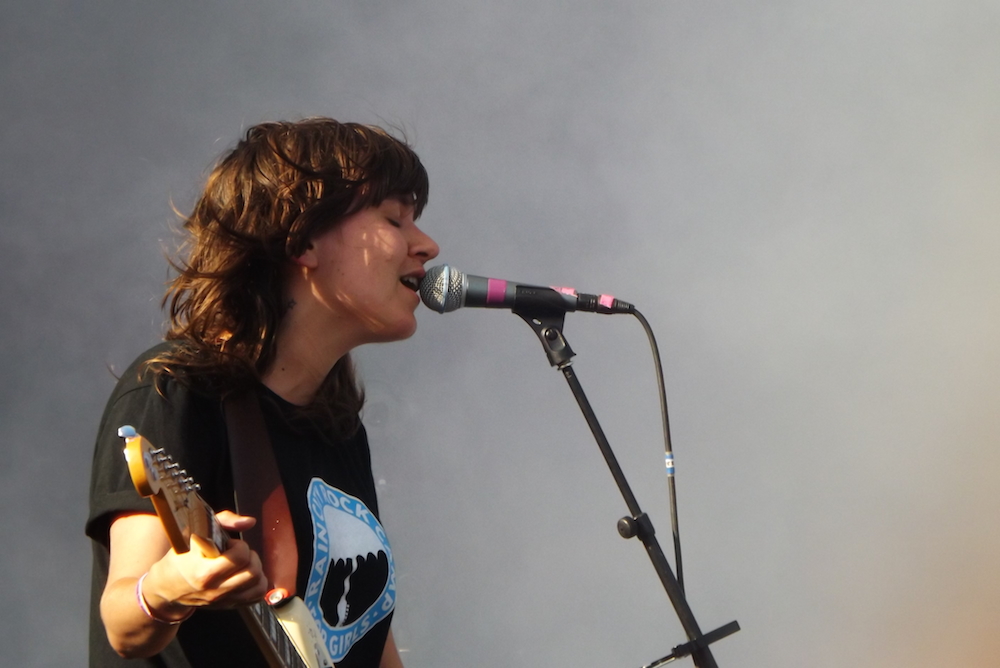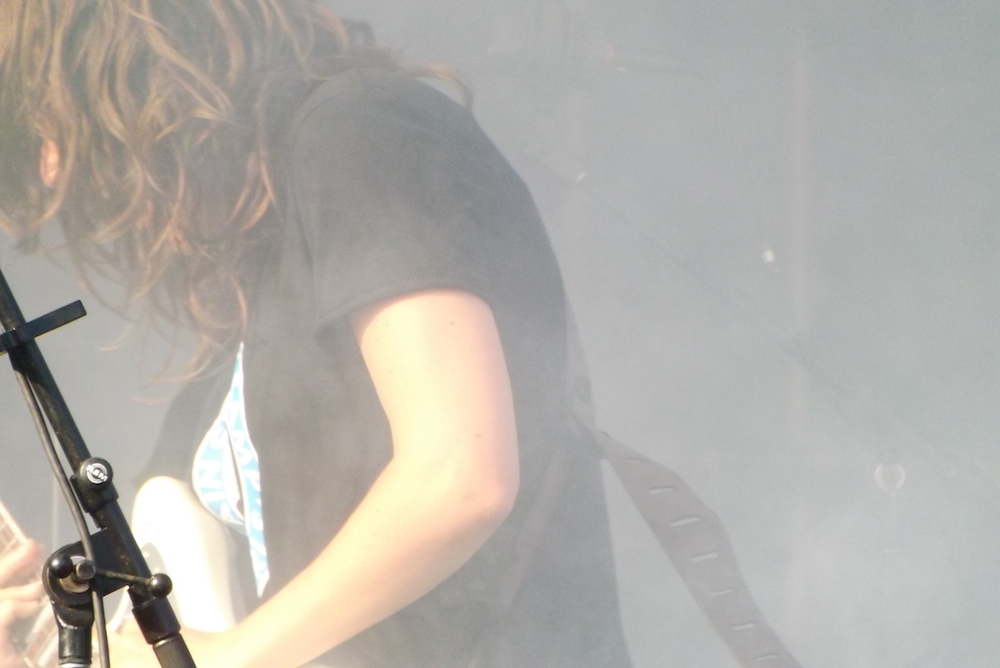 Conor Oberst
I hadn't kept up with the ongoing career of this former wunderkind but it seems, at least on the basis of lines like "I hope I'm forgotten when I die," that he's rescued himself from other people's expectations, though probably with greater difficulty and at a slower pace than another trembly-voiced C.O., Christopher Owens. A few days after Rock the Garden, Oberst would be heading out on tour with his punk band Desaparecidos, so he held that spirit for later, committing instead to the folk-leaning music he's released under his own name, The Felice Brothers serving as a solid backing band for his performed vulnerability. He still quakes with the need for big musical gestures and communions (with the audience, with the violinist, seemingly transplanted from the bleachers at a NASCAR race) and healing words (to paraphrase: there are a hundred ways to make it through the day, choose one). From my limited view it all sounded more generous than not, a habit performed out of no obligation to anyone but himself.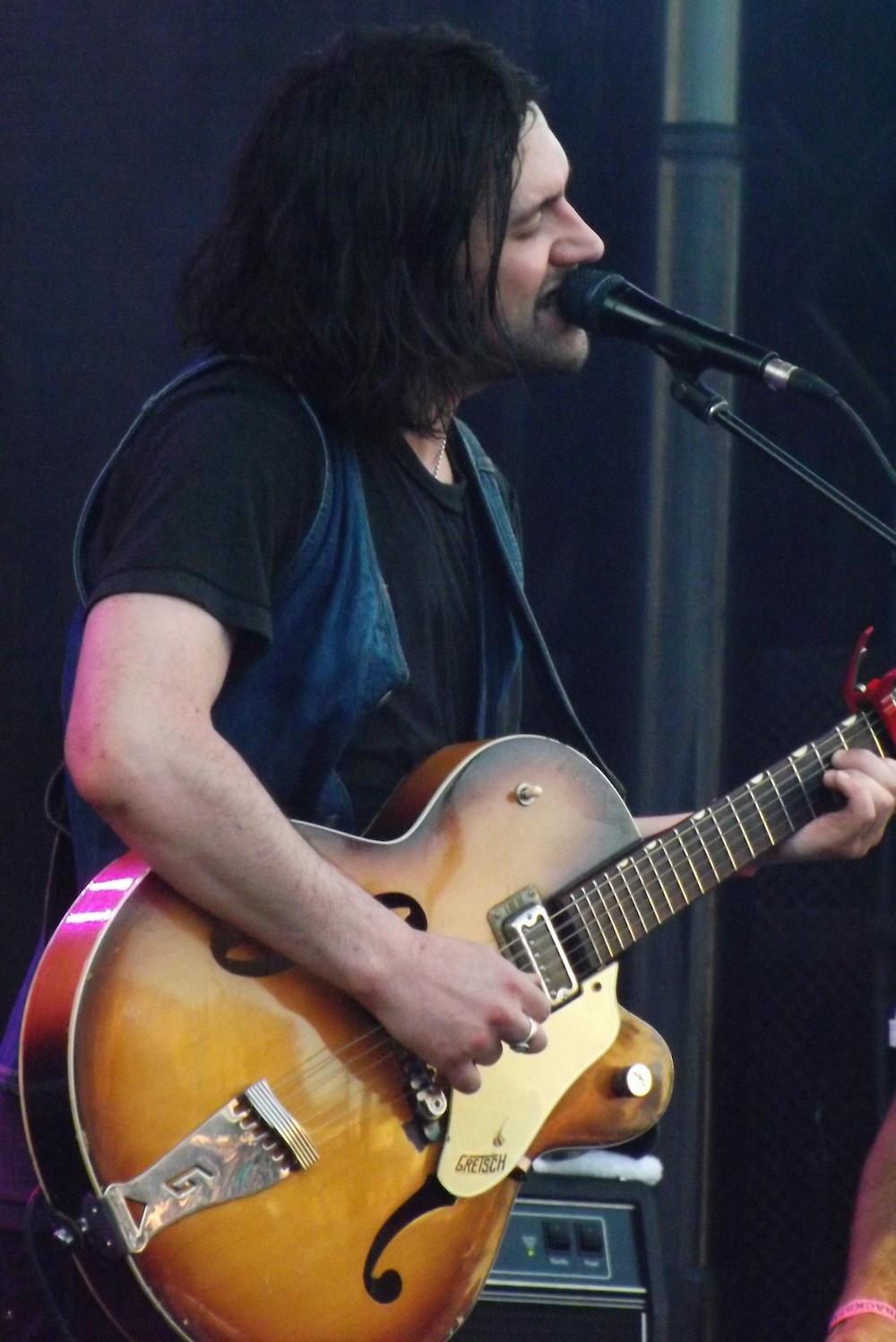 Belle & Sebastian
Stuart Murdoch gets much of the attention but maybe Stevie Jackson is the true showman of the group. During his "Perfect Couples," he wooed the audience by riffing a Twin Cities Romeo and Juliet: he's from Minneapolis, she's from St. Paul; he likes The Replacements, she likes Prince; they both like Spider John Koerner. United at last with the Minneapolis string quartet that recorded tracks for this year's Girls in Peacetime Want to Dance, Belle & Sebastian flaunted local knowledge and took to the weather, their set culminating as a sort of solstice dance party, enabled by the band's ambassadorial spirit (a large section of the audience joined them on stage for set-ending "The Boy with the Arab Strap" and "I Didn't See It Coming," both irresistible). I remember when their ease as crowd-pleasing extroverts was a revelation, and I thrilled to reencounter it while looking for evidence of former shyness and fragility. Song selection was imaginative, never obvious, and reached back no further than 1998, so "Piazza, New York Catcher" was the gentlest number played, its "Walk Away Renee" reference a reminder of a time when The Left Banke marked Belle & Sebastian's highest aspirations as a pop group. Now they've got modern disco sounds in their repertoire, in new songs that they confirmed as essential additions to the catalog.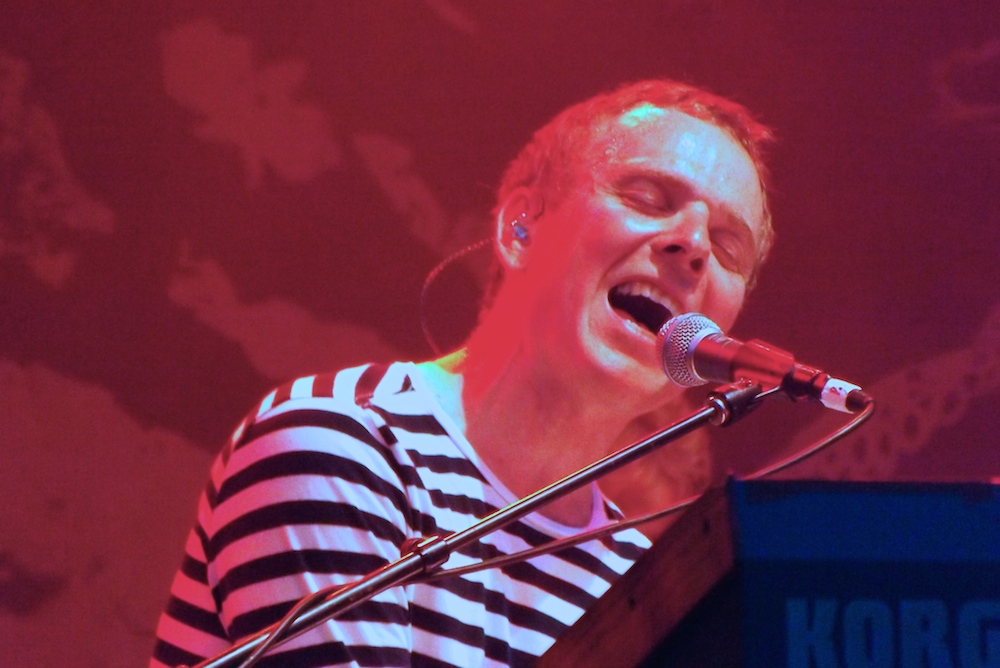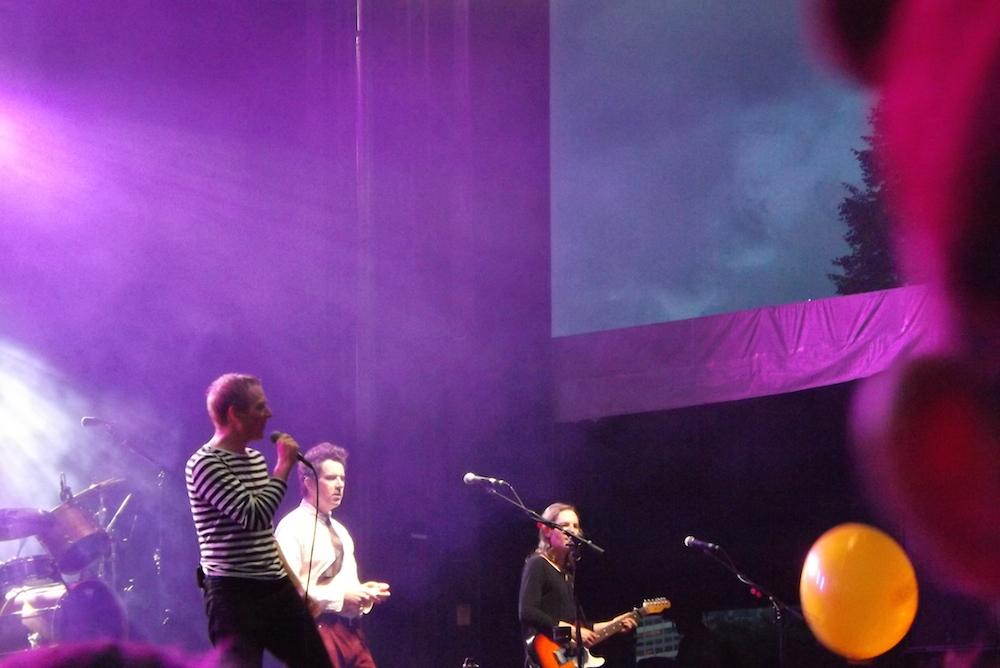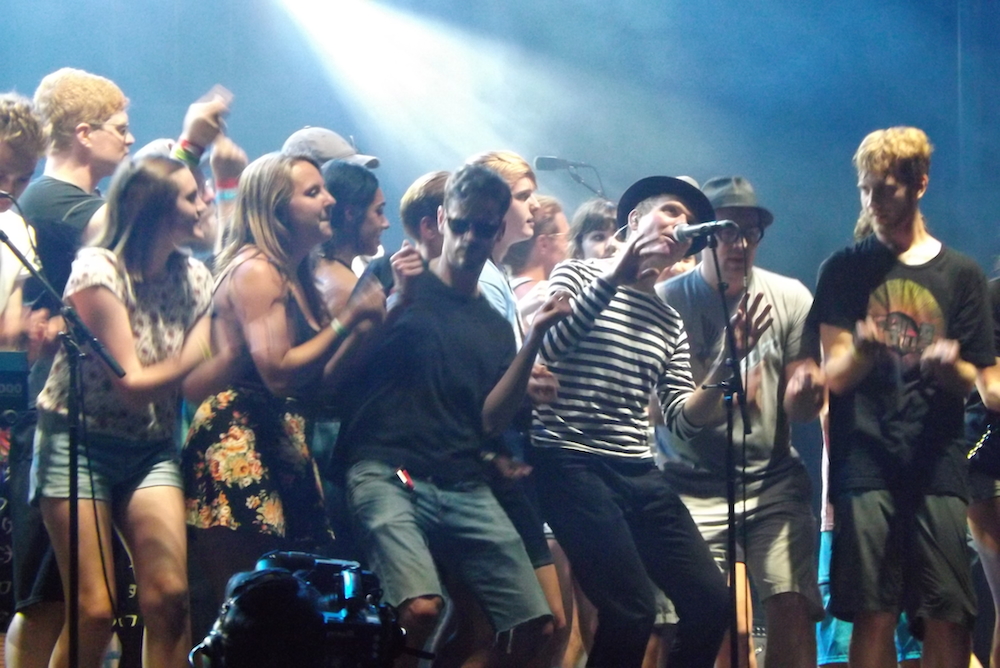 SUNDAY
The Ghost of a Saber Tooth Tiger
Advertisements for Rock the Garden helpfully added, in big font under the band's name, "with Sean Lennon," but while he can't avoid being the spitting image of both his parents, Lennon has no interest in touting his identity, and his set had little to do with the kaleidoscopic 60s pop of his solo work. Instead GOASTT, his psych-rock group with Charlotte Kemp Muhl, thrives on band dynamics and billowing guitar work more than it does on personality. True to the style, songs that might read as mind-expanding studio explorations, on headphones, sounded merely nice, outdoors, a gas taking the shape of its limitless container. Writers have long characterized Lennon as a talented but undisciplined artist. He'll probably never be prolific, but his firm, undistracted commitment to a sound and style, at last, signals discipline as much as the work of kindred spirits like Ty Segall and Tim Presley, constantly churning out new material.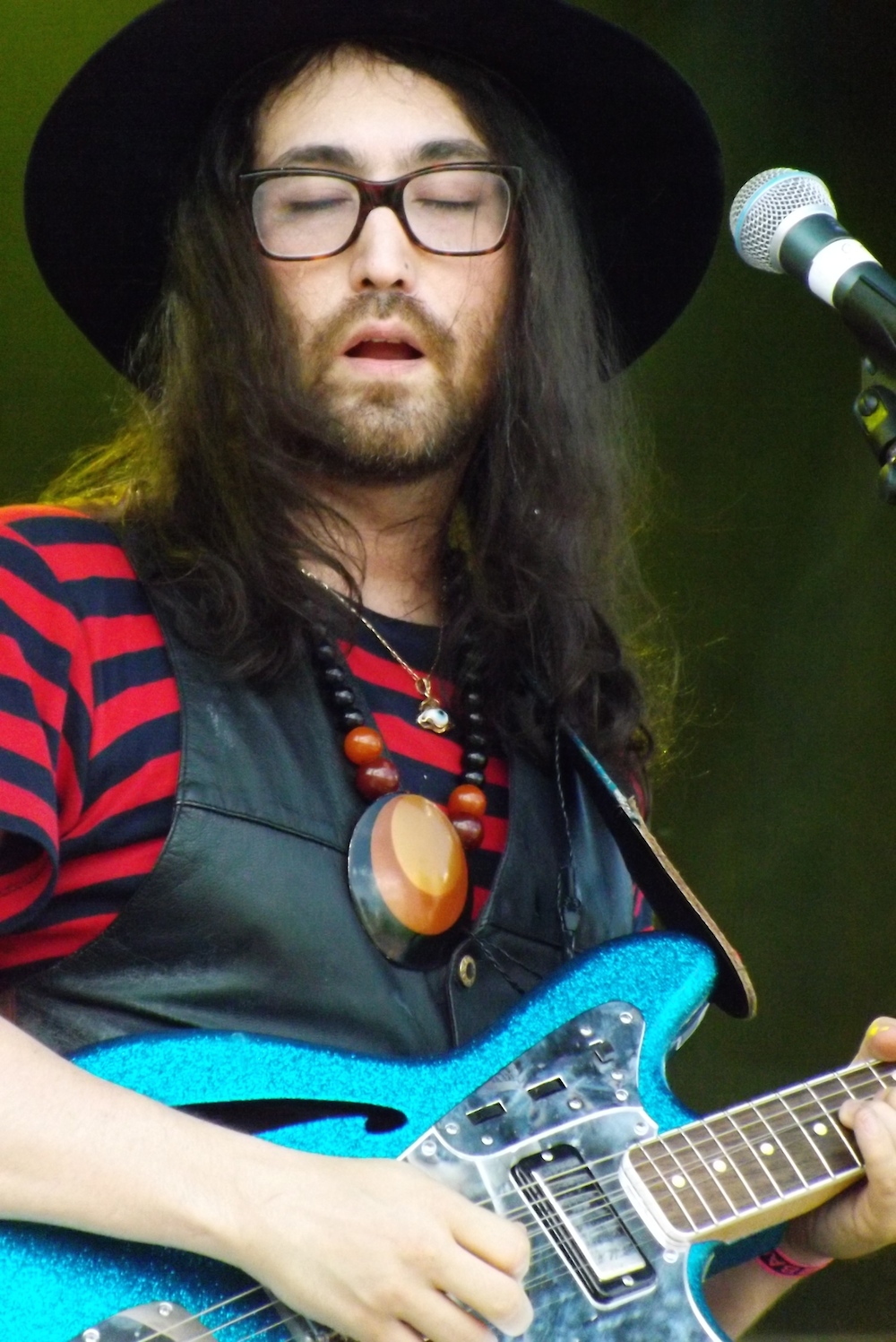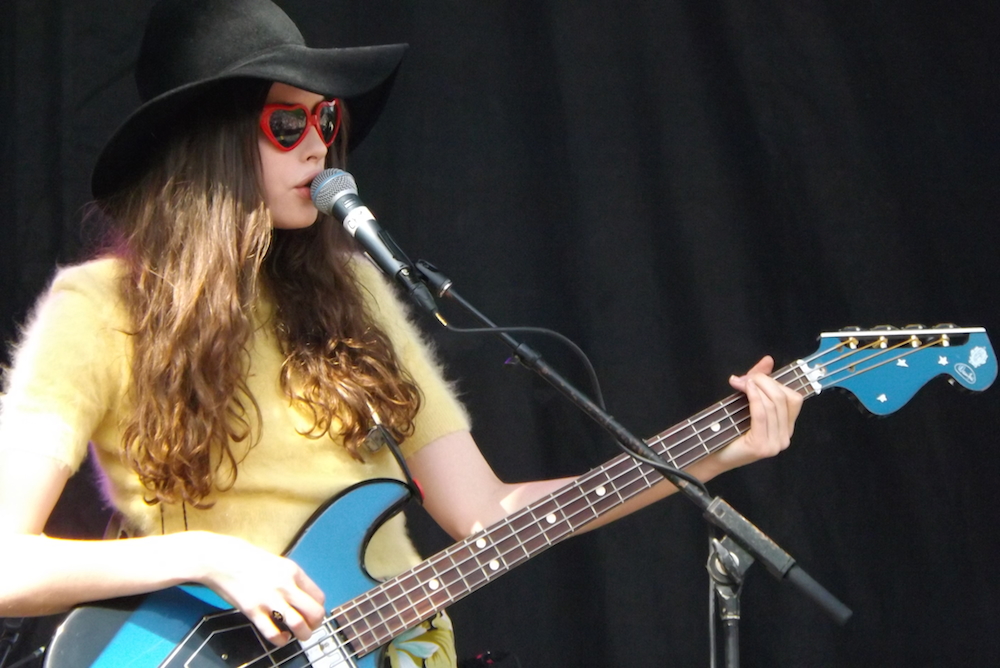 JD McPherson
Critics have compared McPherson's '50s-style rock 'n' roll to Fats Domino, Little Richard, Buddy Holly. That's an insult to all those guys, the two who are still living, the one who died 56 years ago. McPherson's players are good (keys, sax, upright bass), and he's the blandly energetic placeholder that allows them to be heard.
Seun Kuti & Egypt 80
The guitarists, as placid and still as Kevin Shields at a My Bloody Valentine show, gave away none of the secrets of the music's terrific energy, so that job fell on the horns, and in particular on showman/saxophonist Kuti, playing hypnotic lines in between relentlessly physical bouts of band-leading. His 18 years as leader of Egypt 80 now match his father Fela's time with the band, but honoring Fela's legacy remains the primary drive. The hour-long limit to the band's set was a major constraint, as much as it was for Guided by Voices last year. Kuti's few addresses to the audience, praising women and defining THC as "The Higher Consciousness," revealed a passionate, idiosyncratic speaker, but moments of extra-musical or political significance were mostly sacrificed in favor of the greater good: Eight long songs given time to seek their own and the audience's groove.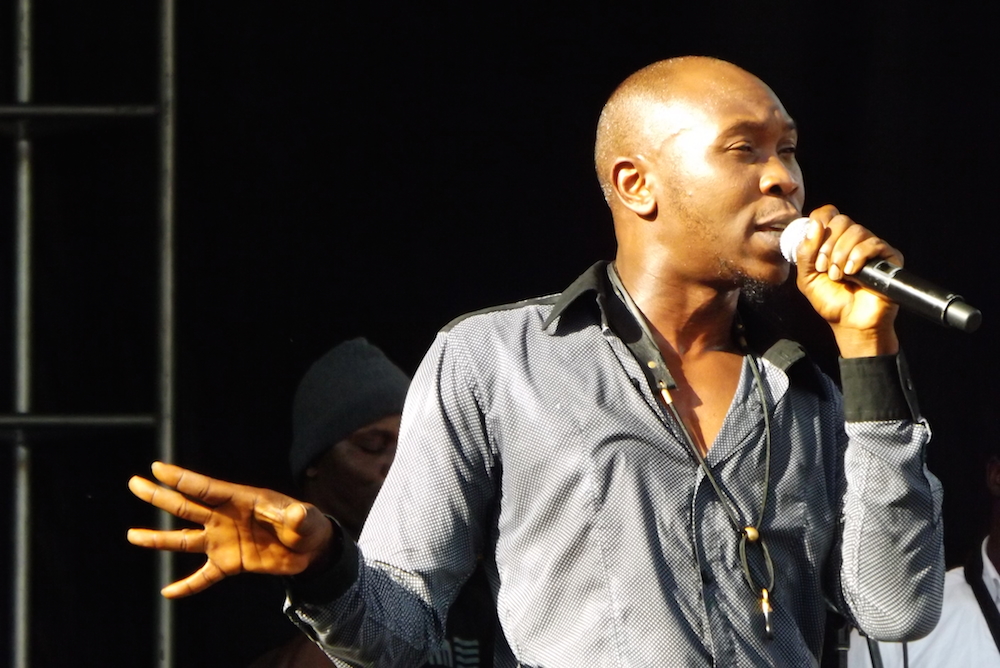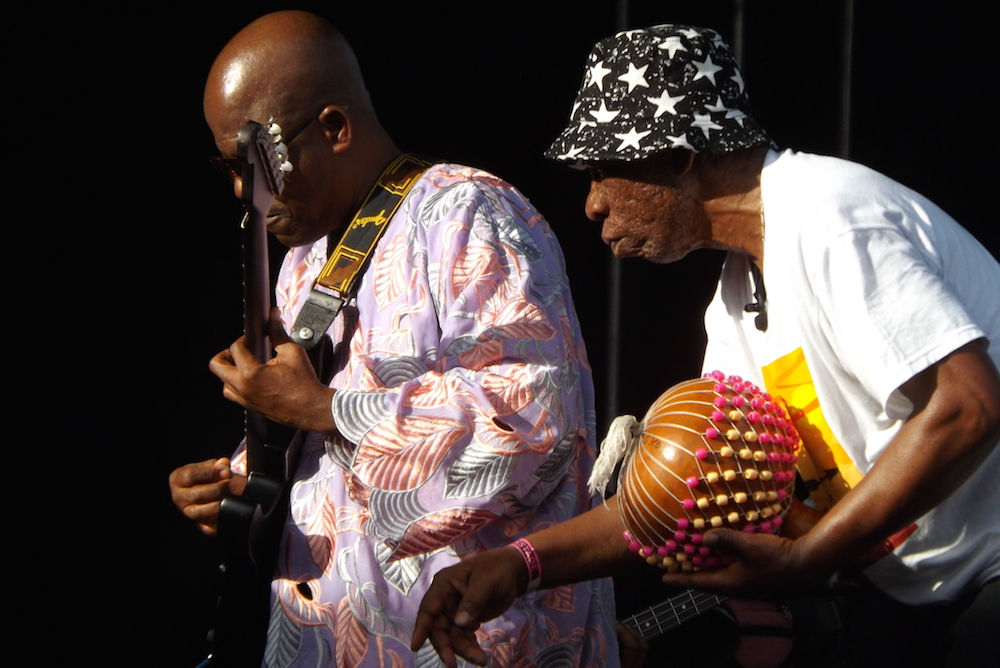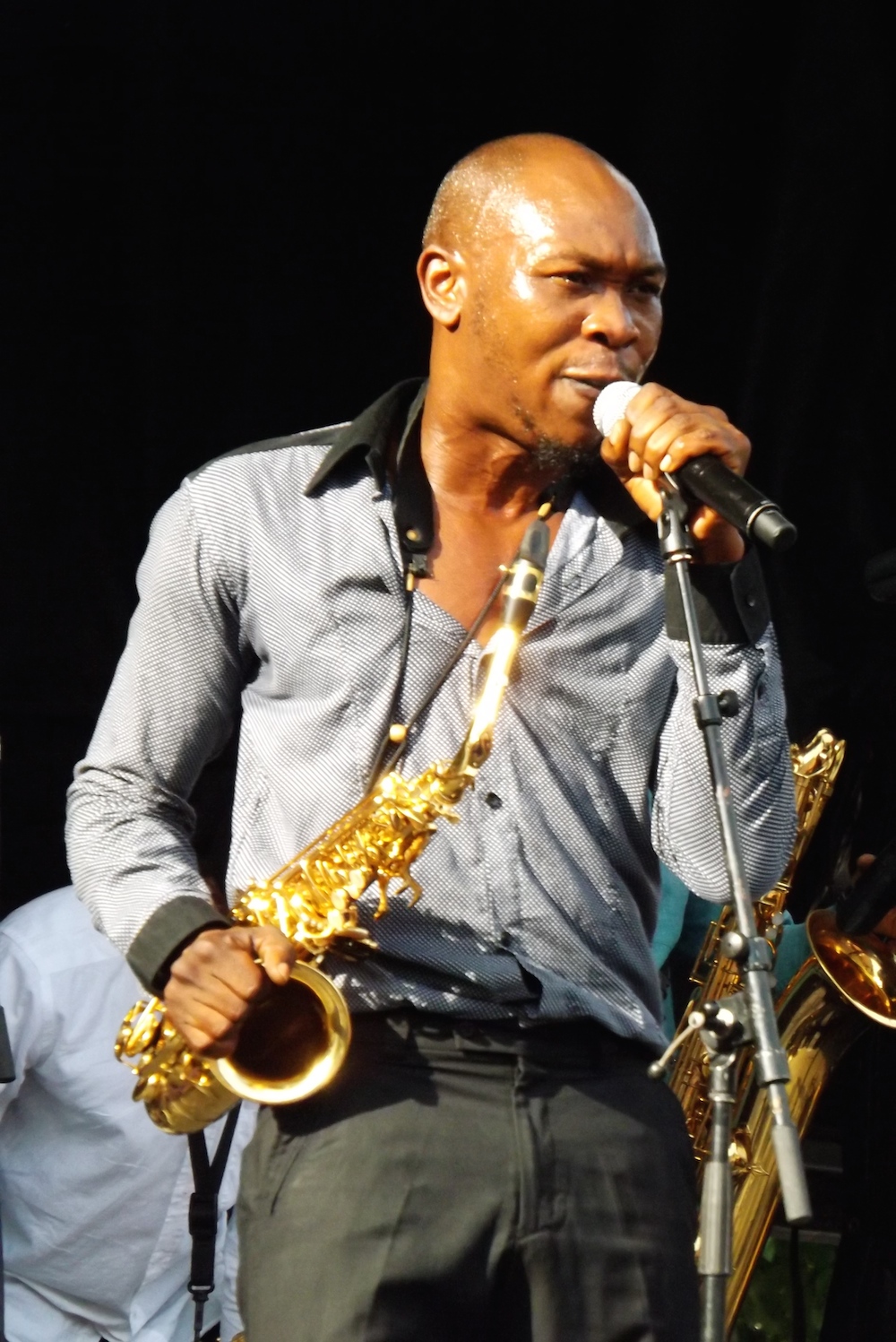 Babes in Toyland
A second hour of pure joy. On the surface, the Kuti to Babes in Toyland transition might have seemed among the most jarring in music festival history, even with the Damned and Stiff Little Fingers-featuring playlist smoothing over the rupture between sets. (And the people agreed, as massive displacements of the crowd in front of the stage continued all day, Kuti's daytime revelers giving way to Babes' community of witnesses, and they in turn giving way to an army of twenty-something Modest Mouse fans, emerging en masse from unseen corners; the homogenous festival audience is a myth.) But, as evidence of music's ability to create moments of bodies in triumph (also, its social and political importance? its visceral, transformative power?), the two sets were twinned in a more meaningful way. A City Pages profile detailing the hardships Kat Bjelland, Lori Barbero and Maureen Herman have individually endured since their last time playing Minneapolis colored my reaction to their set, but they were clearly aiming less to transcend the ravages of living, more to have fun. Smiles and thanks were plentiful, but "happy to be back" could hardly explain away the music's unselfconscious intensity. It came from a different, elemental place, and formed its own sacred space. Bjelland in particular left nothing in the past, not her bug-eyed intensity, not her hundred and one thrilling vocalizations. Songs came as short, distinct bursts, each its own specific exorcism, a knot of guitar, bass, drum and clashing metal, the flipside of the Minneapolis sound.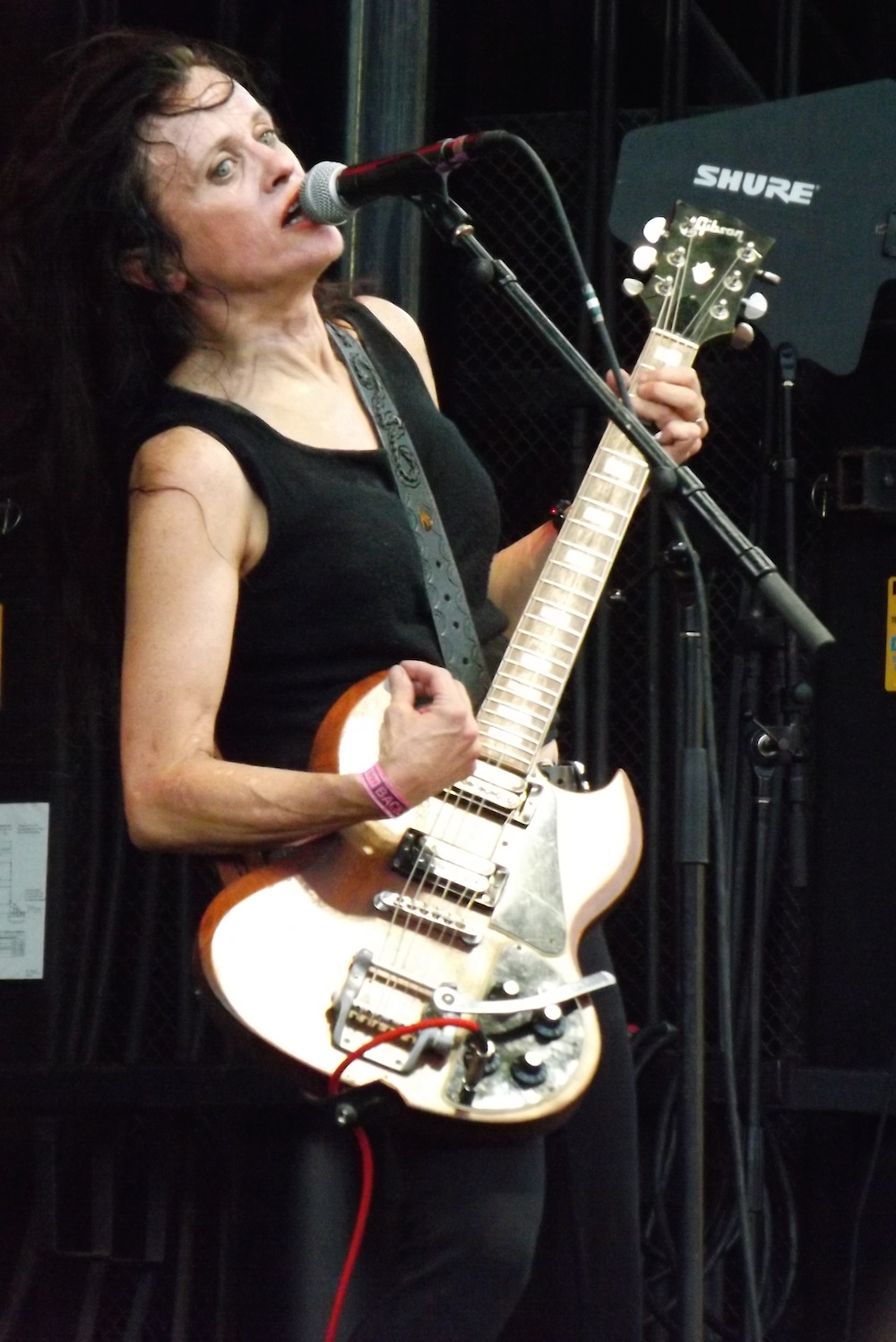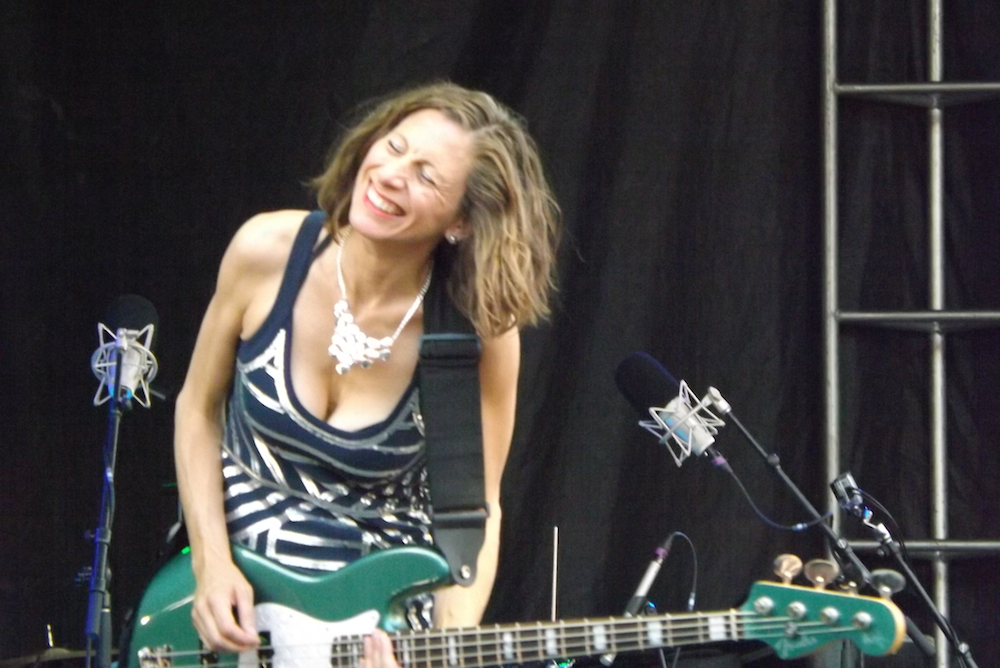 Modest Mouse
I remember Modest Mouse from before "Float On" and still find them most endearing when I imagine them as an overgrown, massively popular, modern-day version of Minutemen. When Isaac Brock leads a crowd through the chorus of their biggest hit, I cloak it in the imagined charm of D. Boon doing the same with "Take Our Test" or whatever. It worked. Modest Mouse have lost whatever nimbleness they might once have had, with new songs locked down by a heavy disco thump and indistinct melodies made weirdly ideal for sing-alongs. But Brock still animates it with that impressive bark and whimper of a voice, the American underground incarnate as stadium vibes.