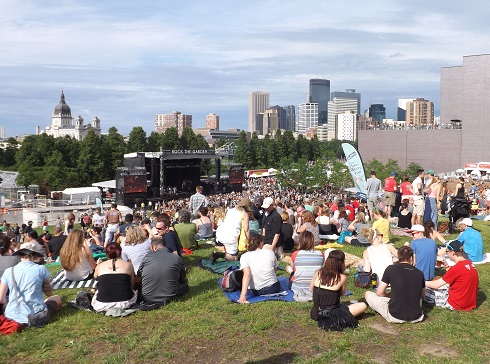 28 June 2014
An increasingly ambitious annual music festival, co-presented by 89.3 The Current and the Walker Art Center and taking place next to the Walker's Sculpture Garden in Minneapolis since the late 90s, Rock The Garden outdid all previous entries this year with a very well considered lineup of ten acts, split for the first time across two days. Here's what I saw:
SATURDAY
Lizzo
The sun was beating down, and I couldn't quite figure out what was going on, but what I've gleaned from the local weeklies was abundantly clear: Lizzo will be famous. Not that artists need total, annihilating fame anymore to reach the audiences waiting for them, but her fans and admirers wish it for her anyway. Of all the weekend's hip-hop acts she had the most basic on-stage setup, beats by Lazerbeak and support from Sophia Eris, but more than made up for it with herself. By the time I showed up she was kneeling on the stage, pleading her way toward the finale.
Jeremy Messersmith
A sign of the credibility Rock The Garden lends to local artists who are chosen to play it, Messersmith was neither the first nor the last Twin Cities act framed in terms of his humble origins, the idea being that he's finally made it, found the ultimate platform for his music. DJs from The Current introduced him as the kid who delivered his first disc to the station in a brown paper bag. He always had a beautiful voice (sometimes I can barely tell it apart from Ken Stringfellow's), but seems to have undergone an effective reinvention in the years since he brought his voice and his spare, haunting love songs to my college's own radio station in 2008. Now his love songs have become thrumming, high energy affairs, swooning and romantic (when not afflicted with creepy guy syndrome), and they alternate with songs bounded by the mechanics of 1966 rock 'n' roll, amber-trapped with The Beatles' "Daytripper." To help realize a new vision of himself, he brought a band large enough to rival De La Soul's, and it included Brian Tighe (The Hang Ups, The Owls, The Starfolk) on guitar, offering his authority on all things pop (power, chamber, et al). They made Miley Cyrus's "Wrecking Ball" sound good, but an epidemic of YouTube violin covers of pop songs hasn't convinced me that just because a song can be made to sound mildly pleasing, it's any good. "Wrecking Ball," alternating high and low notes of the verses (an okay idea) aside, deserved Messersmith's dismissive smirk after it ended. But if you have to signal "why did we play that?" after a song, then why play it?
Best Coast
I'll continue to defend them from charges they need to innovate, while admitting that even at the peak of their powers, the band's charm does have a limit: 30 minutes, give or take. That just means they should play short sets and make short albums, nothing else. They were allotted an hour this time and it was a bit too much, so that by the time "When I'm With You" appeared late in the set, the long, drowsy intro was neither long nor drowsy enough to separate the ensuing energetic rush from the energetic rush of all the previous songs. Even after a few moments suspended in time, the song couldn't locate its own unique spark. It's funny that, without the variable qualities of lo-fi production to enhance and delineate their sonic world, the band's clean guitars and sharp vocals blur in a more real sense. But their set was thoroughly pleasant, and had its fair share of absolute knockouts, emotionally complex, deceptively simple, other euphemisms for substance. "I Want To" is the acme of their art, and "The Only Place" bottles their ethos and showcases their craft, with a giddy second verse that finds Bethany Cosentino employing an inverted rhyme and cadences more commonly suited to hip-hop. I'd even call it flow, if it wasn't in a rock song. Subtle, stretching it, maybe, but something to hold onto while waiting for De La Soul.
Matt and Kim
They're an effective brand, or the ultimate warm-up act (De La Soul was thankful), or a pair of professional amateurs, or legitimate artists, but it makes no difference as long as the songs are good. The songs are good, almost digestible melodies with steel cores, strong enough to survive being made secondary to the performance. Kim is The Muppets' Animal, the drummer as id; poor Matt longs for the same but, chained to his keyboard and microphone and the task of carrying the song, becomes the singer as ego. You'll either be thrilled or bored by their antics and elaborate system of audience engagement measures, depending on your sense of the function of live music, but it's what they do. The only thing that bothered me was Matt's flippant introduction of a cover of "Ignition," by the "Great American Poet Robert Kelly" (i.e. R. Kelly)—your appreciation of his songwriting might be complicated, but this winking approach gets us nowhere. It smacks of the worst kind of appropriation, ironically shaming the original artist and then stealing the fun while losing the context.
De La Soul
The supreme highlight of the weekend. De La Soul have a new album coming called You're Welcome and took the stage with that spirit, starting a conversation about their music and then letting the audience take over. Tagline: To be celebrated, first they had to celebrate themselves. They've been doing this all year, releasing their entire catalog for free download, and asking fans, upon the 25th anniversary of 3 Feet High & Rising, what they were doing when the album first came into their lives. Snippets of the responses played as the group began an expansive set backed by the Rhythm Roots Allstars, and as they got into the music it became obvious, after all, that their art is rooted in generosity, not self-promotion. They promised to play "real hip-hop," and anyone asking "what's that?" might have started to imagine it synonymous with the presence of a live band—guitar, bass, keys, trumpet, sax, hand drums, drum kits, turntable, actual scratches on actual wax. This was new ground for me, as a concertgoer. Aside from Big Boi last year, who benefited greatly from a live drummer, I've mostly encountered MCs and computers. Not everyone can afford to travel with a dozen-piece band, of course, and the exclusion of pre-programmed tracks shouldn't be considered any kind of moral imperative, but De La Soul's approach had a particular way of foregrounding Posdnuos and Dave and Maseo as listeners, aligned with the audience in their enjoyment of the music and in a special position to do something constructive with it.
The sound came closest to the ebullient, irrepressible live innovations of 1993's Buhloone Mindstate, from which "I Am I Be" became a particular high point of the set. From sample-heavy 3 Feet High, "Eye Know" adapted nicely to the organic environment, a much subtler reshaping than the sort of shocking version that appears on new mixtape Smell the DA.I.S.Y. The bass was streamlined, playing the simple three-note rising melody that makes a mostly unheard impression on the original recording, but otherwise the song was its same sweet, fleeting self, a few verses, the horns (live!), and out. As I've said before, humankind's greatest moment. The audience was more keen on De La Soul's delivery (excellent, admittedly) of their verses from Gorillaz' "Feel Good Inc," reaffirming the group's need to constantly introduce new listeners to a deeper understanding of its history, and never rest on the assumption that its legend is secure. Everyone's feeling that, these days. At the end they made sure to thank non-fans for being willing to party with them.
SUNDAY
Valerie June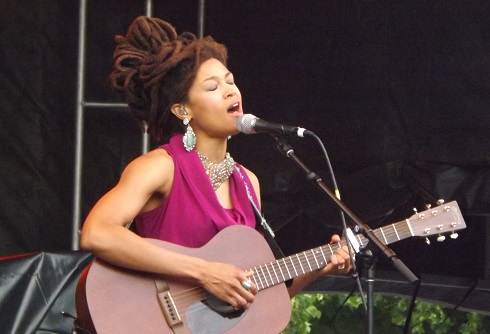 The country stuff is in her voice, and the R&B stuff goes beyond her voice—on Pushin' Against A Stone, it's in the production, moments of call and response, etc., so that the album creates a mystical rural space where its R&B songs sound like radio intrusions from the city. What this means for her live show is that, since she can only bring along a bass player and a drummer, she doesn't conjure those R&B transmissions but simply presents her natural, country self, one that seems at times an impossibility, untouched by the outer world. Well, she's on tour, so it's her sense of self that's durable, not the fences around her Tennessee home. She sang a song to drive away the rain (it worked, of course), she sang a gospel song, she delivered what seemed like an internal monologue, overheard, about her recent sleep patterns, she said she doesn't believe in the numbers of years, she said she was just passing through, and through it all, that voice: a high, shivery tone demanding amplification as much as any electric guitar ever did, sometimes interspersed with grumbling scat sounds, like a horn with an unconventional mute, and all stops in between.
Kurt Vile and the Violators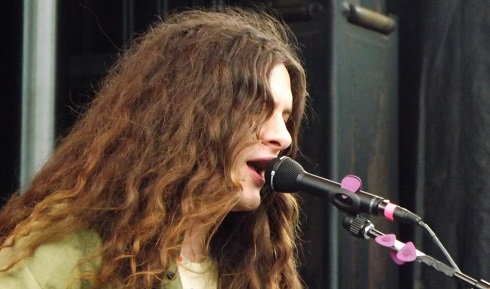 Vile was the only act all weekend to push against the positivity/utility of festival music and make some real, non-manicured noise, with help from his band ("I got The Violators in the area," as Posdnuos once said). That was during "Hunchback," mainly, and a little bit during a cover of Richard Hell/Dim Stars' "Monkey." These songs were gloriously disruptive in a way they wouldn't have been in any other context. Elsewhere his guitar epics (eight total, spread across most of an hour) had more of the languid quality that listeners have come to expect from Vile and that, per the usual rule of good art, belied the labor that goes into the music's making. During golden opener "Wakin on a Pretty Day," sound problems plagued Vile, who was barely able to keep his voice in time with the music, and then returned to nearly derail "Freak Train," slow to find the right balance between the band's accumulating energy and the loud cycling of a canned locomotive beat, and then strengthened, perhaps, by the eventual resolve and crushing crescendo. He ended with a solo blues about playing guitar with a dead hand, and it revealed a side of him that last year's Wakin on a Pretty Daze, for all its other merits, started to push out of view: the powerful, haunting blues register of his voice, issuing from a man who sounds both lost and permanently discoverable.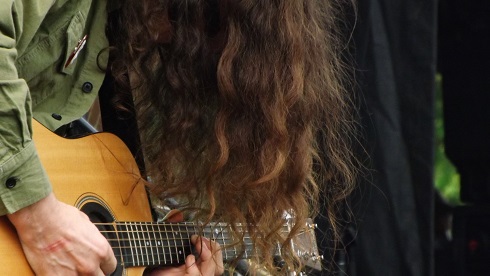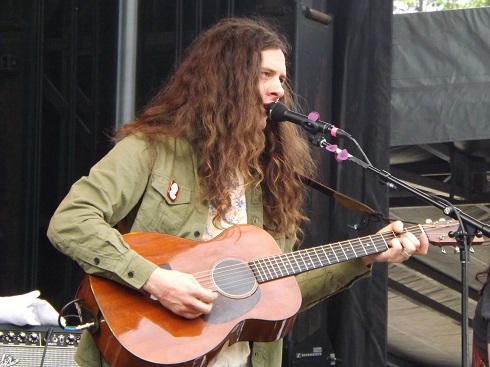 Dessa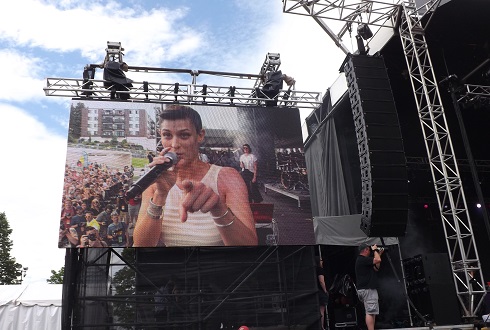 Another local success story, Dessa was just a few years ago, by her own account, struggling to maintain a music career and the persona of a "mysterious depressive" while working at Whole Foods. A hidden core of exceptionalism crumbles fast when you're selling someone else's product everyday. But now she does it all, as artist, poet, Doomtree member, teacher, ambassador, and she received possibly the most enthusiastic response of the whole weekend. For me she remains a mysterious depressive. That's something I ought to change, but I couldn't get past the music of her five-piece band—full of noncommittal chords assembled with no relief—even when I should've trained my ears on the words, which certainly contain the key to the music.
Guided by Voices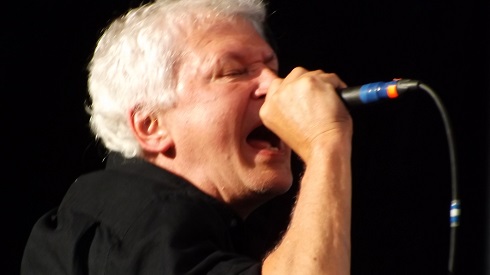 A time limit serves any band well, but it was a shame that my first time seeing Guided By Voices, known for marathon shows, they were limited to a one-hour set. Still they made the most of it, making sure to "cram 'em in," promising 24 songs and delivering 25 (willful mishearing of the opening line of Alien Lanes: "dibs on the setlist!"). The hour served as an important reminder of things I'm as guilty as anyone of forgetting about the band's classic mid-90s lineup, as they release heaps upon heaps of new music (six albums and counting, since 2012). First, regardless these albums' varying quality, quantity and completeness (I can only speak for 2013's English Little League, great songs, very solid, a little weird at the end), it's an often unacknowledged rule with few exceptions that new material strengthens a band's playing and togetherness, so after a few years of writing, recording and touring, the current GBV unit is a mighty force (were they this great in 2010, newly reformed?). Second, force begets conviction, and Robert Pollard, a barely recognized lyricist, believes in every song, tries to make every word meaningful and intentional, or at least seem that way. His rock 'n' roll proselytizing—swinging and raising high the microphone, kicking the air, but mostly holding one leg straight and bouncing against the other—wouldn't work any other way. "Currently fabulous, and perhaps at last the song you sing will have meaning," he sang during "Fair Touching," an excellent addition to the set from 2001's Isolation Drills, pinnacle of the remarkably efficient band Pollard crafted after the classic lineup ended its original run (this efficiency, more than the scattershot nature of GBV's earliest work, sets the tone for their new albums—I was wrong). "Gotta give it meaning!" he added, in case we hadn't figured out why this crew would play a song it didn't originate. It shed necessary light on the other songs, which are never, ever, no matter how many they become, thoughtless.
Well before the band's catalog and contributions to language became unmanageable by the ordinary listener, people already treated Pollard like a random word generator. I especially remember the Spin review of Alien Lanes opening with an invitation to write your own GBV lyrics, by pulling phrases from magazines, etc. (Looking back I find it's written by the estimable Alex Ross—same guy?—Pavement fan and future classical music critic.) I don't buy it. Bee Thousand, from which the band played a disproportionate number of songs for its 20th anniversary, in particular begins to resemble the necessarily funnier guide to the stage of life/citizenship that would follow Zen Arcade, if you were the type to fasten its lyrics to a scheme.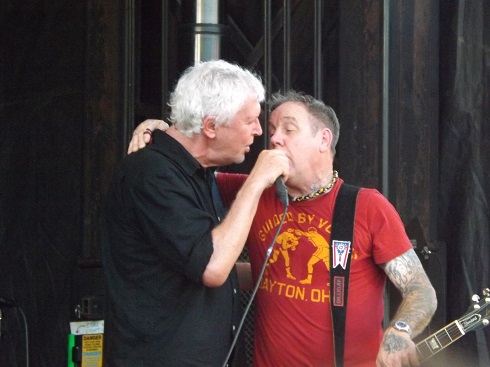 Robert Pollard shares a moment with Mitch Mitchell.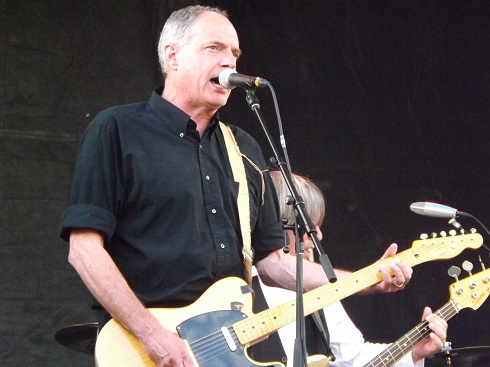 Tobin Sprout! And Greg Demos. Kevin March (not Fennell) back there somewhere.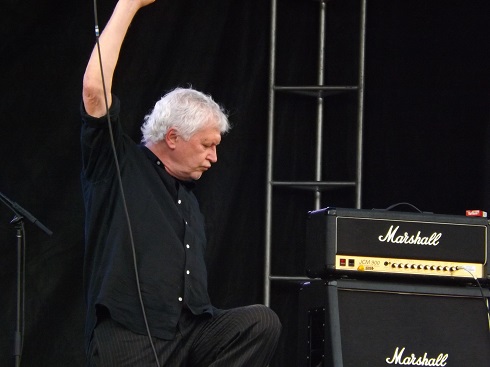 Aside from these reminders of the nature of GBV's magic, their set included (a scaled back version of) everything I've known and read about for years but was still eager to see for myself: drinking (something I never knew, "Tractor Rape Chain" refers to alcohol, or so Pollard suggested when he named the song and pointed to the bottle of tequila he'd been swigging); banter (limited during this spree to helpful introductions of the songs—"This next song is ___ from the ___ LP/EP on ___ Records."—and a comment about Paul Westerberg never coming to the band's Minneapolis shows); Pollard's faux-British accent (probably internalized after years of singing British Invasion type songs, and then extinguished when he switched to an even more put-on sounding American accent); the elsewhere genius of Tobin Sprout (who, alas, only sang a few of his own songs, raspy and inaudible, his voice seemingly out of commission). Almost everything was as it should be, on this island of GBV-ness amidst the festival experience. The band doesn't exactly fit well among a lineup of other acts; they make so much of their own music they probably listen to little else that's new, so it makes no difference whether they follow an ostensibly similar rock group or someone like Dessa. But I do still reject the logic of having them open for…
Spoon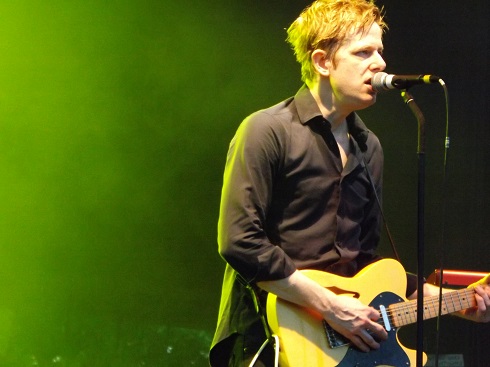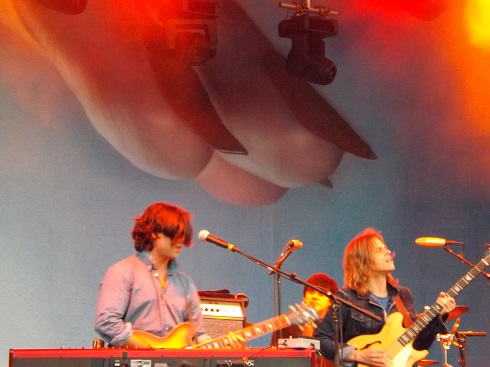 …who opened for GBV decades ago, and who'd never be caught shouting "gotta give it meaning!" in the middle of a song, although I might like them better if they did. Their music is groovy but little else as far as I can ever tell, a bag of cool, weightless gestures containing everything I hate (free association verses leading to household nouns: "pot holders!"; chaotic slamming of piano keys leading seamlessly back into the groove) when applied for its own sake. There wasn't much that could be done for the non-believer. I did like this band, once: I longed for something from debut Telephono, like "Don't Buy the Realistic," an essential mid-90s Matador Records bruiser, or "Dismember," a charming rewrite of Pixies' "Gigantic," but that era's been forgotten. I don't know that they've written a song since then, but crowd response told me they played some good ones, so let's just blame the weekend's befuddling end on my ignorance.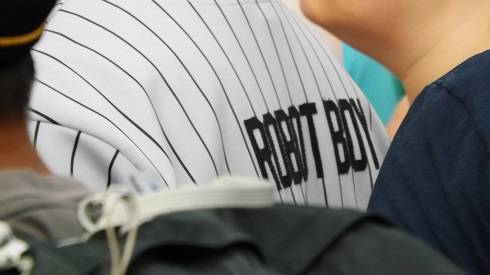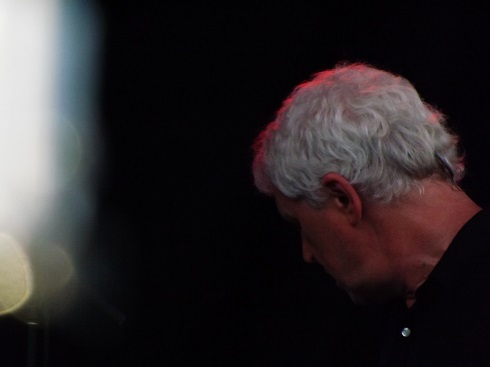 Pollard, slight return.