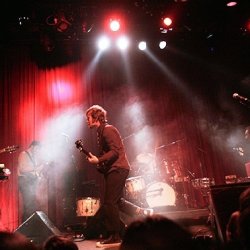 27 May 2016
It's always a treat to see a show at Thalia Hall. Nestled in the vibrant Pilsen neighborhood, the Hall was closed to the public from the 1960's until 2013, and its original character is still very evident. Wood paneled, open, and dimly lit, the sound quality is fantastic, and attracts a wonderful, like minded crowd.
I was greeted into the hall by the warm sound of Hey Marseilles, the opener for the evening, a band I hadn't previously seen. The indie quintet hails from Seattle, and has produced 4 albums, with Hey Marseilles having come out just this year. It's an incredibly talented group, and I was pleased to see Samuel Anderson, their cellist, receiving some great appreciation. Their new work is a step forward from previous album, and in their 10 years in the business, it's a dismantled, fresh approach of their journey of self-discovery. Many of their new work is influenced by Anthony Kilhoffer (Kanye West, John Legend), and it's clear that they're taking a step in the right direction. It was perhaps one of the best live shows I've seen to date,
It's safe to say that Hey Marseilles could have been the opener, but when Rogue Wave took the stage, the crowd was all ears. Frontman Zach Schwartz took the energy from the previous set, and ran with it, launching into the set with Take it Slow and Ocean. Although we were treated with plenty of tracks with their sixth studio album, Delusions of Grand Fur, Schwartz took us through a journey, spanning us through all six albums, and to my delight, played Lake Michigan as a homage to the hall, and the city. It's a treat to see bands like Rogue Wave and Hey Marseilles play side by side, two groups that invest so much into their music, two groups who genuinely care about the experience of the performance, and delivering it in a way where we could go along for the journey. Certainly, a show I would attend again in a heartbeat.
comments powered by