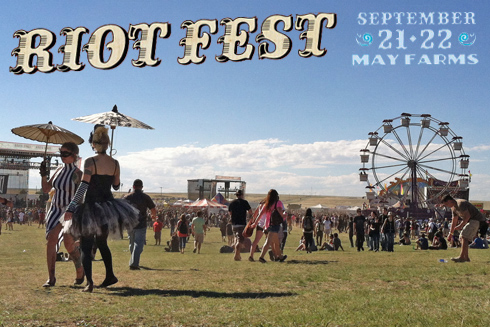 20 October 2013
In early June, Riot Fest announced they were bringing their show to Byers, Colorado, which is a small farming community 40 minutes east of Denver — roughly four square miles sitting on the edge of unincorporated Arapahoe County. The town claimed it had 1,160 residents during the last census. I've lived in Colorado for ten years and I've never heard of it, let's put it that way.
There are many towns like this in the west. Many of the people living in these rural communities have been impacted by our recession. Some of the towns themselves have been impacted and are cutting back on services as people leave town and tax revenue dwindles. Many of these towns are not fiscally solvent and haven't been in years. Byers seems like a relatively healthy place, but who knows. Attracting a national festival into their backyard was something of an unexpected move and made local headlines in Denver. Usually when a festival comes our way, it is of the String Cheese Incident variety. In this case, the mere suggestion of rioting and punk rock sent shockwaves through the small community. The residents of the town were extremely vocal before and after the fest, thanks in no part to social media. More on that later.
The roster of bands playing was exhausting: The Replacements, Iggy & The Stooges, Flag, Bad Religion, Public Enemy, Naked Raygun, Rocket From The Crypt, Devotchka, Rancid, Best Coast, Guided By Voices, Superchunk, Yo La Tengo, Wovenhand, AFI, Blink 182, Against Me!, Peelander Z, Alkaline Trio, The Dismemberment Plan, Brand New, Matt & Kim, plus eighteen other bands on three stages.

Byers, Colorado. When they said it was a one stoplight town, they meant it.
Day One:
The weekend of September 21, 2013 I traveled to Byers, Colorado to May Farms, a small privately owned family farm that hosted Riot Fest. My friend Mario Garcia (who plays drums in Imperial Rooster) came to bear witness with me and took many of these great photos.
After a night out in Denver, Friday night turned into Saturday morning quickly. We made the trip out to Byers on a rocky two-lane highway seemingly littered with accidents. Around eleven thirty we pulled into town and had a look around. We ended up missing the first two bands, Denver locals and Blast-O-Mat's house band, Potato Pirates, as well as Touche Amore, a band on Deathwish Records that neither one of us had heard.
The traveling festival circuit is a profound idea, one born on the notion that the traditional model of touring this country in a sweaty van with your friends is dead and gone. That world has been buried by high gas prices and disappearing audiences and may never come back. This the first year that Riot Fest organizers decided to come west, and their decision to support local bands and business helped make it a success.
We walked around the fairgrounds from end to end and surveyed the whole fest. The organizers really did a good job in terms of letting vendors set up shop. A few vendors even came up with inventive ways to attract people, going as far as making up games and giving away free merch. Some marketing research company set up a trailer where they would pay you one dollar for taking a survey. Needless to say this trailer was mobbed by teens. All of the bands shared one long merch area. A wall of port-a-potties that stretched as far as you could see surrounded the entire complex. I heard rumors that they had a corn maze, but apparently it was destroyed earlier that week during the bad flooding that Colorado received.
Riot Fest and May Farms offered on-site camping which resulted in a half-mile field of RVs and Campers, mostly from California and Arizona. We walked through the camp area on Saturday afternoon and it did look decent. People were partying pretty hard back there. Peeping into the area from behind a ten foot fence, we saw the camping area and saw some people we knew. It kinda looked like a typical pre-game afternoon at Lambeau Field back there. Perhaps next year we'll check that out. Anyway, we did manage to catch some bands.
Best Coast:
By the time we wandered over to the stage, Best Coast was already halfway through their set. On the way over we discovered the Stueben's food truck behind a carnival ride. After we ordered (green-chili cheeseburgers and disco fries) we sat and watched Best Coast. They were good, although they didn't seem to know where they were or what day of the week it was. They played a bunch of stuff from their debut LP and the audience was super responsive for them.
The Dear Hunter played on another stage while Best Coast finished up. As we walked over towards the other stage, we saw a woman with bright green sunglasses walking out of the stage area who looked furious. She walked right by us and announced to anyone that would listen: "Bradford should sue the shit out of them!"
The afternoon sun was relentless, but we soldiered on. We had more food and caught up with friends. We caught the tail end of Minus The Bear, who had a gigantic stage banner and ton of people watching them. We headed over to the rock stage for Superchunk, who went on at 3:45.
Superchunk: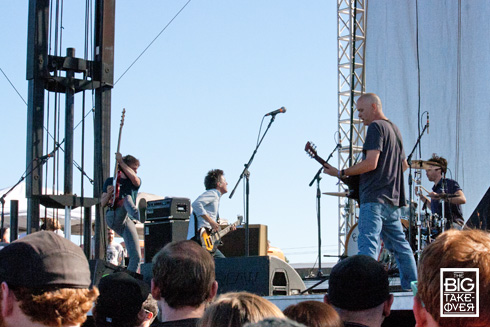 This was my first time seeing The Chunk, and they were top notch. I'm glad I got the chance to finally see them. The band tore through a great selection of their 90's material, both from their early Matador days and their late 90s heyday on Merge. I can definitely remember buying "Foolish" at Princeton Record Exchange when it came out, and their style has continued to build on those days, even eclipsing it at times. Their new record on Merge is called "I Hate Music". Not sure if that is personal sentiment or a nod to The Mad or The Replacements, but either way I like it.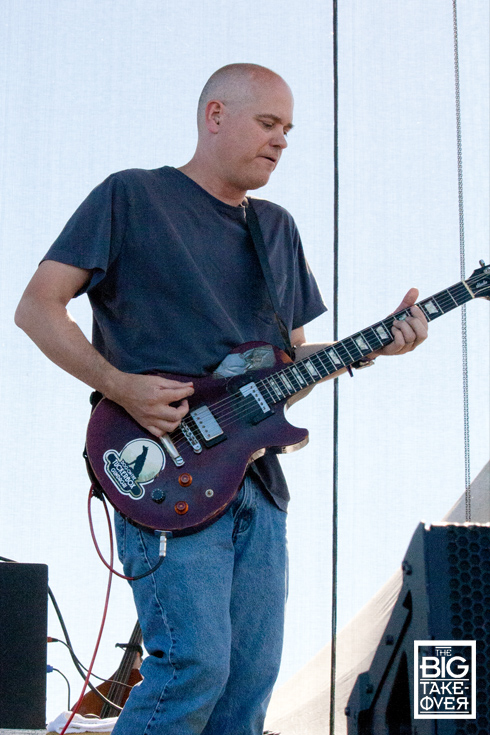 Superchunk had one of the biggest audiences of the afternoon; there were a lot of smiling faces in that crowd who waited a long time for this. The band was musically solid as a rock and ended their set with a few new songs. The band seemed to be having a good time in the face of the dust and wind. Also, these guys have great guitar tone which really made me want to revisit their back catalog.
The Dismemberment Plan:
This was my first time seeing The Dismemberment Plan, who are a progressive indie rock band from Washington DC. I have a friend who worships this band. She claims they are the best rock band in America, so I took her word for it. The band was in a great mood despite equipment problems (broken keyboard and a broken guitar), not to mention the blistering heat. They even made some jokes about playing Denver during their club days, name-checking The Climax Lounge to some hearty laughter. The Climax Lounge has closed, but believe me that place was like the bar in Total Recall. It was the very definition of scary dive bar. They had creepy bouncers and a fifteen-foot fence (complete with metal gate) that separated the bar from the stage area. It looked like the set of a Megadeth video inside that place.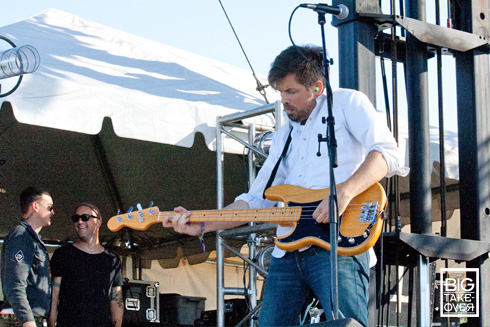 Anyway, I was super impressed with The Dismemberment Plan and even picked up their new LP, Uncanny Valley, which was recorded by J Robbins. The band seemed to really have fun with each other on stage and had no problem rotating instruments and vocal duties.
Against Me!: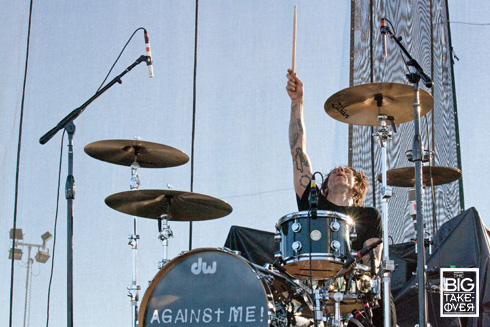 Alkaline Trio and Against Me! played in the afternoon and both attracted dedicated crowds. Guided By Voices played at the same exact time as Against Me!, so Mario and I split up for that and met up at 6:30 for Rocket From The Crypt.
Alkaline Trio:
Rocket From The Crypt:
As the stage lights came on the rock stage, people started swarming over. Just as the sun was setting in the distance, Rocket From The Crypt came on and blew everyone away. They plowed through a selection of their older material, complete with matching outfits and an entire horn section. Normally I'm more of a Hot Snakes kind of guy but I have to say these guys won me over live.
RFTC opened with "I Know", went into "Panic Scam" then directly into "Made For You" and had the crowd eating out of their hands. These guys haven't played in Colorado in a long time, and so everybody came out for this one. RFTC was easily the audience favorite of Saturday. We talked to three guys who drove all the way from Las Vegas overnight just to see them and met a bunch of Californians who followed them out from San Diego. This was my first time seeing them, so I wasn't quite sure what to expect. They definitely had a great set of material that pretty evenly balanced their 90s stuff and their newer Vagrant records sound. Really hope these guys come back soon.
Brand New & dinner time:
We watched Brand New for a few songs and then walked around more. The fest had all kinds of amenities, including an indoor smoking lounge, those fancy water mist things and plenty of free water. The bathroom situation was better than usual until nightfall. Once the sun went down, it was super dark and you really couldn't see ten feet in front of you. Opening the door to the port-a-potty at night was a gamble, one we all learned to live with. You really couldn't see anything inside but did you need to? Did you want to? The darkness was a blessing and a curse.
The beer situation at this fest was really strange. You couldn't buy beer or liquor with money. You could, however, purchase raffle tickets that could be exchanged for beer or liquor. The whole situation was baffling, but I have a feeling that it was done to appease local law. Let's not forget that a mere two years ago you still couldn't purchase alcohol on Sundays in Colorado. Seems the East Coast isn't the only place with archaic blue laws. So anyway, you could purchase one ticket for one dollar, and beers "cost" seven tickets.
The beer vendors and ticket sellers seemed to have a good sense of humor about the whole situation, although the public didn't seem impressed by this setup. All beer and liquor was pre-poured into plastic cups, which were fetched by a beer lackey, respectively. Later we found out that beer "cost" five tickets in the VIP area, so as good students of economics and thrifty Americans, we began importing our raffle tickets. Some of the beer vendors made their own signs, most begging for tips.
Iggy & The Stooges:
Iggy And The Stooges were scheduled for 9:25 sharp, we headed over around 9 and already the air surrounding the stage was electric. People were so psyched for Iggy. The crowd was a strange mixture of very young teens, seedy biker types and crust punks. One of Iggy's stage managers exited the sound tent and people started cheering for him — that's how badly we wanted The Stooges. The stage lights went up slowly, and pretty soon guitar was blaring out of the stage right. The guys came out quickly and opened with "Raw Power".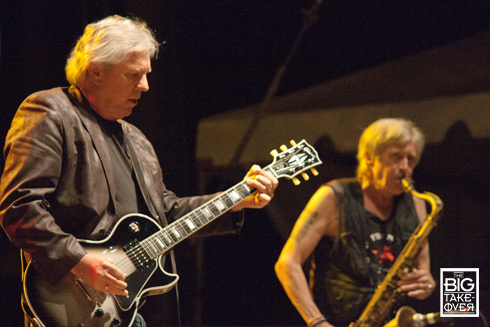 Is Mike Watt the best bass player ever? Yes. The answer is yes.
The Stooges consisted of Iggy, James Williamson on guitar, Mike Watt on bass, Steven Mackay on tenor sax (the guy who played on Fun House) and Scott Asheton on drums. They followed up with "Gimme Danger", which was extended into a free form improv that lasted nearly fifteen minutes. About half way through the song, Iggy grabbed the mic and screamed, "We're The Stooges! Why don't you get up on the stage and dance with us – C'mon!"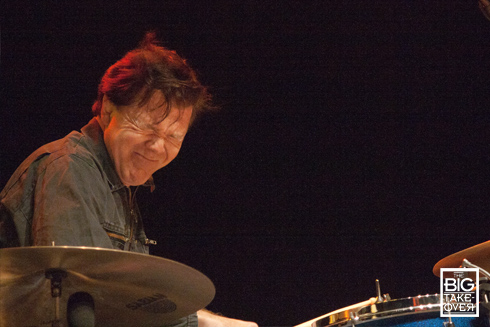 Security guards retreated and began boosting pre-teens onto the stage. Eager punks swarmed the stage. In no time flat the stage was covered with about forty people behind Iggy, all of them jumping and screaming. Some of them were dancing to Gimme Danger, which the band was still diligently tearing through. Others took the opportunity to wave to friends.
One kid ran right up to Iggy's face, threw his arm around him and took an extreme close-up picture of him on his iPhone. Iggy looked horrified. When the Instagram moment was complete, the goofy kid walked away with a huge grin on his face. After the show we heard some people talking about this exchange and we all unanimously agreed that Iggy should have broken the kid's nose. Hey, nothing personal.
Iggy let the kids have their moment, notwithstanding some serious pushing and shoving. The bouncers seemed like the whole thing was going terribly wrong… it was hard to tell exactly what was happening. But hey, Iggy invited them onstage, and to his credit he followed through with his end of the bargain. He sang with people, he screamed and jumped and gave away the mic more than a few times. Soon the stage was cleared and the band broke into, "Gun", the fourth track on their new LP, "Ready To Die". Watt and Asheton looked psyched to get into "1970", "Search & Destroy" and especially "Fun House".
The Stooges played "Ready To Die" from their new record, followed by "No Fun" and crowd favorite "The Passenger". Looking out onto the crowd, it seemed like each and every single person was moving and/or singing along. Band closed their set with "I Got A Right", "Cock In My Pocket", "Your Pretty Face Is Going To Hell", and ended with the new song "Sex & Money". The amazing thing was, they didn't look tired. They could have probably played for another hour.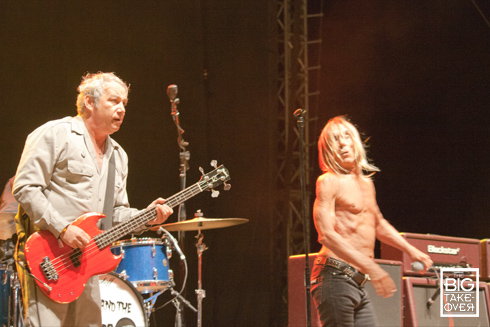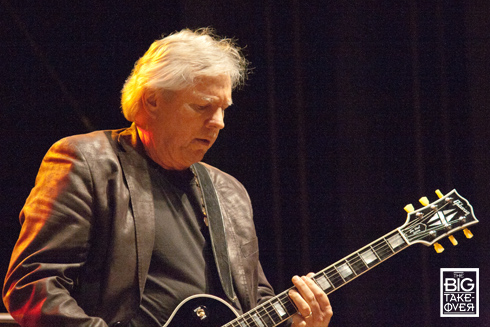 The Replacements:
The Mats were scheduled to play five minutes after The Stooges ended. The crowd parted and we headed over to the Riot Stage for what would be the final Replacements performance of their three-show deal with Riot Fest. The Mats hit the stage, and to everyone's surprise and delight, opened with "Takin A Ride".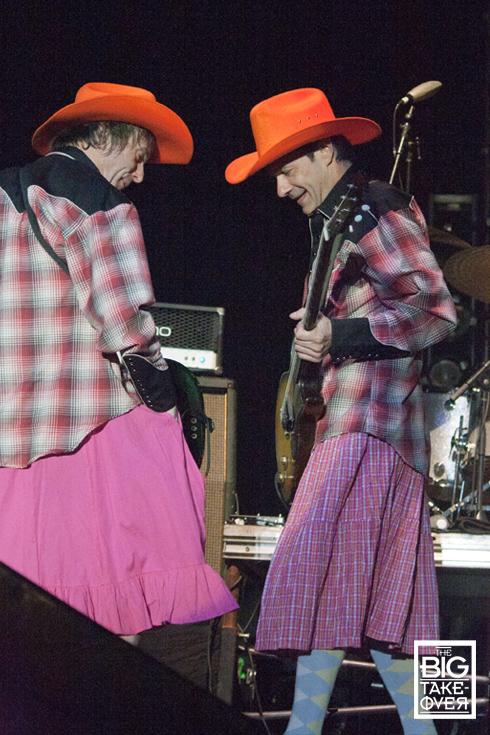 The band looked like they were having fun, which seemed to rub off on the audience. Guitars sounded great, bass sounded nice and loud. Paul sounded clear and (even though he hid it well) he did smile quite a bit.
The Mats' seemed comfortable on stage but somewhat anxious, which is nothing unusual for these guys. They followed up with "I'm In Trouble", "Favorite Thing" and went into two songs from their brilliant debut LP, "Shiftless When Idle" and "Hangin' Downtown." The crowd seemed stoked, practically everybody was singing along. Some woman near me kept yelling out "Birthday Gal!….Play Birthday Gal!…BIRTHDAY GAL!" in between each song and got some very interesting groans from the people surrounding us.
This week, The Mats were Tommy Stinson on bass, Paul Westerberg on vocals and guitar, along with David Minehan (formally of Boston's The Neighborhoods) on lead guitar and Josh Freese on drums. Someone told me that Chris Mars hasn't picked up his drum sticks in years, so I guess that explains that. There was a profile with Mars printed in Left Of The Dial magazine about ten years ago, (Issue #3 I think) and I remember he was still playing a recording with his solo project at that time. In that issue he talked candidly about the end of the Mats' and pretty much cleared the air in terms of his beef with Westerberg. He also discussed the final recording sessions, the band's propensity to lean on alcohol and drugs while in (and out of) creative lurches and went into detail about how the band slowly unraveled. Nobody is surprised to hear that The Replacements brought in two replacements, but still. Those are big shoes to fill. For a lot of people who really connected with the individual personalities within the band, they tend to see things as disheveled as they appear. Stinson himself even said to the audience, "Thanks for enduring this." But hey, nobody was complaining. In fact from where I was standing everyone was singing along and having a great time.
While Mario was down in the photographers' pit taking these excellent photos, Paul Westerberg tossed his orange cowboy hat into the photographer's pit. As it happened, the hat landed squarely in Mario's hand.
A nice young woman standing next to him looked at him and smiled. Between the first two songs she came over to him and pointed at the hat.
"How much money do you want for that?" She asked.
Mario gave her the hat and she walked away grinning ear to ear. Later Mario said, "It was worth it. Besides, what am I going to do with it? I have two boys at home. They'll be wearing it in minutes. 'Hey kids – don't wear this hat. A famous guy wore it for two minutes.'"
After a sobering country cover, ("Jingle Jangle Jingle" anybody?) the band felt warmed up enough to joke with the audience and each other. Paul told the crowd a story about their outfits – everybody in the band wore a cowboy shirt along with a neon orange cowboy hat. Stinson and Westerberg wore long pink dresses and had pastel argyle socks pulled up to their knees. The mentioned how they stopped to buy these outfits at some western-themed store on I-70 heading west from Kansas, and how all of the fancy cowboy shirts were made overseas. Nobody looked surprised. When was the last time anything American was authentic?
We are very used to cheap imported goods in this country. Perhaps we've hit a tipping point, where the consequences and absurdity of our global economy is now coming back to laugh at us. Guess the joke's on us. That "Made In China" tag on the underside of your miniature American flag isn't so funny anymore, not in this economy. But hey, even if the cowboy shirts were sewn in Bangladesh or stitched in Bali, The Mats' still bought four of them and they fit pretty darn good. That's how capitalism works folks. Most people will abandon their principles for the most convenient product at the lowest possible price. This has been proven time and time again by economists and teachers and now by guys in Gun N Roses.
Speaking of capitalism, The Mats had really nice merch, some seriously decent stuff. They had really great silkscreened prints available, which seemed to be flying off the table. The print had a vintage radio receiver that listed out all the dates of the Mats shows on the dial. Was very well done. Their new shirts looked really good too. Let's be honest – conceptually and visually this band missed the boat. Back in the day, their T-Shirts never looked quite right and their artwork was somewhat abstract and vacant.
Unlike their peers in Hüsker Dü and Bad Religion, they never established an iconic logo or carried an artistic theme for any extended period of time. Each time the band reinvented themselves, they emerged with a new logo which didn't help the situation. But it looks as if the 1986/1987 "Please To Meet Me" era is the final choice for artwork from here on out. Much to their credit, that font still looks just as bold as it did then.
The Mats also had some weird merch – stuff right out of left field. For instance, they were selling giant foam fingers (or Foam Hand, if you prefer) with the middle finger extended. The finger read "Hate us on Facebook" and offered this same design as a t-shirt. Perhaps the heartiest chuckle of all came midway through the set. Immediately following a false start, Paul looked over at Tommy and said jokingly, "Who am I to criticize you being in Van Halen?"
The Mats then went into an extended mid-80's set, pulling out "Color Me Impressed", which got everybody jumping and singing. They went into "Tommy Gets His Tonsils Out", "I Will Dare" and "Left Of The Dial" interspersed with some of their later material, "Achin' To Be" and "Merry Go Round". Paul seemed to get serious and the band got pensive as they fought their way through slower songs like, "Little Mascara", "Androgynous", and "Kiss Me On The Bus".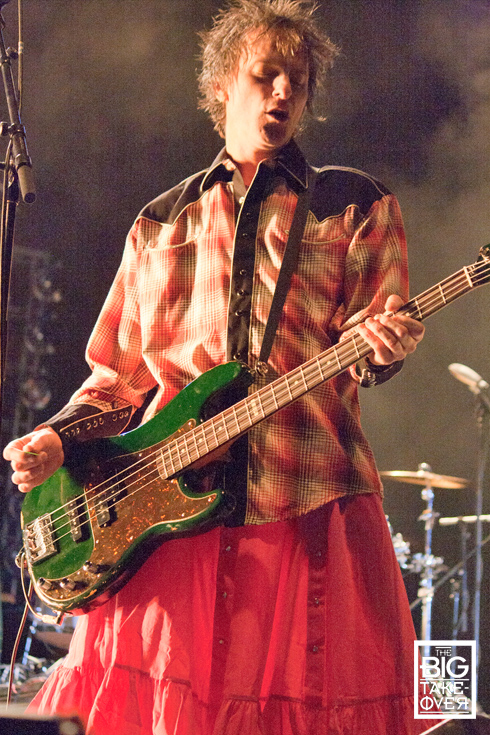 One weird thing – the stage had really odd lighting. The overhead lights were kept dark, but they brought out these gigantic flash bulb things, which practically blinded everybody in the audience each time they went off. I hate to be so petty about something so silly, but these lights were out of control. They only came on for a second. But when the flashlights went out, you could still see the "trail" of lights in your field of vision. That's how bright these lights were. Not sure who's idea it was to flash giant lights out towards the crowd, but it was a bad idea. Where do you even get lights with that kind of luminance? Do you have to rent them from the Air Force or Whitesnake or? Call me crazy but normally the lights are used to illuminate the band, not the audience. Witnessed a few people covering their face each time the flashlights came on and hiding behind shirts and hoodies. It was seriously disorienting, and not in a good "Hey mannn check out those cool Pink Floyd lights" kind of way. This was more of a "Help me… I think I'm going blind" kind of situation.
Anyway thankfully our ears were unaffected. Paul & Tommy pulled out a few tricks including a Chuck Berry cover, ("Maybellene"), as well as the Sham 69 classic, ("Borstal Breakout"). They played "I Don't Know" with a sweet "Buck Hill" instrumental in the middle section, as well as a Beatles Cover ("Hello Goodbye"), before letting the audience down easy with "Can't Hardly Wait" and "Bastards Of Young" back-to-back.
Now here is where things got weird. After "Bastards", the band exited the stage and disappeared. The crowd was chanting their name and some people were getting furiously excited about an encore. An older woman next to me was seriously crying out loud for Paul. A few minutes later they reappeared on stage and began playing "Hootennany". Diehard fans will recall that this is also the last song they played at their now infamous Chicago 1991 show, and is normally a clue (when it appears at the end of a set) that the band is about to go into full-on improv mode. In some way the prophecy of "Hootenanny" came true, but fans were confused when Paul headed towards Freese's drum kit. With Westerberg on drums and Stinson on bass, the band started playing "Detroit Rock City" by Kiss, which quickly degraded into utter nonsense. Paul sang the other Paul's lyrics half-jokingly to a crowd that seemed stunned.
After about a minute of trying, they abandoned the botched Kiss cover and went right into "Substitute" by The Who. That one didn't work either, and after about a minute of trying they gave up on that as well. The crowd forgave them and kept chanting. The cheering did nothing to persuade the band and they disappeared again.
Thankfully, I had a perfect vantage point to see the tail end of the band's time in Colorado. I was standing right in front of the stage near the left side, which happened to be where the bands loaded and unloaded. As the crowd was still going nuts, I happened to see Paul and Tommy exiting the stairway adjacent to the stage. A plain, unmarked white cargo van was sitting idle at the end of the stairway, waiting to take them back to their staging area, which was offsite. Anyway, I was close enough (thanks press pass) to both hear them laughing and to see them smiling like school children as they ran down the stairway and jumped up into the van. They made their getaway the only way they knew how, and that makes me very pleased. Knowing that they had a laugh on the way out actually made my night. The crowd stood there chanting and yelling for another solid five minutes before someone finally admitted it out loud.
"I guess that's it then. They're not coming back," said a tall skinny kid as the crowd dispersed. The Mats were the last band of the night on Saturday, so that was it. We headed back to the parking lot and high-tailed it back to Denver.
Saturday was a great success and The Mats made a lot of people very happy. I think their setlist was great and really enjoyed it. If you feel duped, then I think you might want to re-examine who this band is and how they operate. The fact that they are willing and able to perform this music live is enough for me. The Mats were one of the first legit rock bands I ever saw live, so to me this was a special night and I feel lucky to have been invited. I didn't feel much of the nostalgia that people kept talking about. To me this wasn't about nostalgia, this was a bunch of guys having fun with songs they wrote some 27 years ago. My only hope is that they continue to find the time to keep playing shows and to keep their fans guessing.
Day Two:
First thing we did when we arrived was eat. Again. We were starving and lucky for us, the fest must have had fifty food trucks. We started things off with burritos from Illegal Pete's. As per usual, this Boulder chain delivered the goods. Burritos are the perfect food. You can eat them while walking, too, which came in very handy as we checked out all of the vendor booths. Riot Fest attracted a wide variety of artists and other small businesses, and as I mentioned earlier, kudos to them for encouraging and environment of creativity. Next we sampled a bunch of other foods, mostly weird meats and food-on-a-stick junk before heading back towards the stage area.
Side note: Did you ever notice that lots of touring bands complain about the oxygen level in Colorado? As if they are sooooo winded and UGGGH they can't possibly go on under these conditions. Funny thing is, usually when you hear someone griping about it, it elicits zero response. This is because everyone in the audience is quietly laughing at you on the inside. We've heard this same speech a million times.
Now, before I go any further, the press issue needs to be addressed. The Replacements decided not to do any press for the event, which was a total bummer. This fact was duly noted and colorfully illustrated in an Excel spreadsheet that was sent to me a few hours before the fest began, but we were psyched for the set anyway so it really didn't matter. In the end, I care more about seeing them play live again than I care about shaking their hands. And just to be clear – none of the bigger bands were doing press at this event. Everyone we talked to from the press meat pool echoed this sentiment. I tried interviewing no less than ten bands and was unsuccessful at every turn. Can't say we didn't try though. We even tried setting something up last minute with Flag on Sunday morning, but they didn't have time in their schedule that day.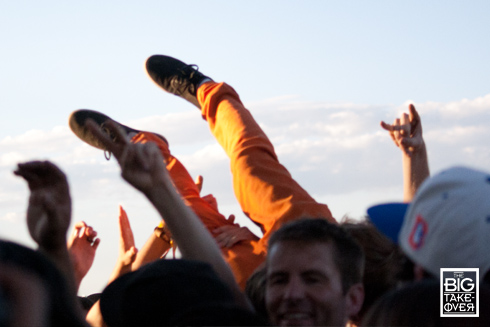 We had a few minutes to recharge our phones and grab some water in the makeshift press tent. There we met Chloe Chaidez, who sings for a Los Angeles band called Kitten. The band had a real expansive pop take on Jesus & Mary Chain-esque soundscapes, which made for a somewhat unique sound. At the end of their set, Chloe jumped off the stack of amps and even pulled off a very convincing Prince cover. She told the crowd of early birds that she was one of the people who climbed up onto the stage "Gimme Danger" the previous night and got some serious respect. We sat and watched some reporter interview Chloe the moment she came down the stairway, still out of breath and dripping with sweat. If you don't have patience in this industry, you are finished. In the words of Henry Rollins, "The last thing I want to do when I get off stage is talk to people." She certainly showed that she had patience, maybe enough for all of us.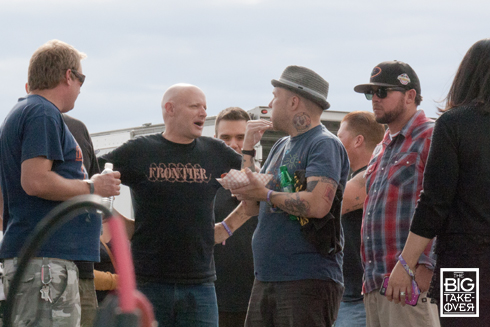 Stephen Egerton chats with people backstage
Sadly I missed Wovenhand. We got jammed up with other things backstage. The second band we watched was Peelander Z.
Peelander Z:
If you're not familiar with this band, then there is a lot you need to know. First and foremost, this band is a multi-sensory theatrical experience. Hailing from Japan, but calling New York home, Peelander Z has been touring pretty much non-stop for the last decade. They call themselves "Japanese Action Comic Punk", and that's exactly on target. They use all kind of stage props and dress like action punk characters, making audience participation the centerpiece of their set.
Musically speaking, things are a mess. I think they played maybe five songs in forty-five minutes. Frontman Kengo Hioki stole the show with his outrageous antics, as you can see in these photos. He climbed up over the barrier and crowd surfed while (kind of) playing guitar. I have to say it was pretty awesome though. If you ever get the chance to see this band live, check out the audience. This is the second or third time I've seen them and they always seem to win over the crowd.
A few years ago I had the chance to open for Peelander Z at the Hi-Dive here in Denver. I was playing rhythm guitar in a local indie rock band and none of us had heard of them. It was a stressful night internally, but it taught me a valuable lesson about playing music live and (maybe) reminded me something that I had already learned but somehow forgotten. No matter what styles of music of you decide to play, your image is equally important. Whether you like it or not, you will be judged on your appearance on stage. Therefore, image is something unavoidable.
I know what you're thinking. "Yeah but having an image is stupid and a gimmick," and you're not wrong. Whether it is stupid or not doesn't change reality. You ARE being judged based on your appearance. Your time onstage is yours and nobody elses. You can choose to get up on stage in your street clothes (Black Flag, The Minutemen), or you can choose to dress up in a costume (The Damned, Gwar). Neither choice is inherently "right" or "wrong". The only wrong choice is pretending like it doesn't matter at all.
The genius of Peelander Z is found in how they break the fourth wall, which in this case is the barrier between the band and the audience. People eat that stuff up. I think decades of stagnant pop music played in giant arenas have caused a separation between the performer and the audience that is unhealthy for both parties. Peelander has found a way to return rock music back to a more primitive era of punk when you could connect with the band. Not to mention they champion the art of simply having fun at a show and having that fun in an environment where you don't have to worry about being made fun of. You're not being made fun of because everyone in the room is too busy growling like a mad tiger.
I remember the night my opened for them, I just sat at bar and watching them and just kind of shaking my head. There was nothing we could say. There was no way to defeat them, because no matter what you said or did – you were not having as much fun as they were. We must have sounded like Bauhaus to those people. Having the audacity to take yourself seriously in the face of grown men wearing inflatable neon dinosaur hats was our first mistake.
Anyway. So people love watching Peelander Z and they got everybody's attention. In between two songs Hioki blurted about a bunch of weird stuff about tacos and Mexicans, something that left everyone scratching their heads. But hey, being puzzled is all part of the game. Luckily for them, nobody in the audience seems to be able to tell if the band is serious or if they are just acting. I think it's a little of both. They are seriously acting.
Naked Raygun:
Naked Raygun was up next, we were both psyched to finally see these Chicago legends in action. This was actually the first time they ever played in Colorado, which seems kind of hard to believe. Frontman Jeff Pezzati was energetic and had a lot to say. The crowd went absolutely nuts for these guys. Towards the end of their set they switched bass players and Pierre Kezdy joined for a few songs.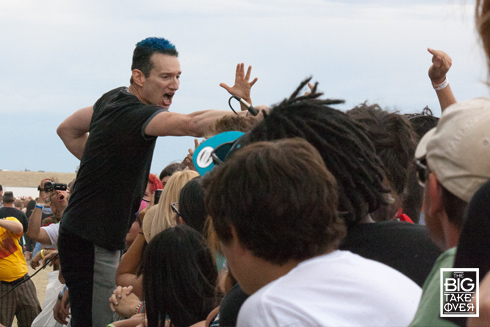 After railing against the photography rules for the fest, Pezzati climbed down from the stage and jumped up over the barrier. He handed the mic to the crowd and then locked his feet into the barrier and began singing right above the crowd.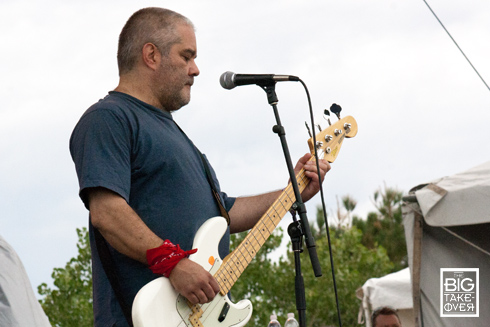 Public Enemy:
Public Enemy was up next, and unfortunately they were scheduled to play at the exact same time as Yo La Tengo, who I really wanted to see. But having never seen PE live, I had to opt out of the Tengo. Public Enemy live is a total package. They still have the guys in the military uniforms on the side of the stage, although I didn't see any cage dancers with uzi's. They play live with a full band and a DJ, in this case DJ Lord, who has taken the place of Terminator X.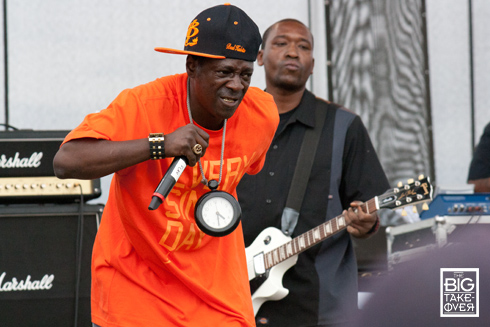 What I like about Public Enemy is their outspokenness; their inability to kowtow to any cause but their own. What could be more punk than that? Public Enemy found out early on that they had to fight authority to be able to express themselves, which is essentially the same struggle that early punk groups went through.
Chuck D looked proud to be there and the whole band announced that they had just been nominated for the Rock N' Roll Hall Of Fame. PE opened with "Rebel Without A Pause", into "911 is a Joke" and played a great selection of their earlier favorites such as "Don't believe The Hype", "Shut Em' Down" and of course, "Fight The Power". Chuck D and Flava Flav both had a lot to say to the audience, most of whom seemed eager to listen. Their live band was incredible, way exceeded my level of expectations.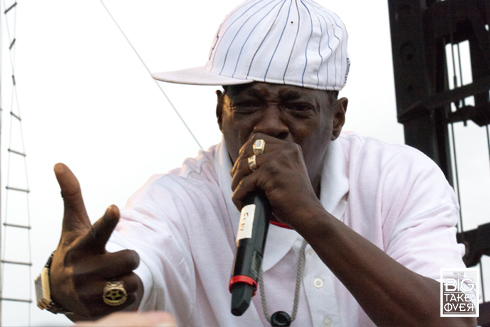 Flag:
Immediately following Public Enemy, Mario and I headed over to the other side of the field for Flag. We were both physically and mentally prepared for this band after waiting, let's see, uh, our whole lives.
Flag has been playing a lot of shows around the country this year and have stuck pretty close to the "Everything Went Black" era of the band with a few exceptions. Keith has sung some Henry-era Flag material, noticeably "Rise Above" and "Damaged II". They've played the still unreleased "What Can You Believe" at First Avenue in Minneapolis on September 13, which was originally demoed in 1982 but abandoned during the My War sessions.
Flag also plays "My War" which it sounds incredible. During the loud/quiet/loud part of Keith does some talking and mumbled voices and it actually works. They've played "I Love You" a handful of times – at The Opera House in Toronto and the June 15th show at Montebello in Quebec and again at this years Punk Rock Bowling Festival in Las Vegas.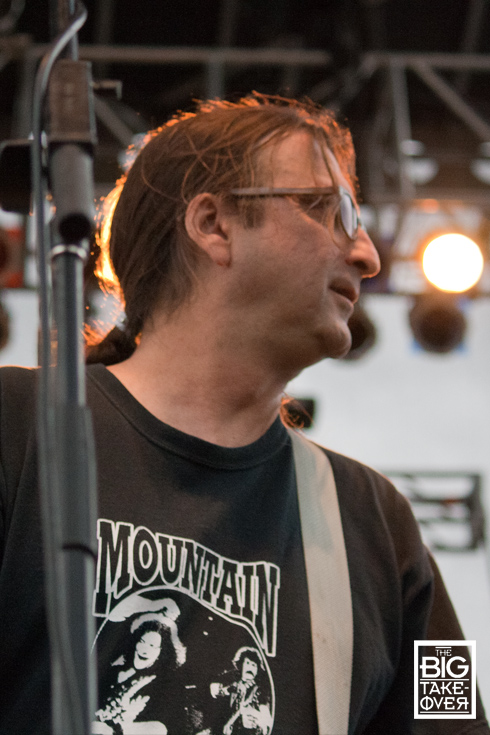 Flag is Keith Morris on vocals, Chuck Dukowski on bass, Dez Cadena on guitar, Stephen Egerton on guitar and Bill Stephenson on drums. Earlier this year New York Times writer Ben Ratliff said Egerton's performance and choice of a clear Dan Armstrong guitar was "troubling" and that this these factors somehow indicated this Flag's intent to be a mere cover band. I'm not sure if I agree with that. If the band was engineered to please the audience one would expect Henry on stage front and center, along with new slim line Black Flag digipak CD available only in Wal-Mart. Cashing in isn't hard to do, but I don't see that happening.
If Egerton can replicate Ginn's solos better than Ginn himself, it's because he's been doing it for the last twenty-five years as the guitar player in All and The Descendents (with Bill Stephenson) respectively. Ginn played in Black Flag from 1978 to 1986, which was only eight years. Egerton has been playing these songs three times longer than Ginn has. Gone kept their Black Flag covers tightly wound. Not sure about Ginn's other band, The Taylor Texas Corrugators, but I have a feeling that I've seen more Black Flag songs at All shows than Ginn has played in the last decade.
In terms of playing, who but Egerton is more qualified technically? Nobody comes to mind. Nobody even comes close. Besides, it's not like he's pulling a Tommy Thayer. He's not wearing Ginn's clothes and perpetrating some fraud by pretending to actually be Greg Ginn as Thayer is doing to Frehley. Egerton is merely filling in on guitar and he's doing it the best way he knows how. I think he's using the clear Dan Armstrong because he is interested (as a fan and as a performer) in replicating the best Flag guitar tone he can, using that very specific dynamic range. If and when the day comes where Egerton shows up with bellbottoms, long hair and a Grateful Dead shirt then I will gladly eat those words.
Let's not forget that Egerton himself has two or three releases on SST (two live Descendents records and their final studio LP, "All") and is likely just as affected by Ginn's lawsuits and his non-payment of royalties as anyone else on that stage. There are plenty of personalities in this band and many of them speak for themselves. To gripe about the new guy seems laughable, especially in the face of the drama that this band has already created for themselves in the form of lawsuits, autobiographies and documentaries. The problem with this band is that everyone wants to point fingers, and for what? For some perceived "pure" version of the band that really never existed anyway? Kindly get over yourselves.
While Ginn continues his version of the band with Ron Reyes, the other Flag is accused of being "fake", which is totally absurd. Think about the statistics of both bands – the so-called imposter band has more original members than the real band. This whole thing is starting to remind me of Doggy Style, the southern California band who split into two distinct units before imploding. Ginn recently lost an injunction for the rights to the Black Flag name and logo, so it's really anyone's guess what will happen next. Ginn is threatening to make a new LP, while the other team seems content to get paid for once in their lives.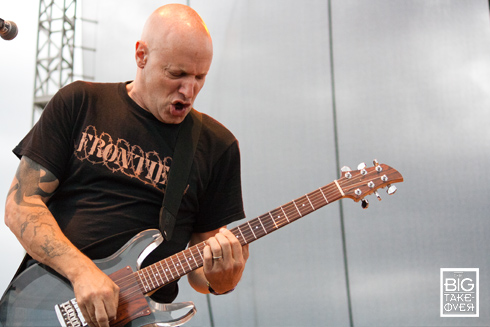 The last time any incarnation of Flag came through Colorado was a long time ago. The show was in Denver on a Friday night, June 4, 1986 to be exact. Nobody in Flag was a part of the band at that time, yet the words "scab" are still thrown around in both camps to describe both that historical era and their current era.
Anyway, back to Riot Fest. At this point in the night, the weather had begun to take a turn for the worst. One of the beer vendors warned us, "I'm telling you, that ferris wheel is gonna get hit by lightning any second now." But the show went on.
The first person to wander out onstage was Chuck Dukoswki, who looked surprised to see hundreds of people cheering him on. Keith Morris followed him out and picked up the microphone.
"Hello." He said, pulling the mic back towards him. "We're Flag. Not Black Flag. Just so you know." He said. In less than a minute, Flag was already tearing into "Revenge", followed by "Fix Me" with almost everyone in the crowd singing along. As the band played "Police Story" and "I Don't Care", the sky blackened.
Light rain began to fall during the next block of songs, which included "Depression", "I've Had It!", "No Values" (here curiously labeled with the subtitle "Pacific Pretend") and "My War". The band took a short break and suddenly the opening notes of "No More" were blasting out of the PA system. They played one more song, "Gimme Gimme Gimme" before taking another short break. As the light rain turned to heavier rain, festival staff could be seen covering sound equipment on both sides of the stage. The band seemed undaunted.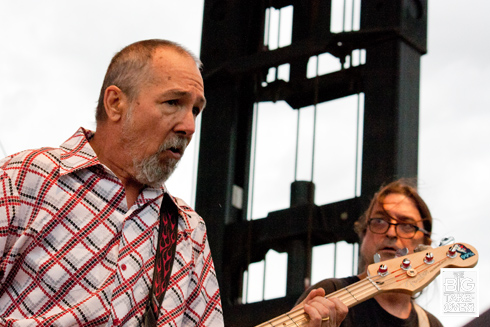 "This song is called White Minority" Keith said. "The title is just a joke. We have no affiliation with the KKK or the Tea Baggers or any other white power groups. It's a joke. We want everybody to be invited to the party," he said as paced the stage, "…unless you're a dipshit."
At 6:45 sharp, during "Jealous Again", the wind really picked up. It had gotten so windy that one of the huge canvas Riot Fest tarps began flapping loose in the wind. As the crowd moshed, sang along or stood laughing at the workers trying to catch the loose banner, Flag was still playing the song. Suddenly during the last half of the song, Egerton's amp went out. A sound guy covered Dukowski's rig with a black tarp and other dudes began pulling tarps over the remaining equipment. The band kept going, with the audience singing along to a guitar-less "Jealous Again". Then the main PA went out and everything stopped for a moment.
As the wind and rain beat down, Flag disappeared off the stage slowly, one by one until everything was covered up. Suddenly a pre-recorded woman's voice came over the PA system, and announced in a cool, collected timbre: "We have just been informed by the national weather service that inclement weather is headed our way in thirty minutes. Please evacuate the area. Head to your buses, shuttles or cars and await further instructions from your local authorities."
The storm:
The message ended and the crowd fell silent in the rain. As the crowd dispersed, heavy lightning could be seen in the distance. We heard some confused people in the audience wondering where to go. After all, the message was clear but in this case there were no shuttles or buses. Nor were any of the authority figures talking. On the way out, we stopped to ask a police man if they thought the fest would reopen. He could have been a security guard for all we knew.
"Show's over folks. Be safe driving home," he said as he directed people into the parking lot, waving them through the metal barricades.
Mario and I headed back to our car which we found after some twenty minutes wandering around a dark field. Since the fest was sponsored by a local radio station, we figured that would be the best way to stay connected to what was happening. We turned on the radio and waited. Everybody was sitting in their cars, partying, just trying to stay dry. We saw people running in the mud ala Woodstock 94, but luckily no bonfires. After about thirty minutes of waiting inside the car without hearing a peep we gave up.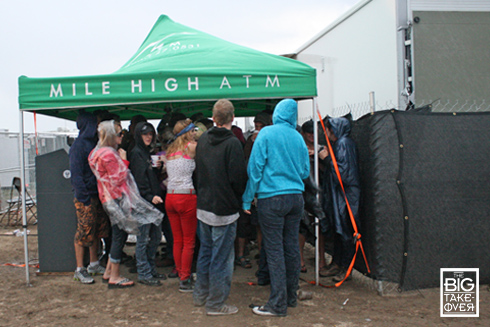 People huddle together under an ATM tent
The radio station DJ finally came on, but he said they were still waiting for an official statement from the fest. People starting leaving here and there, but we still waited. We still wanted to see Bad Religion, who were scheduled to play later that night.
I should mention that it was hard to get and maintain cell phone connection while on the site. A lot of Sprint and Cricket customers had no service at all, which really limited their accessibility to information. The fest was updating Twitter and Facebook with event status but a lot of people simply couldn't access it. Those who could get a connection still couldn't get information because it took the festival organizers almost an hour to make an announcement. By then we were already sitting in traffic on the way out. Police had closed off the road leading into the fest and were directing all traffic back towards I-70. You couldn't turn around. Everyone was being directed out of Byers.
The whole way back to the two lane highway was nuts. We counted three accidents. Somebody drove directly into a ditch which was weird because the road was very, very straight. Anyway, it took us almost two and a half hours to get back to Denver.
In the next few hours, the social media accounts of both the fest organizers and the individual bands were busy with all kinds of complaints and grievances. We felt bad for the people who were camping and those who drove from the west coast and the Pacific Northwest. They couldn't just get back in their cars. They were living in their cars. The next morning was rough. We checked out the local news and overnight Facebook rants and none of them were too pretty. Some cars and RVs got stuck in the mud and they weren't happy about that.
Eventually the rain ended and apparently the fest adjusted the schedule, allowing time for some of the remaining bands to play. Not sure of the specifics, but we heard that the fest did reopen eventually and that the bands all played truncated sets. In the end, the good things about playing live in an empty field in the middle of nowhere were the very things that destroyed the show. Plus, Colorado weather is notoriously unpredictable.
The angry citizens of Byers took to Facebook and Twitter and complained all throughout the next week:
"See if we let you back into our town," some woman threatened.
"This was a big mistake," wrote a guy who had a Hitler icon as his default image on Facebook.
"Your festival was too loud. Our children were trying to sleep but were kept awake all night by the noise on a school night!" an angry mother wrote.
Don't even get me started. Personally, I don't have many complaints, and keep in mind that Mario and I were there for almost the entire weekend. Everyone was complaining. Some demanded a refund. Others just wanted to be heard. People that had to sit idle for five minutes in traffic were complaining about their time being wasted. Doesn't that seem ironic to anyone? The five minutes you took to complain could have been used for something constructive. Could have been used to read a book or listen to you favorite Black Flag song, ("Wasted", of course, duh).
Unfortunately it seems like complaining is becoming our national pastime, and as our expectations about tornadoes and reunited 80's punk bands get shattered we look to the internet to both vent and to get revenge. If you ask me, The Mats rule and the nine-song Flag set was the highlight of the weekend for me and it was as close to an actual riot as the show's namesake promised. Hopefully Flag comes back to Denver next year, preferably at an indoor venue.
(Ed note: This was a team effort. AJ Morocco wrote the text and took some pictures. Mario Garcia took majority of the photos.)
comments powered by