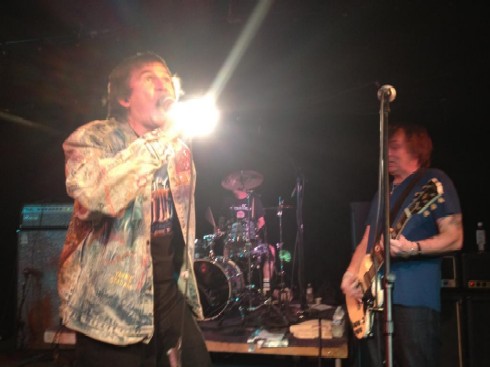 1 January 2013
After the previous evening's stunning show, I was back at the Black Cat for night 2 of this improbable series of shows featuring some of the finest bands that DC has produced over the last 30 plus years.
Among the more improbable events was the reunion of Youth Brigade (not to be confused with the long-running LA band of the same name), a short-lived outfit who were only active for part of 1981 and who only released the Possible EP along with tracks on the seminal 1982 compilation Flex Your Head (along with a never-released demo and a track collected on the 20 Years of Dischord box set). With DC legend (Minor Threat, The Meatmen, Second Wind and currently Rustbuckit) Steve Hansgen filling in for the unavailable Tom Clinton on guitar plus original members vocalist Nathan Strejcek, bassist Bert Quieroz and drummer Danny Ingram, Youth Brigade played their first show in more than 31 years.
They started off, appropriately and jokingly, with the introduction to the other Youth Brigade's "Sink with California," perhaps adding to the confusion about their shared moniker or perhaps as a knowing tribute. Instead of launching into the song's main part, however, they went straight into "It's About Time That We Had a Change". From that point, their short set covered material from both Possible as well as "Moral Majority" (from _Flex Your Head), culminating with an absolutely crushing version of "Stepping Stone" (originally by The Monkees and covered by The Sex Pistols in the late '70s but re-appropriated by Minor Threat in the early '80s and a DC classic ever since) that featured guests including Hunter Bennett (from Ingram's other band Dot Dash) on bass along with John Stabb (Government Issue; more on them below), Tom Berard (Peer Pressure) and Alec MacKaye (The Faith, Ignition, The Warmers, etc.) who oddly put hats on people's cameras, preventing them from taking photo and video. A DC staple much like Wire's "12XU" (also covered memorably by Minor Threat), it made sense for it to be sung gang-style with a mini-army on stage and it was quite the fitting finale for Youth Brigade's set.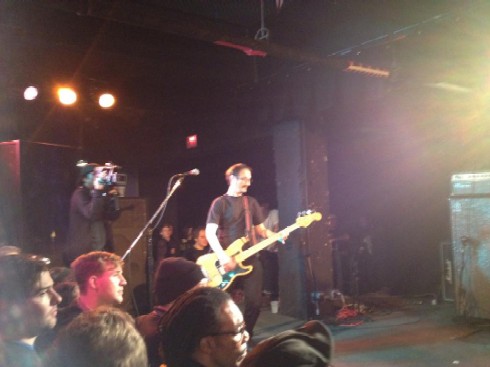 After a short break, Government Issue came on. I should note that this wasn't the same lineup of Government Issue that played an incredible, career-spanning the same venue several years prior (see my review here). Though singer John Stabb (the band's sole constant member from their inception until their breakup in 1989) and guitarist Tom Lyle remained (though it should be noted that Lyle switched to bass for most of this show), Brian Baker (mostly guitar but also bass) and Colin Sears (who also pounded the skins for Dag Nasty the night before, thus pulling double duty here) on drums were the other musicians this time around instead of bassist J Robbins and drummer Peter Moffett. So why the change in musicians?
For this go-round and perhaps to stick to theme of the documentary, Stabb and company were intent on replicating a 1982 style set (featuring material from the then yet-to-be-released debut Lp Boycott Stabb and their first two EPs) and aside from absolutely amazing drummer Marc Alberstadt, this was essentially that same lineup. Though I was expecting a short, 20-minute set, thankfully with the amount of material played from those aforementioned records along with a long dub song called "Animal Dub" and an encore featuring more Boycott Stabb material with Lyle and Baker switching instruments, it felt much more complete. Furthermore, though Stabb's mic went out at least a few songs (Stabb joked that "No Rights" should have been called "No Mics"), his showmanship and the band's (and crowd's) rapturous zeal in shouting back the lyrics meant that it barely made a difference.
Regaling the crowd with a story of GI coming up to play in New York and how cocky and antagonistic they were given the rivalry between DC and New York at the time, it's nice that on this evening Stabb acknowledged the error of those youthful ways (admitting that, for instance, The Ramones and The Heartbreakers were "really talented, cool bands") while still proving, at 51, that he has an amazing amount of energy and panache (just check out his choice of outfit for the evening: a Dolly Parton inspired jean jacket!) while the band absolutely ripped through their hardest-edged material. What a set!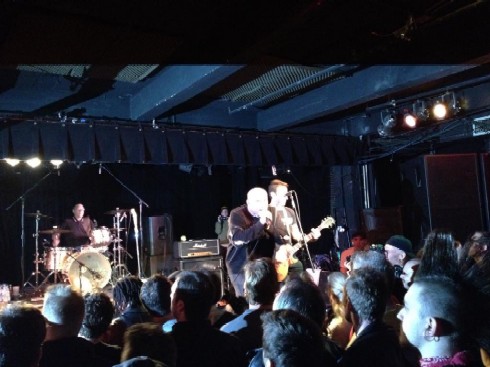 Finally, it was time for Scream's headlining set. Much like Black Market Baby's set the night before, the fact that they played last made it so they had no time restrictions and thus we got an hour long, career-spanning set. They did, however, they avoid 1988's No More Censorship and 1993's Fumble, both of which featured drummer Dave Grohl and not original and current drummer Kent Stax, who appeared on their 1st 3 Lps and 2011's great Complete Control Sessions as well.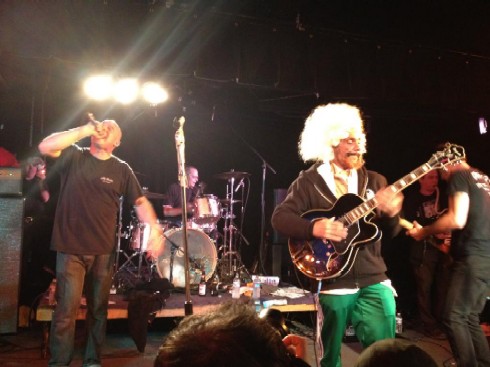 However, what we did get was a lot of material from their first 2 (and best) Lps (notably absolutely crushing versions of "Came Without Warning" and "Fight/American Justice" from 1982's Still Screaming along with the set-ending "Bet You Never Thought" from 1985's This Side Up) and that coupled with set opener "Stopwatch" (from Complete Control Sessions) and a few other odds and ends like 1986 single "Walking with Myself" (which also appeared on their 3rd Lp Banging the Drum).
Like his appearance the night before with Black Market Baby, HR (of Bad Brains) once again joined the headlining band on stage. This time, though, he sported a puffy white wig and just held a guitar that once again looked like it wasn't plugged in. What he didn't do, unfortunately, was sing. This was the one odd moment in an otherwise fantastic headlining set in front of an enthused hometown crowd that couldn't get enough!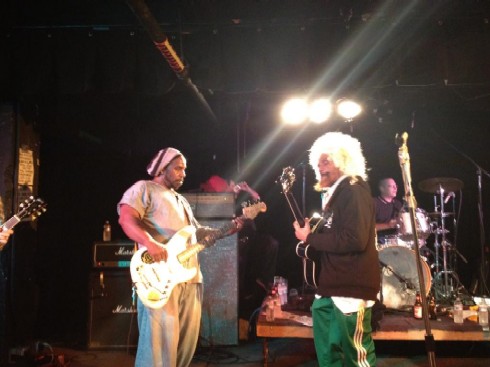 Thanks once again to Mike Haller for allowing me to use his photos!