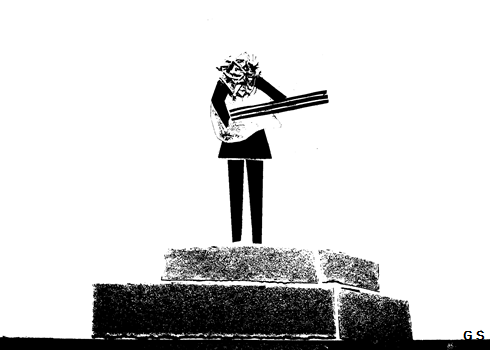 8 May 2014
"You were born before the twenty-first century," St. Vincent a/k/a Annie Clark told the audience as she attempted to list all the things we had in common. Wrong! A little boy, no more than six or seven, sat two rows in front of me and his major excitement defined us where age could not. The boy's mother, or a mother figure, was with him, wonderfully sensitive to his reactions, with no expectations of or demands on his enjoyment, and later he perhaps got bored or overwhelmed (much as I tried to convince myself of envy, too loud sounds made me sick at his age). The pure feelings and sensations people associate with childhood decompose quickly, needing rest, so they shouldn't be held up as an absolute mirror to an adult's more durable enthusiasm, but this boy's helpless curiosity was my mirror at the first moment. As he leaned forward, transfixed, so did I.
What he saw, and I saw, was a rock show edging into theater, so spectacular at times that, during a brief silence in the middle of one song, the boy yelled out, "That was a great movie!" I entertained similar visions: Atop a small white pyramid (as effective a prop as the more physically imposing cube the Pet Shop Boys brought to the nearby Orpheum in 2006; my friend Oliver traces it back with greater insight and applicability to the "Like A Virgin" wedding cake), Clark enacted a kind of science fiction story told in the relationship between herself and her guitar. To begin, she stood slack until a technician draped her with her gleaming black instrument and she came to life, to play a full set during which cool, mechanical dance moves belied her flexible musical technique. The set culminated with her pyramid-scaling "Maggot Brain" moment, "Prince Johnny," at the end of which, spent, she surrendered her guitar to the same technician and began her slow fall down the steps of the pyramid, reaching a kind of death. This made me think of a number of things, from The Nutcracker to Tales of Hoffmann to Metropolis (Lang or, more hopefully, Monáe), and thus conjure the nameless technician as a sinister Drosselmeyer or Coppelius or Rotwang, and though I would question any representation in which Clark's power comes from outside of herself, I assumed the winding down of her gears signaled the end of the set.
Wrong. She returned for "Year of the Tiger," and this too seemed like the end, the triumphant exposition of flesh and blood, the broken android reborn as human. Then came "Marrow," and later "Northern Lights," and under the weight of all these highs the narrative started to fracture, as it will when any concert gets to a certain length, and in its place was something better, a musician at her peak playing all her best songs. It took "Krokodil" to finally kill her again. By this point, any notion that the beginning of the show had been a metaphor for lack of autonomy seemed, in hindsight, very dumb.
An artist who used to do nothing but surprise us has already graduated to her genius phase, but surprise is still possible, sometimes in the ways the music pulls back toward simple delights. For one thing, the huge, steady pulse of the drums, easy to miss or take for granted in songs that emphasize strange architecture, hard/soft contrasts, can hardly be overlooked live, where it's applied with almost perfect regularity. The beat, more than any other element, knocked me toward wishful comparisons for the show's scale (Stop Making Sense being an easy example), and then abated for "I Prefer Your Love," the first of Clark's ballads that happens at the exact pace of "Nothing Compares 2 U." Sparer still, a solo encore of "Strange Mercy," lonely on electric guitar, on the pyramid, was immaculate, the moment when the artist apparently lets us find her at the quiet end of her art only to remind us that emotion is always knotty, never hiding, and she still has six strings and a voice to blind us with anyway. I'd never noticed before that the song's climactic threat has no resolution. The boy from earlier was already gone, snuck out where the shivers wouldn't find him.