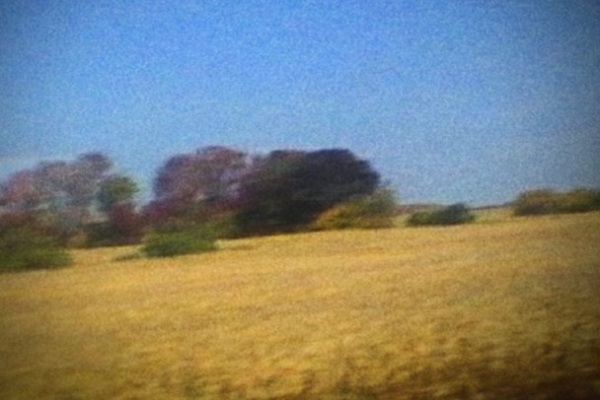 17 August 2014
The night after The Fresh & Onlys played the most reverb-heavy set I thought I'd ever hear, the slow decay of Mark Kozelek's guitar and voice in the stripped and refurbished Varsity was nearly planet engulfing. The songs on his new album of mortal bewilderment, Benji, which took up the bulk of his set, couldn't be smothered with any less. And I don't know that they were smothered, though when I noticed restlessness in the audience, it must have owed to a feeling of being unduly distanced from Kozelek's tales. But I liked being held slightly at bay and, being already familiar with the twists of his narratives, hearing how he might trouble the water at key moments.
Taken together, my two consecutive nights out would have made an excellent premiere for a relaunch of the late 90s HBO concert series Reverb, if the show's name was meant literally. For both acts the title effect is an imperative, not a sign of complacency or laziness. The Fresh & Onlys wonder how much minimal rock songs can gain from a vocal shaping itself on a mountain of noise. Sun Kil Moon introduces a different kind of tension than can be found on the recordings, which are equally resonant but closer to the ear. It was fascinating to hear Kozelek's voice rise in anger ("Richard Ramirez Died Today Of Natural Causes") or lust ("Dogs") and struggle against the cage of the music's trance. Words were lost to the billowing sound from a thousand reflective surfaces, anathema to those who might treat Benji's lyric sheet as an exhaustive text, but appropriate to the sheer volume of language. With so many words, might as well flood the lot and see what rises.
That said, this approach makes sense only as a live experiment, not a default setting, and Benji, as recorded, has as much to offer after a first listen, and as little that's dispensable, as Daft Punk's frequently maligned in-his-own-words biographical production "Giorgio by Moroder." Benji's direct storytelling often denies the relief (e.g. chorus) one might expect to enhance the songs' repeatability, although "I Can't Live Without My Mother's Love" eases the pain of reflection with short lines and verse-chorus-verse, and achieves a popular notion of perfection, both in form and sentiment. "Thank you for writing that song," someone in the audience said. On the other hand, "I Watched The Film The Song Remains The Same" is winding and slowly transcendent, and for the live version Kozelek tamed the song's sea of finger-picked notes, straightened out the measures with new structure. "The nervous tension I'd been feeling for months broke and strangely I laughed," he sang, and it was like he meant the way he'd broken the song.
The vision of Kozelek playing with eyes closed, a monk in a chair, was familiar from the last time I saw him, in 2011, performing alone under his own name, comfortably inhabiting slightly less cavernous reverb. The album he was touring at the time, Admiral Fell Promises, had just barely begun to introduce a more immediate, less beautiful vocabulary to his songwriting, but still matched it to serene music and a careful allotment of words. Something changed—it's hard to say which came first, the stories told in his recent work or the strategy of their telling, the decision to say exactly what's on his mind, with art but without even a glimmer of conventional poetic intervention, which is of course the hardest thing to do—and now a feeling of unrest animates music that's still primarily, for lack of a better word, entrancing. He also has, in an effort to keep the Sun Kil Moon name tied to the idea of a real band, support from a backing group, which included, on this stop, Chris Connolly on keys and, from local opening act Actual Wolf, Eric Pollard on drums. The setlist didn't skew much older than Benji. Songs from 2012's Among the Leaves and last year's Jimmy LaValle collaboration Perils from the Sea appeared, but there was no opportunity to hear earlier material from the vantage of his distinct present era, no "Katy Song" to stand in contrast with his anti-romantic approach, nothing like the catalog survey of his 2011 tour.
Being in the world gets harder, not easier, and, to hear the musician tell it, interactions with his audience get weirder. At South by Southwest this year, someone told him, with no apparent irony, "Congratulations on making a masterpiece"—a foolish thing to say to a person of a certain age, obviously, awful in its youthful certainty, as if that quality had any part in Benji's creation. He responds to such perplexing messages with self-deprecating wit (his "middle-aged ramblings about dead uncles and cousins," a masterpiece?), and by chalking it up to age. He identified the person who delivered this comment as being in her early 20s. He's 47, himself. The first two songs on Benji (also the first two songs of his set, after opening with "Black Kite") begin their choruses with a mention of someone's age: "Carissa was 35." "My mother is 75." It seems these numbers are the only things that might fully express, or excuse, the strangeness of life.
Trouble follows him. Even as his strict no cell phones policy lent the night an uninterrupted depth of experience (so strange and new, this feeling), the venue was unusually polluted with the kinds of people who think the point of a show is to engage in banter with the performer, to begin calling out requests after the first song, and to loudly voice opinions. "Reverb sucks," someone shouted, but luckily Kozelek is as funny as he is serious. "That's the problem with being a musician, people know where to find you."
Late in the set, he set aside his guitar and stood at the microphone for two songs accompanied by his band, the first set to a hip-hop beat, the second, "Ceiling Gazing," a slow dance. Earlier, while Actual Wolf played their opening set, I'd seen Kozelek across the room, to the side of the stage, his face in and out of shadow like The Third Man's Harry Lime, a mysterious smile traded for mysterious stoicism. Later, as he finished his set, standing in full view and demystified, a grown man perhaps slightly unwell, I watched his feet. Ever since reading Jerry Nolan's memories of the hole in Elvis Presley's boot, I've been unable to keep myself from gazing at the shoes of performers (coming up next: Tori Amos's heel), in an attempt to anchor my memories as they're being formed. Unlike Elvis, Kozelek needed no help being humanized, but watching his spot on the stage while music played made the room vast, endless. A short time later, around the corner at Kitty Cat Klub, I watched local group Brilliant Beast play five songs, mostly excellent, until my bus came. They offered a different version of shoegazing, and a fitting end to an unmediated (no phones; artistic clarity) night of music.