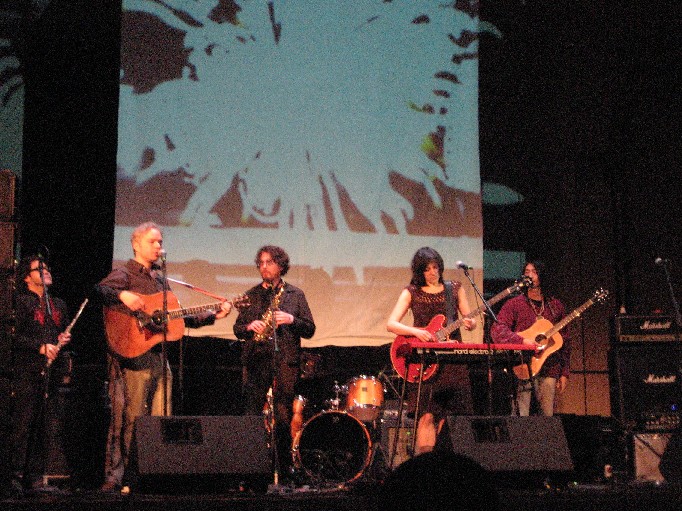 5 May 2006
Continued from Part I
The day started off with Terrastock mainstay TOM RAPP, a former member of '60s group PEARLS BEFORE SWINE. He combined some engaging storytelling about BOB DYLAN and other familiar figures from the Greenwich Village folk scene of the early to mid '60s with a fiery and very brief political number that pondered what ABRAHAM LINCOLN would say if he heard one of GEORGE W. BUSH's speeches.
Next up was MAGIC CARPATHIANS PROJECT, a duo who flew from Poland just for this show. They were impressive and mixed Middle Eastern and East Asian instruments and musical motifs with the music of their Central and Eastern European homeland.
After a short break, we returned to the Chaffee-Pell Performing Arts Center to watch FURSAXA, a solo performer from West Philadelphia who has been described as a psychedelic version of NICO. This description is somewhat accurate, as she lures listeners in with her beautiful, almost operatic wail and mellow yet expansive-sounding keyboards and strings. She also reminded me of '80s 4AD artists like DEAD CAN DANCE and COCTEAU TWINS in terms of the ethereal feel of her music.
The next group we watched was DAMON AND NAOMI, one of the true highlights of the festival. They played mostly newer material from their recently released album The Earth Is Blue. For most of their set, they played with members of GHOST (who played their own set in the same room the next day), though unfortunately they didn't touch upon any material from their 2000 collaborative album. I especially would have loved to hear the entrancing song "The Great Wall," but this is a minor complaint since I really enjoyed their set. A highlight was their tribute to Brazilian legend CAETANO VELOSO, by covering his "Araca Azul" in admittedly broken Portuguese, and then leading into into the title track of The Earth Is Blue.
The last band we watched on this evening were WINDY AND CARL, a husband and wife duo from Dearborn, Michigan who also own and operate an appropriately named record store called Stormy Records. Windy and Carl have been cranking out moody psychedelic instrumentals since the mid '90s, though this was my first time seeing them, since they rarely tour due to their store and whatnot.
Because most of the bands played short, 45-minute sets, that meant that Windy and Carl only had time for one "song." At first I wasn't sure what to make of it, but as the piece grew in its repetition, it pulled me into its vast and expansive vortex. It was also the perfect way to end a day of mostly quiet, ethereal, spacey music, which was in sharp contrast to eardrum-shattering artists from the first day, like KINSKI and BARDO POND.
comments powered by