27 March 2006
Playing their first New York club show in 13 years (not counting the acoustic set they played at Cake Shop two days earlier), New Zealand indie-pop quartet THE BATS was awe-inspiring.
First off, let's talk about the songs. One after another short, noisy pop blast was played, focusing on older material such as the sublime "Smoking Her Wings" from 1990's The Law of Things and "Block of Wood" from their debut, 1988's Daddy's Highway. Of course, they played five or six songs from last year's At the National Grid, their first album in 10 years, including "Bells" and "Things." The Bats are led by ROBERT SCOTT on vocals and rhythm guitar, although lead guitarist KAYE WOODWARD harmonizes with Scott on many of the songs, and sang lead on one song as well.
Although the show wasn't sold out, the room was about two-thirds full of rabid fans, many of whom saw them back in their late '80s/early '90s heyday. They also attracted some younger fans, such as myself, who didn't get a chance to see them back then. It's remarkable that after 22 years and virtually no recognition in the US, they can retain the same lineup, and with no ego or calculation at all, play the same type of New Zealand jangle pop to an audience eating it up all the while.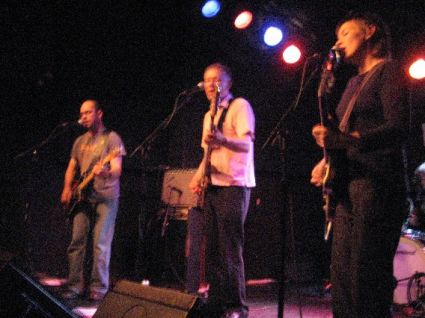 The openers were THE MAD SCENE, led by HAMISH KILGOUR, brother of DAVID KILGOUR of THE CLEAN, another seminal New Zealand indie-pop band of whom Bats lead singer/guitarist Robert Scott is a member. They play a similar style of music to The Bats, but their songs aren't nearly as memorable or catchy. They're also a bit slower and more obviously derived from THE VELVET UNDERGROUND. I think they're a pretty solid band, but they were much better opening for YO LA TENGO back in December at Maxwells.
The first opener was ANNIE HAYDEN, formerly of '90s Merge Records band SPENT. She played her mellow, quiet, folksy indie-pop to a crowd that was just starting to fill up; it was a similar set to what she delivered when she opened for THE CLIENTELE at the same venue last November.
The above photos were taken by Anne. Thanks sweetie!
comments powered by