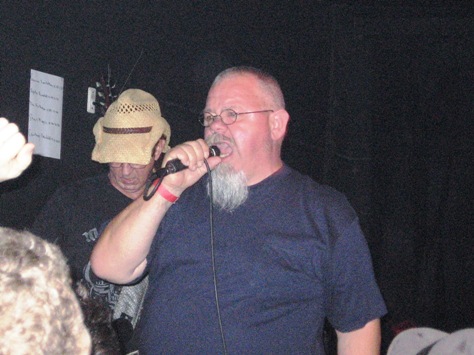 16 August 2006
I had been looking forward to this show for months ever since I found out that THE DICKS had booked an East Coast tour back in May. Fortunately, they not only played two New York-area shows, but they also decided to make a stop in Philadelphia.
For those of you unfamiliar with The Dicks, they're one of the great early '80s hardcore punk bands. Based out of Austin, Texas, they're part of a continuum of Austin-bred weirdoes that stretches from ROKY ERICKSON (of the 13TH FLOOR ELEVATORS) and MAYO THOMPSON (of THE RED KRAYOLA), who both started out in the '60s and perform to this day, to fellow '80s hardcore punk bands like THE BIG BOYS (with whom The Dicks recorded a split live LP called Live at Raul's), THE HUNS, and later SCRATCH ACID and BUTTHOLE SURFERS.
Although they're one of the bands credited for popularizing (relatively speaking, of course) hardcore punk in the early '80s, they were influenced heavily by blues and classic rock, as well as funk, soul, and r'n'b, though not as prominently funk-influenced as The Big Boys were. Singer GARY FLOYD has a rich, howling blues-shouter's voice and with The Dicks, he railed against police brutality, fellow gay men who were still stuck in the closet, war and other perils of the time period, many of which are sadly still relevant today, if not more so. Although original guitarist GLENN TAYLOR sadly passed away before they reformed a few years ago, original members Floyd, bassist BUXF PARROT and drummer PAT DEASON are still at it, playing with as much ferocity, passion and righteous anger as they did in the '80s.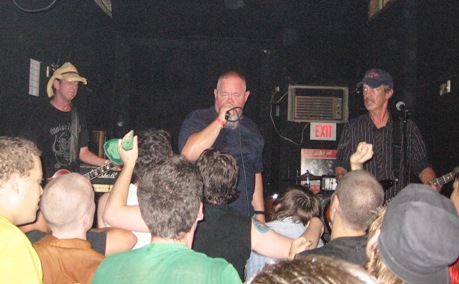 After waiting patiently for the three opening bands to finish, The Dicks finally took the stage at about 12:30 AM. Thanks to the really nice guy working the door who let us go in through a side door, we were able to get a good view of the band in this very hot, sweaty, and overcrowded little club. They started with "Kill from the Heart" (the title of their first LP for SST) and also played such crowd favorites as "Dead in a Motel Room," "Little Boys Feet," "Lifetime Problems," "Sh*t Fool," "Sh*t on Me," and "Fake Bands". As expected, he crowd sang along to these favorites and slam-danced as well.
However, this show had an unfortunate end. I noticed that there was a PINK FLOYD poster on the wall (the album cover of Wish You Were Here) when I first saw the room and I couldn't help thinking that it was a bit out of place at a hardcore punk show. Sadly, I was proven right. During one of their songs, I saw what looked like a large poster fly over me and I held it up to get it away from me! Little did I know that it was the same Pink Floyd poster that I'd seen before. It turns out that some drunken, small-minded fools decided to not only rip it out of the wall but to throw it at the band as well. Understandably, the band was upset and threatened to stop with Floyd (no relation) baiting the crowd by saying things like "you showed how punk you were tonight" and things of that nature. They threatened to stop if it happened again and though no further incidents took place, they only played two more songs after that, closing with the immortal "Dicks Hate the Police," a song once covered by MUDHONEY. As Buxf Parrot stated before they left the stage, "we're not human piñatas." Indeed. Although it was great to see the band, the incident left a bad taste in my mouth (and probably in theirs as well).
comments powered by