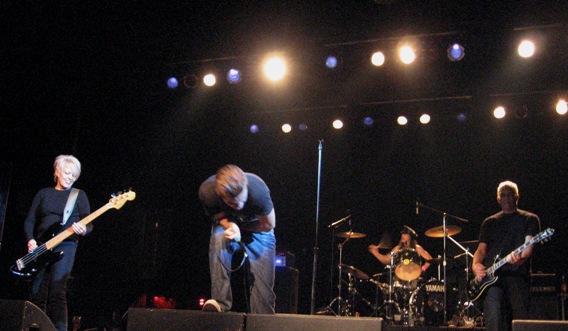 2 September 2006
It seems that these days, not a week goes by without a legendary punk band reuniting and touring the U.S. Not that this is a bad thing, mind you. As someone who never got to see many of my '70s and '80s heroes live, I'm grateful for any of these reunions. In the last several years alone, I've seen amazing shows from X, MISSION OF BURMA, DICKS, AGENT ORANGE (though MIKE PALM is the only original member left), NEW YORK DOLLS, and several sets by THE STOOGES that remain among the best shows I've ever seen by anyone, ever. I really wish that I could add this reconstituted version of THE GERMS to this list, but sadly this show was just a lifeless drag.
Now I know what most of you are probably thinking, which is that it was entirely new singer SHANE WEST's fault. Sure, he's a pretty-boy actor who pays the bills by starring in ER and what not and the rest of the band (all original members) picked him out to replace DARBY CRASH since West portrayed him in the yet-to-be-released Germs biopic What We Do Is Secret. This would be a convenient and predictable way to think, especially in the world of punk rock, which is more concerned with authenticity than even the world of jazz can be, but it simply wasn't true.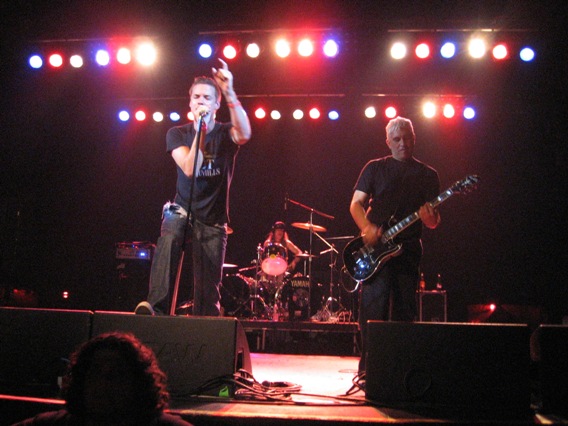 West has obviously studied Darby's vocal style and mannerisms, though the extent of his "outrageous" behavior was lighting a set list on fire (oh, how rebellious). Therefore, there was no smearing of peanut butter or cutting himself up like Darby (channeling IGGY POP's performances in the early '70s) used to do. Nevertheless, West did a fine job and sounded so exactly like Darby at certain times that it was truly eerie. Furthermore, he's stopped uttering phrases like "someone get me a beer" (which Darby famously uttered in The Germs' performance segment of The Decline of Western Civilization before they launched into "Manimal").
So what was the problem then? Well first off guitarist PAT SMEAR and bassist LORNA DOOM just weren't into it at all. They just stood there and grinned at each other the whole night while phoning it in, with the diminutive Lorna smiling into the audience, as if she was truly mesmerized that there would still be people interested to hear what she did over twenty-five years ago. Part of their lack of interest surely must have come from the fact that the show was vastly under-attended. In fact it would've served the promoters better to book it at a smaller place, but since they only managed to draw about a hundred people or so, even the TLA would've been too big for this show. Perhaps it should've been at the much smaller First Unitarian Church or North Star Bar. If that were the case, it would make it a much more conducive environment for this kind of show. As such, though, while the performance started out energetically, it just became more and more boring to watch as time went on. Though it lasted barely an hour, it covered just about every song The Germs ever committed to vinyl. After this performance, though, I had to listen to GI again to remind myself of why I went in the first place!
Openers THE BOILS were far more enjoyable than the headliners. I'd never heard them before, though I'd heard the name. They look like a punk rock version of a United Colors of Benetton ad since they have a skinhead on vocals, a guy with a green mohawk and a GBH shirt on guitar and a couple of hardcore kids on bass and drums. And they sounded like it, too, and not in a bad way at all. They remind me of the bands who were kicking around the New York area in the late '80s and early '90s, like those on the Look at All the Children Now compilation. They weren't quite hardcore or oi!, but somewhere in the middle, sort of like YUPPICIDE or virtually unknown one-off bands like WORLD DISCRIMINATION (who wrote songs like "Skins and Punks", the chorus of which went "skins and punks, united and drunk") who appeared on that particular compilation.
They also reminded me of THE EXPLOSION, a Boston band with a similar aesthetic, though The Boils are less directly rooted in second-wave U.K. punk like STIFF LITTLE FINGERS and more in '80s hardcore. Regardless, every single one of their songs was catchy, fun and short and they came at the audience, many of whom sang along, one after the other. It turns out that they're locals and with song titles like "Bullies" (named after the Philadelphia Flyers teams of the '70s, who were affectionately known by fans as the "Broad Street Bullies") and "Blue Route Blues" (the Blue Route is I-476, a road that runs through Montgomery County which is just outside of Philadelphia), they just bleed allegiance to Philadelphia. If you like old-school punk and hardcore and don't think that any newer bands can play it as well as the older ones, go see them if they come to your town!
comments powered by