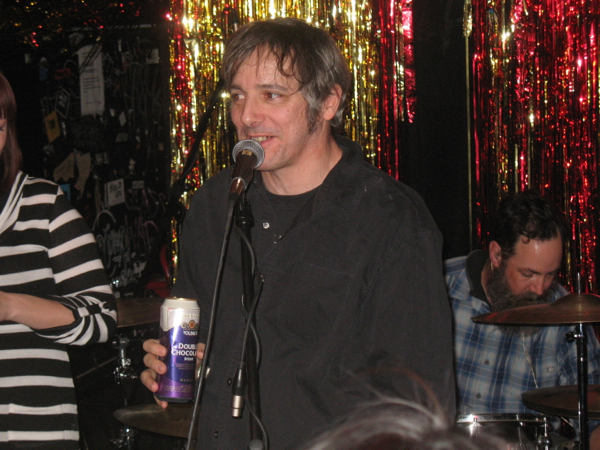 26 February 2015
Photos by Mark Suppanz
(Above: Big Takeover founder and Master of Ceremonies Jack Rabid introduces Soft Science.)
Has it already been five years since The Big Takeover's blowout, 15-band, two-day 30th anniversary festival at Brooklyn's Bell House? My, how time flies! This 35th celebration show wasn't as exhausting, or as focused on the magazine's time-tested, veteran favorites. But by showcasing four up-and-coming, under-the-radar bands – all of which had new releases reviewed by energetic editor Jack Rabid in the mag's last two issues – the night was as equally entertaining and just as jam-packed with marvelous music. Best, counting a "warm up" show by both out-of-town outfits Jet Black and Soft Science the previous night at Williamsburg, Brooklyn's Matchless (along with two other bands, Luff and Anilore), this weekend was my first opportunity to see all four bands!
Pale Lights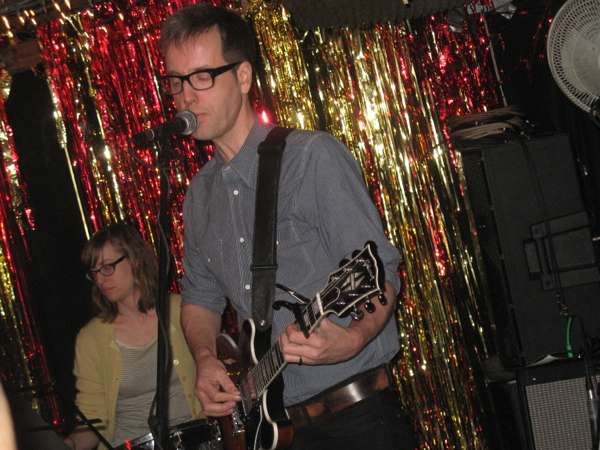 Though the night's first band, Pale Lights, is based in nearby Brooklyn, they sure don't sound like many of their Big Apple brethren. That's partly due to their London transplant singer/guitarist (and ex-Comet Gain/Soft City/Cinema Red and Blue member and former drummer) Philip Sutton's polite, pensive British accent. But it's also the result of their music's multitude of across-the-pond influences, from its Go-Betweens/Clientele/Trash Can Sinatras-evoking textural melodic pop to its Chills/Bats/Able Tasmans-inspired New Zealand jangle, not to mention a mild Morricone-esque desert music/spaghetti western twang. With honed-in Crystal Stilts bassist Andrew Adler (I knew I recognized him from somewhere!) pulling a skillful switcheroo on lead guitar, and muscle-flexing females Maria Pace and Lisa Goldstein affixing frugal yet firm rhythms, the foursome flew through half of their terrific 2014 debut Before There Were Pictures, including catchy chuggers "4 O'Clock in the Morning" and "The Night Tells No Lies." They even tacked on their superb new single "Fourteen Stories Tall" and its similarly seducing B-side "Twisting the Knife," which only amplified our anticipation for album #2.
Soft Science

Sacramento, CA five-piece Soft Science traversed the furthest (2,820 miles!) of the four bands to showcase their stuff, and judging by the astonished audience's ardent applause, it was clear their taxing trek was well-appreciated. The reaction was not surprising; it's not often you hear dreampop that's so devastatingly dynamic and driving. Throughout, twin brothers' Matt and Ross Levine's alternately ripping and resounding guitars and keyboards were buttressed by the blasting rhythms of bassist Mason DeMusey and newer drummer Tony Cale (husband of Becky Cale, just-departed singer of Sacramento's also fab, female-fronted Arts & Leisure), while the alluring, angelic vocals of Katie Haley encircled Cake Shop's contours like a captivating choir of canaries. Their set naturally focused on their delectable 2014 second LP Detour. In fact, that album's pulverizing "Feel" was the evening's hardest-hitting highlight, with similarly single-word-titled stunners "Blue" and "Cold" not far behind. And two terrific new songs they previewed, the beautiful "Breaking" and the dark, ominous "No One" (the latter profiting from Cale's mighty mashing), had us all selfishly soliciting for them to finish up that third album ASAP.
Jet Black

Not only were Quebec quartet Jet Black the only non-U.S. band on the bill, but they were also the night's most unremittingly punishing one. Indeed, their thunderous and turbulent two-guitar bombardment summoned up a synthesis of Swervedriver and Swans. Aggressive axemen Philippe St-Laurent and Francis Berthelot dispensed a ceaseless salvo of squalling, smoldering riffs, over which St-Laurent delivered his soaring Adam Franklin-like croon, furthering Swervie comparisons. Meanwhile, swaying bassist Stéphanie Vézina and smacking drummer Jean-Philippe Laforge bestowed a bottom end so grinding and grueling, it felt like we were trapped on trembling tectonic plates during an earthquake. Six of the cacophonous Canadians' seven songs came from their sublime 2014 sophomore album In Paradox; the easygoing "Elevator," acting as a prologue to Paradox's brisker "Blank Note," was 2011 debut Escape Measures' sole selection. The demolishing "Deep Space," riveting "Running in Circles," and smashing "Star Cluster" were such caterwauling knockouts, even Hüsker Dü/Sugar legend Bob Mould – in attendance after his David Letterman appearance – couldn't resist purchasing an album. If that's not a ringing endorsement, I don't know what is!
The New Lines

With their compelling combination of baroque, psychedelic, space-rock, and shoegaze, Brooklyn headliners The New Lines were the most unusual band on the bill. Frontman Hewson Chen's meticulously-picked yet mesmerizing guitar patterns and mysterious, mollifying murmur flitted around fixated keyboardist René Dennis's swirly and spirally '60s-esque Farsifa organ. Their soothing sounds were secured by tight-thumping bassist Mark Di Donna and taut stickman Matt Schulz, further enhancing their music's entrancing effects, and giving 2013 second LP Fall in Line songs like "8239," "Burning Bridges," and "The Tale of the Bamboo Cutter" an unexpected head-bobbing and hip-shaking groove. Though the band didn't play anything from the first-rate, fresh-off-the-presses Shismogenesis EP they handed out after the show, their 14-song set was teeming with tunes from the aforementioned Fall and 2011 debut All That We See and Seem (its "A Structure of Repeated Displacements," featuring intricate interaction among all four instruments, was a huge highlight!), and rounded out with various singles like the militaristic "Off Axis" and their poppy collaboration with D.C. instrumentalists Sansyou, "Gowanus Canal Field Inspection," about NYC's favorite toxic tributary.
What an ideal ending to a special night! Not only did the evening feature fabulous music from four uniquely-styled bands that somehow fit together perfectly, but it was also filled with friendly vibes and a fervent spirit and camaraderie. Here's hoping for a sequel soon, because I don't think I can hold out another five years for the 40th anniversary show! ✪
(If you missed the show and are curious, The New Lines and Pale Lights will be playing WFMU's Monty Hall at 43 Montgomery St., Jersey City, NJ, on April 18. Now without further ado, below are more photos from the show!)
Pale Lights:
Andrew Adler, Maria Pace, Lisa Goldstein, Philip Sutton

Soft Science:
Ross Levine, Mason DeMusey, Katie Haley, Tony Cale, Matt Levine

Jet Black:
Stéphanie Vézina, Jean-Philippe Laforge

Philippe St-Laurent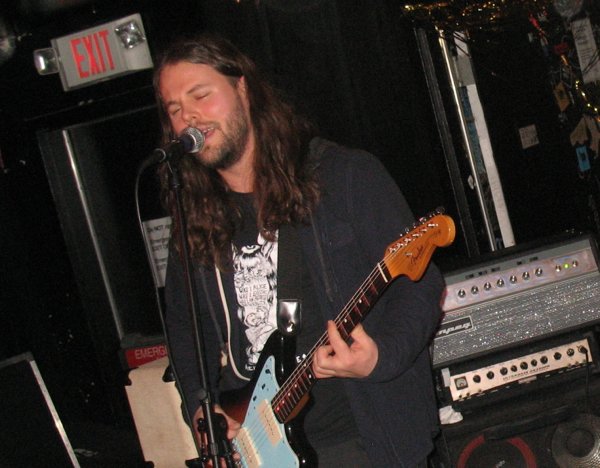 Francis Berthelot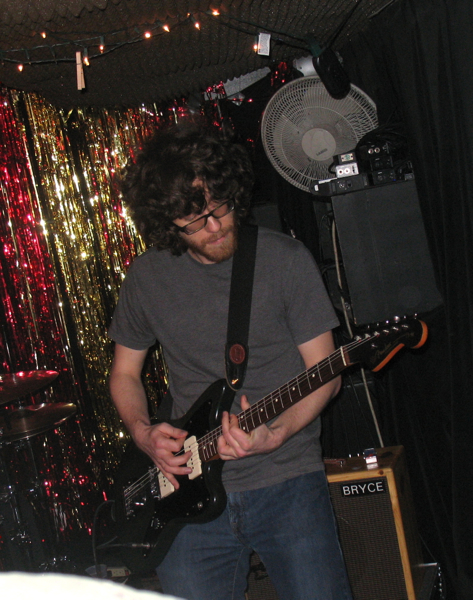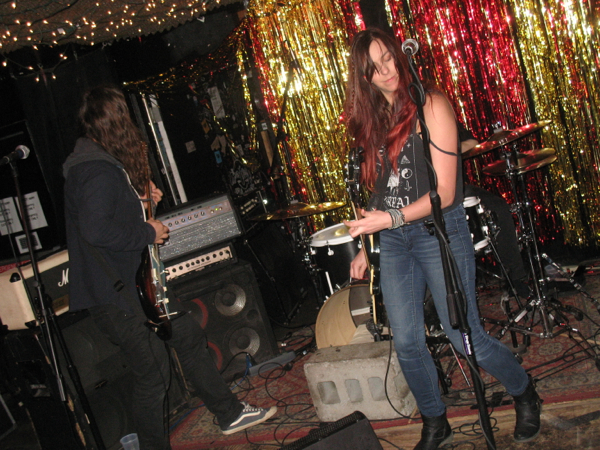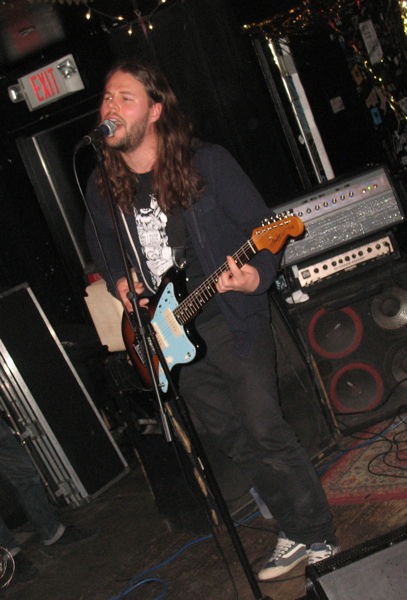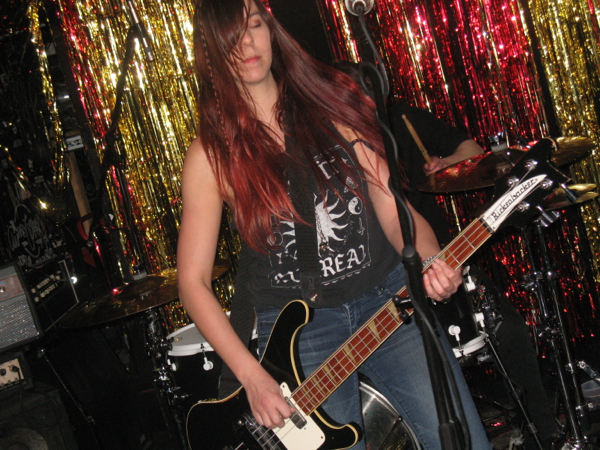 The New Lines:
René Dennis, Hewson Chen, Matt Schulz, Mark Di Donna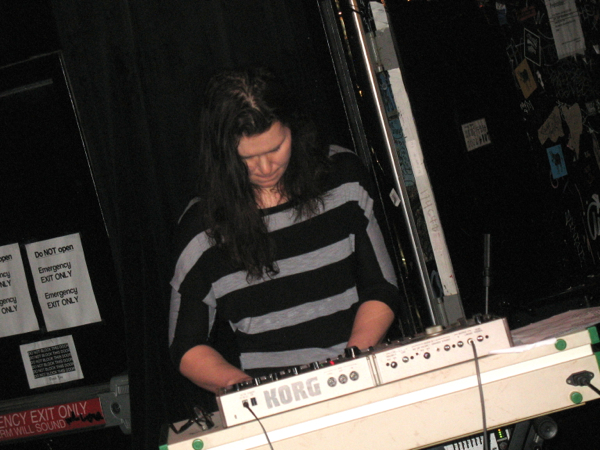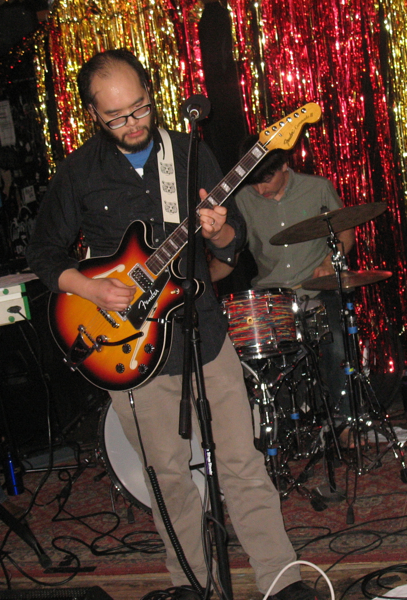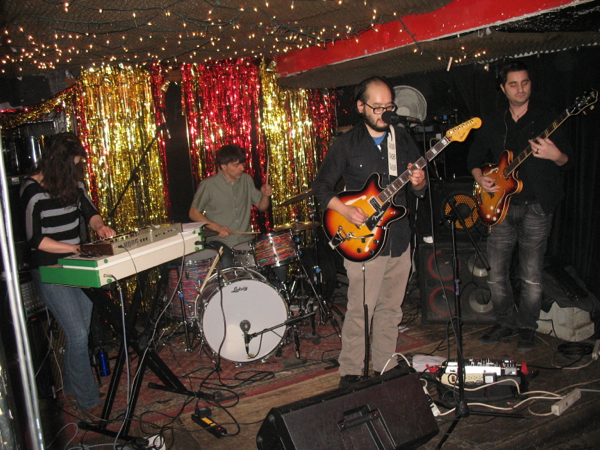 (Below are some bonus photos from Jet Black's and Soft Science's show the previous night, February 6, 2015, at Brooklyn's Matchless. Enjoy!)
Jet Black at Matchless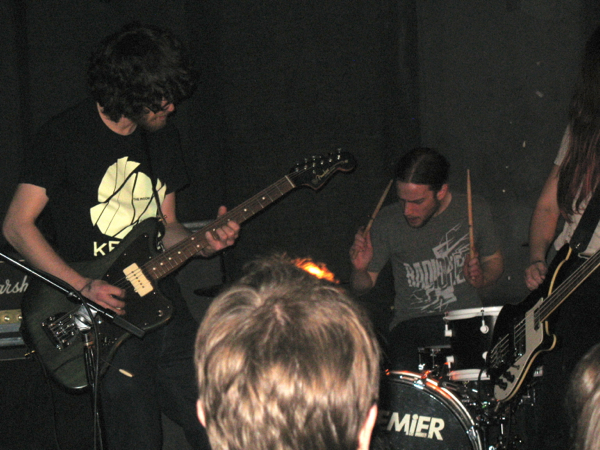 Soft Science at Matchless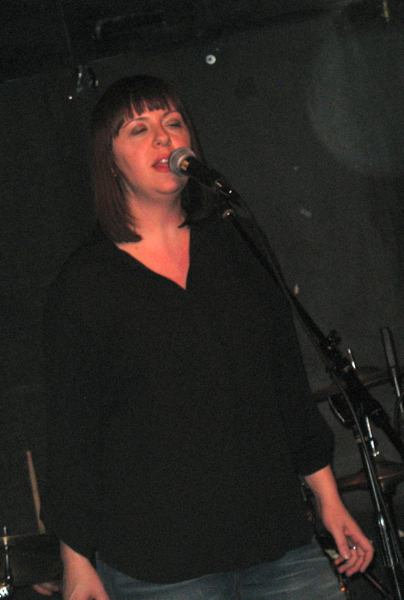 comments powered by