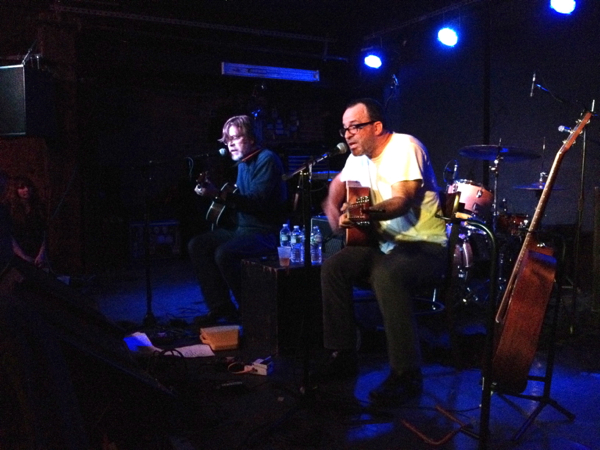 22 August 2014
Photo by Mark Suppanz
When two of pop music's best songwriters, Pernice Brothers/Scud Mountain Boys' Joe Pernice and Teenage Fanclub's Norman Blake, come through town to perform acoustically as The New Mendicants, you drop everything and go. (Their official third member, ex-Pernice Brothers drummer Mike Belitksy, was absent.) Unfortunately, Pernice was stricken with a sore throat, which limited him to groggy (yet still gorgeous) lead vocals on only six of the night's 17 songs. Four of the six were New Mendicants tunes, plus two from The Pernice Brothers: "There Goes the Sun" and a brand new one called "Telescope," written about Pernice's son.
But if you were a fan of Blake's, this was a bonanza! The amiable Scottish singer trotted out five Fanclub numbers — "Dark and Lonely Night" (an iTunes bonus track from 2010's Shadows), "Baby Lee," "It's All in My Mind," "I Don't Want Control of You" (another Dad song; it's about Blake's daughter), and "Everything Flows." As well, we got one from Jonny (the foot-stomping "You Was Me"), his collaboration with Gorky's Zygotic Mynci vocalist Euros Childs. Blake was even pressed into lead vocal action on two more Pernice Brothers numbers, "The Loving Kind" and "Amazing Glow," handling each with aplomb.
Finally, Blake sang two covers, Fairport Convention singer Sandy Denny's 1974 "By the Time it Gets Dark" – which also appears on the Mendicants' debut LP Into the Lime – and, in tribute to its late author Grant McLennan (1958-2006), The Go-Betweens' "Finding You" (from their 2005 LP Oceans Apart), which ended the evening on a sumptuous, sympathetic note. Thus, with only five of the night's selections being original New Mendicants songs, this show felt more like a loving look back at the careers of both Pernice and Blake. And since the two had such a natural, respectful rapport — including witty banter that kept the audience in stitches all night — it made this show that much more special.
comments powered by