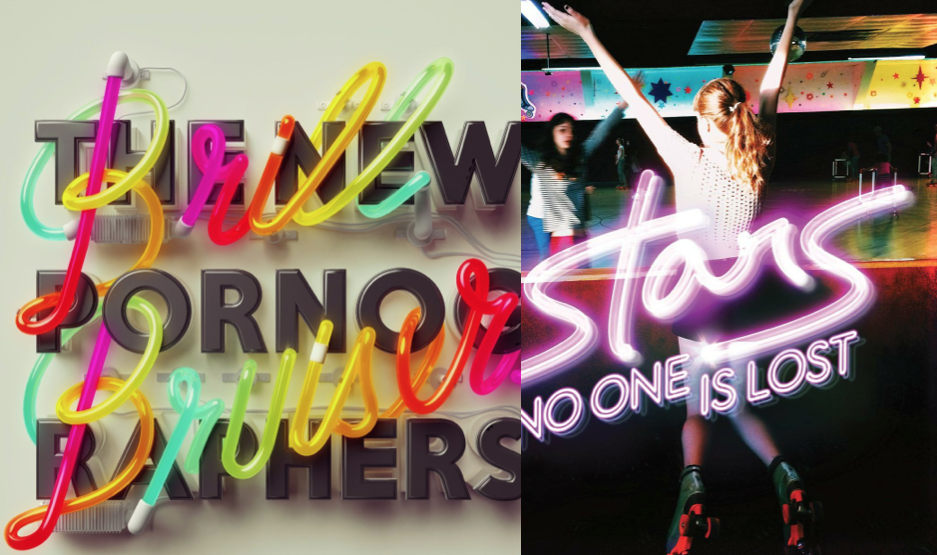 20 January 2015
I first saw Stars and The (unabridged) New Pornographers a few weeks apart in late 2007, and then not again until the two bands played a week apart at First Avenue last November. If I'd designed the variables and controls myself, I couldn't have come up with any better experiment to discover a general principle of aging among touring artists, so how funny to find there is none. The New Pornographers were the exact same band I'd seen seven years before, while Stars seemed exactly seven years older. As an observer I felt pulled toward both poles, alternately ageless and aging.
So, as for The New Pornographers, they familiarly placed themselves along two rows, with songwriters, singers and keyboards up front, the arrangement porous only on account of Dan Bejar, and already I can barely distinguish memories of 2014's show from those of 2007's. "The Laws Have Changed" was again the biggest number among a couple dozen big numbers, Neko Case swooping in solo from group harmonies with her "all hail," and the terrific energy of the moment will certainly be worth returning to when they tour these songs for the last time in the 2040s. It might sound like I'm describing a stagnating band anticipating a greatest hits package, but I'm not (their new songs are great), and anyway what matters more is that a group of so many members remains so resistant to fragmentation. The struggle against atrophy requires as much, no, more ennobling energy than dramatic creative evolution.
Still, I wonder if atrophy could have overtaken this band if not for the fact that A.C. Newman has no more central venue for his, to borrow a phrase, "hulked-out harmonies." The coiner of those words might have meant any song, but "Dancehall Domine" comes especially to mind, representative of the way Newman's melodies are increasingly supported by a massive, mechanical chug, like a version of The Cars in which rigorous harmonic exercise becomes incarnate as pop, these champions of theory running amok and carving up ear worms.
The New Pornographers are Newman's musical project, but for spiritual leader of the band I'd audaciously bypass Case and point to Dan Bejar. That might seem like an odd position to take, given that Bejar famously leaves the stage anytime he's not playing one of his own songs. But his appearances were notably more numerous this time around (a trend starting with "Myriad Harbour," second from the top of the show), and each became a major rallying moment for the front line of performers, as if Bejar's continued participation is a metaphor for the improbability of the whole enterprise and therefore greatest cause for celebration. I'll keep coming back, if they do.
The Pains of Being Pure at Heart opened (Ben E. King's "Spanish Harlem" had been playing and as soon as I thought, "Here's where the strings come in," and waited to be swept away, the band emerged) and further confounded a concept of time by appearing to have aged in reverse since headlining the more conducive Triple Rock in 2011. Smashed together at the front of the stage, crowded by the main act's gear, they looked very young, like a new band hoping to impress a potentially hostile audience awaiting The New Pornos' guaranteed hooks. That's a sad situation for a band with three brilliant albums to its name, but they benefited from that kind of energy, and comfortably absorbed the somewhat green but lovely new vocalist, unidentified, who took on parts formerly sung by Jen Goma and Peggy Wang. Kip Berman was a high-strung charmer, awestruck by his station, and while it's a little troubling how quickly the world can shuffle a band like this back to its aspirational phase, Berman seemed very excited.
A week later, I arrived at the Stars show directly from a screening of Pulp: A Film About Life, Death & Supermarkets, a fantastic live document and essay on, among many other things, the experience of live music. Stars, rather than being put in competition with Pulp, were elevated by the craving the movie had put in my body for a big rock show and attendant atmosphere, for another trip to that dark interior space whose familiarity has yet to cancel its allure.
Stars have been a band for roughly as many years as Pulp had at the time of "Common People," and with the simple declarative title of their new one, No One Is Lost, they've similarly hit upon the clearest formulation of their message, which has always been some variation on "pop music saves." For both bands, closer proximity to mortality strengthens the message, and an unflagging sense of conviction delivered them these 15 years to it: "Put your hands up 'cause everybody dies." For the No One Is Lost tour, the sound of being not-lost, or found, is very, very loud, a womb of noise, exquisitely arranged synth pop amplified all to hell, as if part of one last desperate, almost physical attempt to hold the listener. I loved it.
Torquil Campbell and Amy Millan, who I'll call models of mutual sympathy and support because I don't know if they consider themselves soul-mates, stood together at the center of the maelstrom, undaunted. Campbell can rasp through the noise, so that even when he wants to turn his voice way, way down, its rhythmic friction keeps his personality as a singer intact. Older, a little wearier, but clearly happy with the audience they've built, the band and its two singers applied an almost anarchic energy to music that could easily be presented in a more urbane manner (as during 2007's show, if I'm really remembering it) because, at this point, why not?
During "The Ghost of Genova Heights" Campbell pushed up his glasses with a middle finger, and at first I thought I only imagined that he let it linger there, but when he later took a hand to his head and mimicked blowing out his brains, I recognized that he was assembling from subtle gestures a weirdly dangerous performance. He had the poise of a rapper in the way he moved, held the stage, held the mic, silently surveyed the audience, etc. 2010's "We Don't Want Your Body," with the hindsight of a couple years, played like a response to Lady Gaga's "Do What U Want," even in terms of melody, but Stars are able to declare their self-determination without so explicitly disowning mainstream pop. They carry with them a kind of secret, about strength and endurance, and though they never stop putting it into words, it somehow remains a secret.