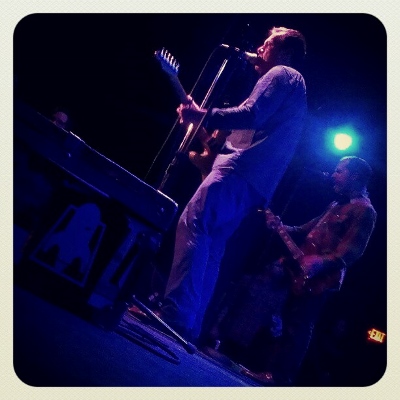 5 March 2013
The last time The Night Marchers played in Philadelphia, it was at the legendary Khyber back in 2008. A short time later, the Khyber (once the hottest club in town for touring indie and punk bands) ceased to do live shows and it's now a bar and restaurant. Therefore, where would they play this time? Enter new-ish venue Underground Arts, a dungeon-like venue that serves food, has graffiti on the walls and feels like a nicer version of how dingy rock clubs did in the early '90s. In other words, it was perfect for the fearsome garage rock attack of the San Diego foursome.
Supporting a brand new album (Allez Allez is only their second Lp after 2008's See You in Magic), Jon Reis and company belted out an hour long set comprised of songs from both records. Though we didn't get the monster-hook-laden "Whose Lady R U" and the new album's "Big in Germany," they played just about every other song fans could have hoped for. Of particular note was a stunning version of "(Wasting Away in) Javalinaville" that was loud and intense enough to peel the paint off the walls and a great version of "In Dead Sleep (I Snore ZZZZ"). Otherwise, Reis remains quite the showman, joking with and regaling the crowd between songs. The bottom line is that if you ever have a chance to see The Night Marchers, don't miss them!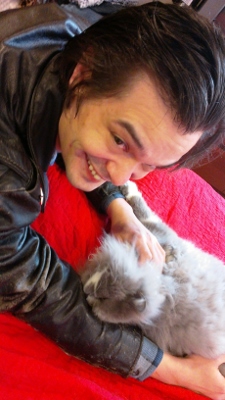 Dan Sartain is the musician who I was least familiar with before this evening and while I've never listened to his records, I'll make sure to correct that after this performance. Looking like the long lost child of Dee Dee Ramone (even his stage movements and the way he holds his guitar reminds me of Dee Dee) and appropriately counting down the introductions of his songs with 1-2-3-4s and the like, Sartain played a short, sharp, fast, 30-minute set of garagey-punk that barely gave one a chance to hold his or her breath.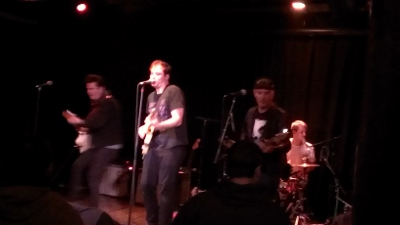 Mrs. Magician opened the show, but were good enough to headline as far as I'm concerned. Their debut album Strange Heaven from last year is full of reverb-laden garage rock with dare I say almost pretty-sounding harmony vocals ala an "evil Beach Boys" and they deliver the goods on stage, too. They had to cancel their last scheduled show here in Philadelphia after their previous bassist left in the middle of the tour, so it was nice to finally get to see them!
All of the above photos were taken by Poliana Irizarry. If you enjoyed the photo of Dan Sartain with her cat Owlbert, you can visit Owlbert here.