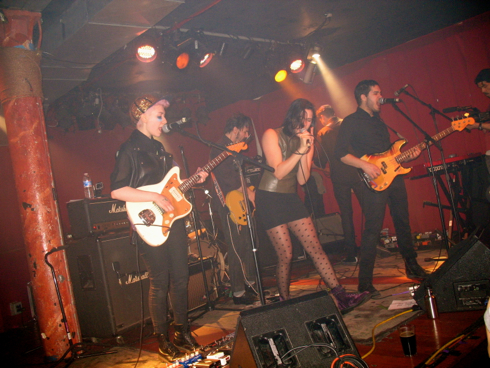 19 March 2013
This college-aged New York foursome's marvelous just-released second LP Warned You is one of my favorite albums of 2013, so these two Greenwich Village shows were eagerly anticipated. The band's core of singer Sofie Kapur, her older bassist brother Anders, and guitarist Hunter Lombard first met at a NYC music school in 2006 – when Lombard was only 12 – before later forming the band in their teens under the tutelage of manager/producer Kevin March (drummer for Guided by Voices, Shudder to Think, and The Dambuilders). Adding piledriving, burly-armed stickman Tony Franco in 2010 helped solidify a lineup that – much to my surprise, given the time often needed for young bands to gel on stage – was as convincing and formidable live as on record.
Sofie Kapur, Anders Kapur, Adam Tilzer

Tony Franco

Hunter Lombard

At both shows, guitarist Adam Tilzer (leader of Staten Island punk/ska band Avon Junkies) was enlisted to help further thicken Lombard's already buzzing, stinging leads, while special guest Nathan Larson of Shudder to Think hopped on stage for the last four numbers at Sullivan Hall, making for a potent three-guitar onslaught. (March even joined Franco on drums at Sullivan Hall for Warned You's defiant self-titled first single, giving it an extra tribal-like wallop.)
Nathan Larson

Wisely, they chose to perform all of the new LP at both shows (the Bitter End set closer "Try to Light My Fuse" was the only tune played from their more formative yet enjoyable 2011 self-titled debut; might I request that LP's cover of The Jam's "In the City" for a future show?). Since Warned You contains no filler, each of its 11 songs made an impact, especially the bracing, Editors-like "Hideaway," the driving, hard-hitting stormers "Shadow" and "Call My Name," the slower-tempo, anthemic "Wave Me Out," the alternately pretty/roaring "Spaces," and both shows' soaring, uplifting standout, "Insomnia."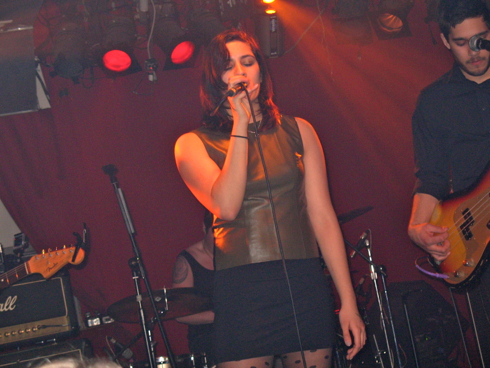 Throughout, Lombard's creative guitar playing skirted the boundaries between punk-edged intensity, stimulating post-punk, and dreamier, atmospheric pop (and with her pink/blue hair coloring, sparkly eye makeup and cap, and leather jacket, she looked cool doing it!). And though the delectably-voiced Kapur might seem a little shy at first, once each song started she morphed into a confident frontwoman. As I intimated in my review of Warned You, she phrases each line clear and full like a practiced jazz vocalist, but with a youthful joie de vivre that's infectious. With her emphatic, commanding pipes and likeable, spirited personality, she easily won over the crowd (and likely made her parents and twin sister in attendance beam proudly). In fact, at the more intimate, cramped Bitter End, a small contingent of fans could barely contain themselves, dancing in between tables for the last half of the set! I guarantee that when you see them, it'll be hard for you to resist doing the same.
(At The Bitter End, the band shared the stage with local favorites The Lost Patrol; see my review and photos of their set here.)
The above photos were all from the Sullivan Hall show. Below are some from The Bitter End gig: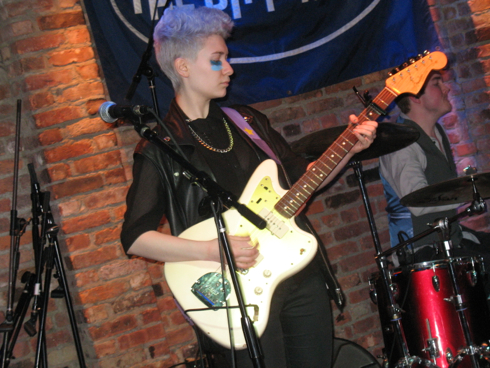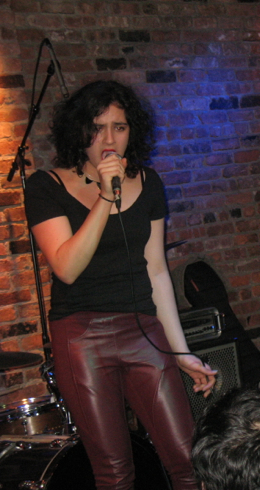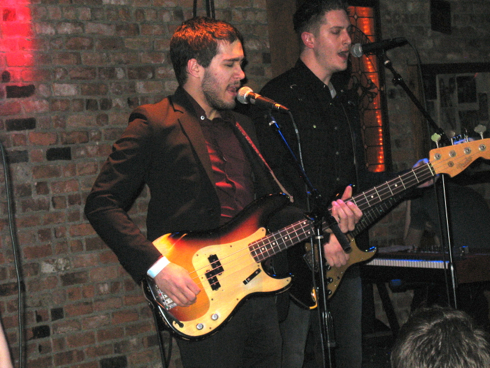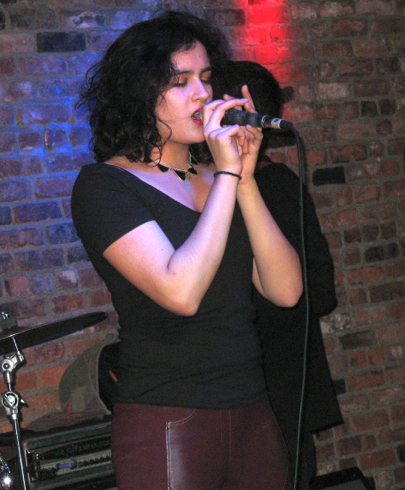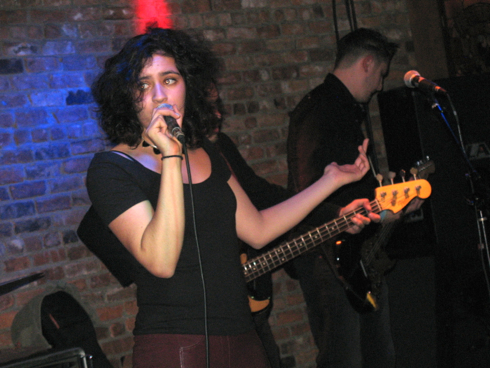 comments powered by