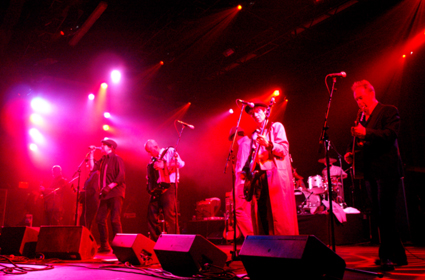 3 April 2006
Playing their first US tour dates in over 15 years, THE POGUES tore through the last night of their four-night stand at the brand new Nokia Theater. They played for almost two hours, did two encores and played virtually every song that any old fan could ask for, concentrating heavily on their best material from their first three albums.
They opened with "Streams of Whiskey" from their debut Red Roses for Me; other highlights were "The Boys from the County Hell" (also from their debut), "The Old Main Drag", "Dirty Old Town" (originally written by EWAN MACCOLL), "A Pair of Brown Eyes," and main set closer "The Sick Bed of Cuchulainn," from their masterpiece, 1985's ELVIS COSTELLO-produced Rum, Sodomy and The Lash.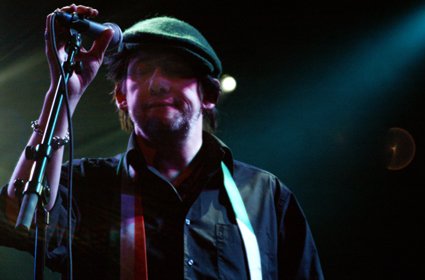 Furthermore, the main set covered such chestnuts as the title track to their third album If I Should Fall from Grace with God, as well as "White City" and "USA" from their fourth album Peace and Love. Their 1990 swan song Hell's Ditch (not counting the two albums they recorded without lead singer SHANE MACGOWAN afterwards) was represented by "The Sunny Side of the Street."
If there was any fault to the main set, it was the fact that, while he started out singing four or five songs in a row, MacGowan couldn't sing more than three songs in a row after that. Fortunately, The Pogues have many songs on which others (notably PHILIP CHEVRON and SPIDER STACY) sing lead, and many of these were played. Nevertheless, given the amount of damage that Shane has done to his body, it's a wonder that he can perform a show at all and remember the words to his songs, so perhaps this is pressing the issue a bit.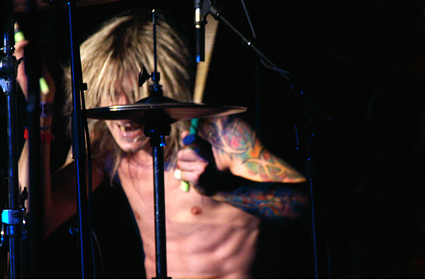 For their first encore, they played "Sally Maclennane," "Rainy Night in Soho" (from the 1986 EP Poguetry in Motion), and "The Irish Rover." They came back for a second encore to perform the Christmas classic, and #2 UK hit, "Fairytale of New York." After that sing-a-long classic, they closed with "Fiesta" and that was it.
As crowds go, this was definitely a rowdy one, especially compared with many indie shows where the crowds are much more calm, sedate and relaxed. These shows drew every screaming, fist-pumping fan out of the woodwork. Though there was plenty of alcohol consumed and a few looking to start trouble, mostly everyone had a good time and behaved themselves accordingly.
Openers TOWERS OF LONDON played a brand of UK punk rock not dissimilar to early '80s bands like ANTI-NOWHERE LEAGUE and what not, though their look owes more to GUNS N' ROSES circa Appetite for Destruction. They were simplistic, anthemic, loud, rude and in-your-face. The singer also seemed to relish in insulting the crowd, which was funny. While the crowd, who were of course there to see the headliners, were notably perplexed, I enjoyed their set and I look forward to seeing them play with THE RAKES in a few nights at Bowery Ballroom, regardless of the fact that it would've made more sense to have them open for the reconstituted NEW YORK DOLLS rather than The Pogues.
The above photos are published here with kind permission of Marion J. Ross.
comments powered by