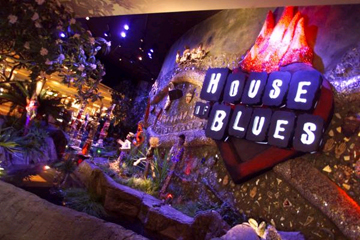 27 February 2006
As I flew in over the stark, burnt orange and sandy brown of the mountain range that surrounds the Las Vegas airport, I thought of the vast expanse of land in the "Dominion/Mother Russia" video, stretching out before ANDREW ELDRITCH and PATRICIA MORRISON. That was Jordan and this was only Nevada, but the connection ignited my excitement nonetheless. It was only a few hours until I would see the first US show played by THE SISTERS OF MERCY in over seven years.
I came all the way out to Vegas for the tour kickoff, because I never had a chance to see the band play live, and I know I have precious time left to enjoy them in person. Basically, wherever there's any dark band reunion that older folks may dismiss as a money-making scheme, you'll find me.
When six o'clock rolled around, I took my place in line at Mandalay Bay's House of Blues, decked out in my handmade "I <3 Doktor Avalanche" t-shirt. Once inside the venue, there wasn't as much of a mad dash to the front row as I would have expected (maybe that's because most long-time fans have bad hips at this point?), so I was able to find a spot front and center against the barricade.
After about an hour and a half and a wonderful set by THE WARLOCKS (more on them in my NYC review of the show), the crowd began to get restless. Soon enough, however, DOKTOR AVALANCHE began to entrance us with his beat magic, and guitarists BEN CHRISTO and CHRIS CATALYST took the stage, followed by Mr. Andrew Eldritch himself.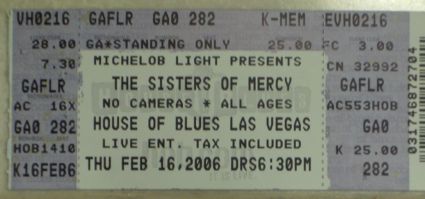 The band began with "Vision Thing," and looked great. The sound issues wouldn't quite be worked out until a few songs in, but the passion was there nonetheless. Eldritch, with a fully shaved head, was wearing tight black jeans, a worn black leather jacket, white t-shirt, and, of course, shades. His deep, sonorous voice seemed as powerful as ever, as they continued on to a "Dr. Jeep"/"Detonation Boulevard" medley, followed by an impassioned "Ribbons," featuring mournful, guttural, impassioned yelping by Von E. "Give us another 25 years and maybe we'll get it right," he said at one point.
The set had most of the songs I wanted to hear (no new ones though!), digging deep into the archives of The Sisters. "Back in the USSR," Eldritch smirked as he introduced "Dominion/Mother Russia" to a cacophony of screeching from the audience. Throughout the song Von E. displayed more of his stage moves: a dark dance crafted of jerky, avant-garde, militaristic miming. Quite sexy really. Toward the end of the song, the fog billowed to even greater heights, Eldritch crouched down at the front of the stage, and with the white air enveloping him he continued to sing completely obscured.
Next came a host of classics: "Alice," "Anaconda," and even "Flood II." The biggest crowd reaction came along with the opening bass line of "Lucretia My Reflection," which, honestly, sounded f***ing amazing. Everyone was singing along at a deafening level, and it was quite sad to see the band take their first bows after that. Thankfully, they returned for two more encores, in which they played "Temple of Love" and, to end the night, "First and Last and Always."
After Ben and Chris had walked offstage, Eldritch stood amongst the fog, head bowed and arms out straight and wide. The audience was clapping, screaming, wailing even, and as he moved to stand upright he brought his fingertips to his lips and said with a smile, "I know." Usually, such arrogance would make me laugh, but it really was such a big deal to me to have The Sisters on American soil that I just continued to clap and scream. I only hope that the NYC show is even better.
Carpe Noctem.
Sisters Homepage
Sisters on MySpace
comments powered by