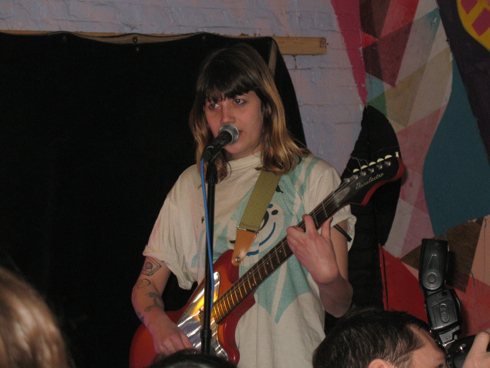 8 March 2014
I had only seen Vivian Girls live once before, a fleeting, shivery 20-minute Manhattan outdoor set for Fashion Week in February 2012 (see my review here). So when I got the sad news that the trio was disbanding, I jumped at the opportunity to attend this first of two final shows, at this scrubby venue in a warehouse-pocked neighborhood where the band played many of their early gigs. (Their last show ever was the next night at Williamsburg's spiffier Baby's All Right, a half-mile south.)
"Kickball" Katy Goodman

Ali Koehler

Cassie Ramone

First, a small caveat: I'm probably in the minority saying that my favorite Vivian Girls album was their underrated 2011 third LP Share the Joy, which added depth and variety with the recruitment of third drummer Fiona Campbell. So I was disappointed that only four of this show's 16 songs came from it. Instead, with second drummer Ali Koehler back behind the skins, their set focused on the bash 'em out, ramshackle yet endearing punk days of 2008's Vivian Girls and 2009's Everything Goes Wrong. Even the three-song encore, which included their cover of Portland, OR greats The Wipers' terse "Telepathic Love" (from their 1980 Alien Boy 7"), flew by in under five minutes.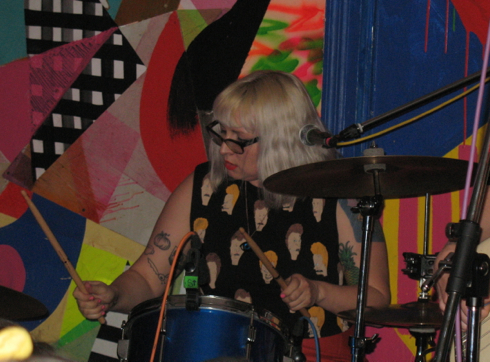 That said, this lineup's noisier attack was ideally suited for a nostalgic night on their old stomping grounds, and the career retrospective was a treat for longtime fans. The bespectacled, Beavis & Butthead-shirted, pineapple-tattooed Koehler battered away at her kit maniacally, and injected the proceedings with humor – like when she continued to play the opening "Walking Alone at Night" after falling off her stool, or when she kiddingly dared us staid New Yorkers to crowd-surf like their Los Angeles audience had two weeks prior. (The challenge was duly accepted!)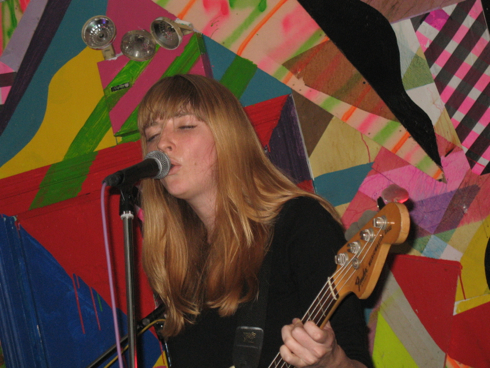 Even better, tall, red-haired bassist "Kickball" Katy Goodman's songbird-sweet harmonies were a perfect complement to her singer/guitarist cohort Cassie Ramone's more earthy bark, their voices melding beautifully on tunes like "Wild Eyes," "I Heard You Say," and "When I'm Gone." The band's energy levels kept building on galloping stompers "The End" and "Lake House," and reached an invigorating peak on pounding main set closers "Out For the Sun" and "Tell the World." As the show progressed, it was easy to forego any expectations I might have had and just immerse myself in the fun.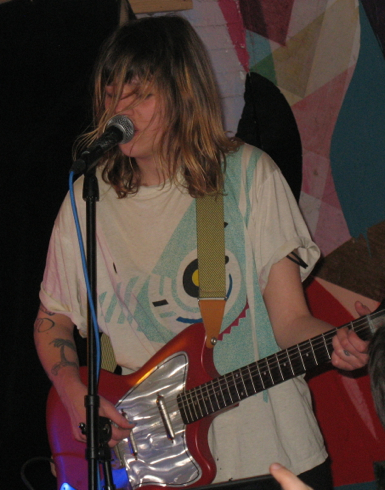 In all, this didn't feel much like a penultimate gig. There were no on-stage eulogies or tearful goodbyes – though they did dedicate their Share the Joy cover of Green on Red's "Sixteen Ways" to Campbell, who was in attendance. In other words, this felt like what a typical Vivian Girls show must've been like in their early days, albeit one with an elevated fever pitch. With each member now concentrating on their other groups (Ramone in The Babies, Goodman in La Sera, and Koehler in Upset), there's some consolation knowing that we'll continue to hear new music from all of them. But I'll miss the unique chemistry they had as Vivian Girls, especially the contrast between the restless, intense dynamism of Ramone and the happy-go-lucky spirits of Goodman and Koehler. As this night proved, they were really something special.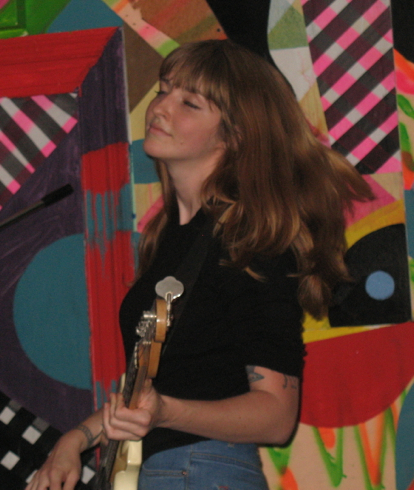 I missed the night's first of two openers, Uruguay-born Juan Waulters, of Queens, NY-based The Beets. The second was Brooklyn singer/guitarist Katie Crutchfield's outfit Waxahatchee, named for the nearby Alabama creek where Crutchfield wrote the songs for her first LP, 2012's American Weekend. I was not very familiar with their music, and the few YouTube videos I had seen were of the folky, confessional variety. So I was taken aback by her band's loud, forceful set, which found Crutchfield's dour, resolute vocals punctuated by a clamorous, Nirvana-esque barrage.
Waxahatchee's Katie Crutchfield & Keith Spencer

comments powered by