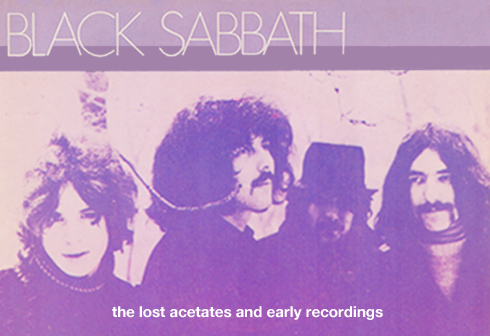 23 March 2013
In 2003 an anonymous person uploaded the earliest known recordings of Black Sabbath to a file sharing website. This mystery person had access to one of the rarest records in rock history. The songs, "The Rebel" and "When I Came Down" quickly spread around the Internet. Both of the songs reveal a young and wildly kinetic Black Sabbath. Both are still technically unreleased.
This article is my attempt to satisfy some of the lingering questions surrounding the leaked Sabbath songs. How did they end up online? Who uploaded them? Was there more material? Who owns the lost acetate? How many copies of the acetate were pressed? Are there more than one acetate floating around? How many songs did Sabbath record as Earth? Last year I set out for some answers and began researching deep into the back catalog and lore of Black Sabbath. I contacted three people for this article in the fall of 2012, two from the greater official and unofficial websites and one from the official camp. Two declined and one politely stated that they had no further information.
Up until 2003, very few people outside of the band and their inner circle even knew that there was unreleased material from their early days. While it's still impossible to tell who leaked the material to the public, it's an interesting story. The tracks, "The Rebel" and "When I Came Down" are simply incredible. The songs were all but forgotten, left sitting in a vault for three decades.
Before we get into the details of the songs, let's take a look at some of the important characters involved in this story and remind everyone that Sabbath is arguably the most beloved metal band of all time. Their template for blues-driven hard rock is still duplicated and imitated world over. Earlier this year, Sabbath announced they are working on a new studio recording called "13" with Ozzy singing. It'll be his first studio recordings with the band since 1978's "Never Say Die." Fans and critics alike were pleased to hear this news, namely because a batch of new songs is usually the ultimate litmus test for aging rock gods.
Almost half a century since they started, Sabbath remains a gateway drug to rock music for people of all ages. Pre-pubescent teens can still relate to the lyrical themes of "Iron Man" and "Paranoid". But my favorite aspect of Sabbath's mythos is how they inspired multiple generations of American kids to start their own bands. As the kids who grew up listening to Sabbath began buying old guitars and beat up drum sets to write their own songs, a funny thing happened. Unlike the garage bands and frat rock of the 1960s, those kids were doing more than just aping the movements and style of their heroes. In a moment of stoned genius, or by their own accidental discovery, kids found they could easily write power cords that sounded like Sabbath (or damn near close). Those kids heard more than just songs about witches and demons, in Sabbath they found the inspiration to create entirely new genres of music. Sabbath showed the younger generation of fans that you could write serious songs about serious topics. Alternatively, they also showed that you could write songs about seeing fairies while tripping on hallucinogenic drugs. And, much to their credit, they also wrote love songs and gentle acoustic ballads about space travel that sounded convincingly un-cheesy. Pushing boundaries was a part of the Sabbath legacy.
While Sabbath's later days (and their hard partying touring days) are well documented, their early years still remain largely unwritten. These stories are often sound bites or anecdotal quotes from third parties. In print, their backstory is mired with a kind of historical cloudiness that is both crude and carefully censored by the band and their management. In a nutshell, Black Sabbath are a hideous combination of three blues-rock bands where each individual brought something very unique to the table. Iommi credits gypsy-jazz guitarist Django Reinhardt for his picking style. Butler cites Frank Zappa as his main influence on his tone and on his fluid movements. Drummer Bill Ward grew up listening to Count Basie and Gene Krupa. Ozzy perfected his stage persona and his unique voice by plowing through Crosby, Stills and Nash covers and Otis Redding classics.
The three bands that collided to make up Sabbath (Locomotive, Mythology and Pulka Tulk) were no strangers. Most of them already knew each other from playing the pub scene. Some had known each other since childhood and had even attended the same primary school. Iommi joined Mythology in January 1967, with drummer Bill Ward joining a month later. Mythology played blues standards and worked on extended improvised rock jams, some of which stretched into twelve-minute territory.
After playing gigs for two months and some touring, the band hit some serious bumps in the road. On May 27, 1968 some members of the band were arrested after a show in Carlisle. The poorly documented (and various) versions of the story include a tale of police searching their living quarters at their practice flat. The police allegedly found marijuana resin, and arrested and fined the band £15. This was considered a serious offense at the time; in fact, all four members of the band faced a two-year "conditional discharge," which is, apparently, essentially the British equivalent of Probation.
Iommi claims this incident was what caused the band to dissolve (at least in spirit) and what drove them apart. As their band and personal relationships dissolved, Mythology found steady work playing bars and shows around England. On July 13, 1968 the band played their last show together in Siloth. Coincidentally, this show is the first known audio recording of Tony Iommi. The show was recorded on a reel-to-reel tape machine that sat in the back of the club. The tape is about 45 minutes long and has never been released, but that hasn't stopped it from circulating through fans over the years. Hearing Iommi suffer through blues standards seems criminal; it's obvious, even on this early recording, that he has much more to offer. Despite the low grade of the recording you can still hear glimpses of early Sabbath-esq riffs, especially on the evening's closer, "Spoonful," which is chockfull of incredible leads and solos.
On the other side of town, Ozzy and Geezer Butler were doing theatrical rock in their band, Pulka Tulk. Their six-piece band floundered after two gigs, and temporarily renamed themselves The Pulka Tulk Blues Company, but not before dismissing half the band, including slide guitarist Jimmy Phillips and saxophonist Alan Clarke.
Last but not least, the final band that makes up the Black Sabbath trident was called Locomotive, fronted by Norman Haines and Jim Simpson. Haines started Locomotive in the 1960's with Chris Wood (who later joined Traffic) and Robert Lamb (who later produced for UB40). Locomotive released one single for Direction Records called "Broken Heart" before jumping ship to Parlophone in 1968 to record "Rudi's In Love" b/w "Never Set Me Free" produced by a local A&R guy named Tony Hall. Technically, Sabbath's relationship with Hall and his management style began here before Sabbath was even a band.
In trying to create well-produced expansive rock, Locomotive failed to create a hit single; however, they had great success using the studio as an instrument. As the British invasion ended and the San Francisco acid rock bands gained a following, Locomotive struggled to keep up with changing tastes.
Locomotive recorded three more singles with Hall for Parlophone, including one called "Mr. Armageddan" which Haines wrote himself. The song is interesting because it unfolds with a very Sabbath-esque template. Haines worked out his earliest draft of Sabbath here before anyone else did. The dates don't lie. A full year before Iommi and Butler decided to change their name to the title of a Boris Karloff movie, Haines was already recording his interpretation of violent rock songs. "Mr. Armageddan" was produced by Gus Dudgeon and was expertly engineered. The single came out on January 31, 1969 but failed to make any real impact on the charts.
Haines was instrumental in developing how Black Sabbath worked. He orchestrated their first arrangements and likely taught them how to commit their songs to tape in the studio. Officially, Haines relationship with the band ended long before their fame. Martin Popoff's excellent Sabbath FAQ book states that Haines was "elbowed out of the way" in 1971 to make way for their new management team.
After being ousted from Sabbath, Haines fell back and regrouped. By the spring of 1971 he had his act together again with a new band, one he fronted just like the Locomotive days. His new band was simply called The Norman Haines Band. They released one LP for Parlophone called "Den of Iniquity" that year. The LP featured a completed version of his Sabbath-penned composition "When I Came Down" which sounds incredible. Listening closely to the "Den of Iniquity" LP, it's easy to see how Haine's time with Sabbath rubbed off on his style. Much to my delight his solo record is actually a real gem, filled with lazy, distorted blues jams and outlandish prog rock. I was not surprised to learn that the LP is still highly collectible and sought after on both sides of the Atlantic.
Sabbath's manager and handler Tony Hall wrote the liner notes on the back of the Haines solo LP and this is what he had to say about his friend and business partner:
"There isn't much justice in the rock world. Far too often, really important talents just don't get the lucky breaks – and the subsequent recognition. Such talent is Birmingham-born native Norman Haines – composer, singer, organist, pianist. Very much a musician's musician. Norman's always been that little bit ahead of his time. His earlier recordings with the brass front-lined legendary Locomotive offered ample proof of this." Here is Norman's newest band. Raw and rough. But very ready. Much of the music is violent, especially "Den of Iniquity" and "Everything You See"."
When Earth/Sabbath finally decided to take themselves seriously, things started happening. Most people don't know (myself included until I heard "The Rebel") that Sabbath recorded nearly an entire album's worth of material BEFORE releasing their self-titled LP. In fact, Sabbath recorded at least eight songs in the studio before they began working on their self-titled LP, two under the name Earth and the rest with the Sabbath moniker. The first person to get Sabbath in the studio was Jim Simpson. By late summer of 1969 he had convinced them to record and booked their first studio session at Trident Studios in London. All of these songs were recorded over four different sessions in late 1969. Four of the songs made it onto vinyl.
Their first studio experience was productive. According to accounts, the band recorded everything live in one marathon session without overdubs. We do know that the first song they finished was a song called "The Rebel." Haines wrote "The Rebel" and took part in playing organ and piano on the recording with Sabbath while Simpson produced.
People working for Sabbath often wore several hats within the camp. Whether they inherited those ideals from the British skiffle scene or the burgeoning American rock movement is unknown. Either way, they took that work ethic and applied it to their music and their business.
Like Haines, Simpson was also involved in the business side of Sabbath. Simpson owned a pub called Henry's Blues House and had been booking Earth for about a year when he agreed to manage them. At the time he was also managing local Birmingham bands like Tea & Symphony and a blues outfit called Bakerloo Blues Line. Simpson also played trumpet in Locomotive and occasionally jumped on stage to play trumpet in Earth.
Black Sabbath is widely credited (and sometimes blamed) for inventing heavy metal. If you believe that they did, then this is where it happened. From September of 1968 to September of 1969 at Henry's Blues House, Sabbath worked out all the kinks in their machinery as a house band. Unlike their peers in The Yardbirds, Uriah Heep or Yes, Sabbath worked diligently on their set list until it was perfected, shunning the free improv flow of their early bands. For Sabbath, having a formal set list was a positive thing. It put limits on their tendency to wander and prevented the dreaded drunken encore.
Now that we've established the key players and the genesis of the band, we can now return to the mysterious lost records and unreleased songs. I remember hearing "The Rebel" online for the first time and how incredible it was. Partially because Ozzy's voice is so familiar, yet the song is so foreign. To me, the thing that makes "The Rebel" a great Sabbath song is its level of excess. Nothing is held back here. The keyboards, drum bells and ethereal background vocals don't exactly fit in with Sabbath's gritty image but still deliver the goods.
As far as Sabbath is concerned, the song and the accompanying acetate record are ancient history. Both are rarely discussed publicly. Iommi and Osbourne have acknowledged its existence in print (on scant occasions which we'll cover in detail below), and they included 30-second clip of "The Rebel" on a recent DVD release. Nobody is willing to say much about the record, either from the official Sabbath camp or dedicated super-fans. Perhaps, like us, they don't know the whole story.
The acetate has never been commercially or privately released making it one of the most sought after records in rock. It is a piece of music history that documents the first studio session of the four original members of Black Sabbath: Tony Iommi, Geezer Butler, Bill Ward and Ozzy Osbourne.
An acetate, for those who don't know, is a simply a test record; technically, this one is a demonstration disc. In the days before magnetic tape and digital recording, some recording studios (like Zella Studios) had a vinyl-etching machine that literally cuts a vinyl master in just a few minutes. These demonstration discs were sent home with the musicians or the label execs the same day they recorded it. These days, test pressings and acetates are still a part of the vinyl production process.
The rarity of test pressings and acetates is hard to measure and is further compounded when you consider that these discs are sometimes rejected in the review process. Rejected test pressings create a vacuum of collectability that is two-fold. First, the object itself becomes coveted. Then, the music on the test pressing falls into obscurity and becomes exclusive. The demand and collectability of physical vinyl lacquers, acetates and test presses hasn't diminished with time. In fact, thanks to the Internet, these rarities are in higher demand more than ever.
In 2006, the collectability of vinyl test pressings reached a new height when a lost Velvet Underground acetate was uncovered. The record was an early test pressing of their 1967 "Velvet Underground and Nico" LP featuring alternate takes. The session was taped in mid April 1966 at Scepter Studios in New York and turned up four decades later at a yard sale in Chelsea, where it was sold for 75 cents. The rejected acetate was put up for public auction and sold for $155,401 to a collector. As we wonder what other hidden vinyl gems are out there in the hands of private collectors the cult of test pressing fanatics gains momentum. In some ways, this makes perfect sense. The demand for rare recordings of famous artists will only increase as those celebrities pass away. For rock music, the last available sound recordings of deceased people will likely come from private collections and not from corporations, many of whom have already exhausted their supply of material.
Within the last three years, the story of the lost Sabbath record got even better. It came out a few years ago that there was another acetate record with two completely different songs. This story just kept getting juicier and juicer. Somebody put two and two together and realized that "When I Came Down" was also pressed on vinyl, albeit at a different time, and at a different studio. Looking at the photos of the labels on the acetate, somebody had the courage to ask why "The Rebel" wasn't listed. Then (and only then) the other acetate was addressed publicly. Now there was definitely two acetate records, as confirmed by the band and Martin Popoff. For many fans this was a dream come true. Note that all of this occurred after "The Rebel" appeared online. The cat was out of the proverbial bag.
The second acetate is even more sought after than the first, largely because only fifty three seconds of it have leaked online. The second record features "When I Came Down" on the A side with "The Wizard" on the B-Side. This acetate was cut during their second recording session, taped sometime in October 1969. Just like the first session, Sabbath recorded a Norman Haines song with Jim Simpson. For the second session, the band stayed close to home, choosing to work at Zella Studios, 32 Trident Road in Birmingham. In one day they recorded at least two songs, possibly more. In print, Iommi has discussed the acetate but is generally dismissive about it. Iommi claims that Simpson "…insisted that we record these songs and make our own record, but this was just an initial effort. We had never been in a recording studio in our lives before that."
The B-Side version of "The Wizard" has never been heard by anyone outside the band. Officially and unofficially, nobody has this one. Sabbath Archives are keeping it under lock and key. According to hints from Iommi, this version of "The Wizard" is an extended version with a saxophone. "When I Come Down" is described in print as "…short but boasting strong vocals" with "a bluesy, pentatonic riff…much like the rhythm of NIB, set up in half time to the riff."
The Sabbraphy website bills itself as the "complete official works of Black Sabbath and Ozzy Osbourne" and echoes the popular notion that the acetate records were discovered in 2003, but doesn't mention any details.
A 24-second clip of "The Rebel" appeared online around 2004. The clip I found was called "The Rebel – Decoded." That clip was possibly sourced from the Sabbath DVD. The website, Sabbraphy, also makes a pointed observations about rare Sabbath material from that first year with comments like: "The entire show was sold to Ozzy and his management and will probably never see the light of day." And, "Unfortunately, the show was sold to Ozzy and his management." These statements allege that not only do these recordings exist, but their sale was public knowledge, at least on some level.
One theory of how the songs made their way online is that the band leaked the songs accidentally. According to my anonymous source (ahem, "BongRipper666" on the Sabbath forums), "The most likely scenario is that the record was ripped to a WAV file by the original owner or by a middleman broker. They may be simply attempts to prove the records authenticity during the auction for the buyer." Either way, the leaked tracks made the rounds and quickly spread around the Internet. In interviews, Iommi often says that he has no interest in dredging through the Sabbath archives for money. However that doesn't stop the near steady flow of Black Sabbath reissues (on beautiful, pristine 180 gram vinyl), box sets, Bobble heads or licensed T-shirts that flow through American malls and British shops every year.
One of the earliest articles to appear online about the acetate came from the website The Metal Den. On May 2, 2010 they posted this statement:
"TMD unearths the earliest known recordings from legendary English heavy metal act Black Sabbath, which includes two 1969 demo tracks 'The Rebel' and 'When I Came Down,' along with a live cut called 'Early One Morning Blues.' The two demo tracks could have been credited to Earth since Sabbath's final gig as Earth was performed the day after recording 'The Rebel,' but these recordings are generally understood to indeed be the first ever by the legendary group. Locomotive keyboardist Norman Haines wrote 'The Rebel and When I Came Down.' 'The Rebel' is without a doubt one of the most sought-after Sabbath songs ever recorded. Although a small fragment of this very un-Sabbath like song can be heard on 'The Black Sabbath Story Volume 1′ video, most fans have never heard this still-unreleased 1969 demo."
The live cut they mention here is an Elmore James cover song that Earth used to play live. The title is "Early One Morning", although it sometimes appears incorrectly as "Early One Morning Blues" or as "Early Warning School." both online and offline. This particular version of the song was recorded live on November 16th, 1969 in Scotland.
The above quote from The Metal Den continued to reveal telling information from Sabbath historian Rob Dwyer. He told The Metal Den:
"Their final gig as Earth was performed in Kilcaldy, Scotland just one day after recording 'The Rebel.' The recording session for 'The Rebel' took place at Trident Studios in St. Anne's Court in Soho, which was an 8-track facility at the time. Overseeing the session was Gus Dudgeon, who had also worked with Locomotive and would later produce albums for Elton John and David Bowie. Two months later, the band recorded yet another Haines composition called 'When I Come Down.' The band weren't pleased with either of these songs, but went along with the sessions so their manager would have something to shop to the record labels. Neither song represented the heavy rock direction they were already formulating OR their blues-based roots."
Iommi isn't the first person to allude to some kind of funny business with the early management company and their initial record contracts. A few years ago, Geezer Butler told an interviewer at the infamous metal website Metal Sludge that lies and bribery were a part of the band's history. During the revealing interview, Butler stated that Sabbath's first record contract was signed under duress. Butler said, "When we made our first album and we went with our first manager we were only like 18, 19 years old and we didn't know anything about the business side of things." He told Metal Sludge that, among other things, the band "…didn't know we had to see a lawyer, and our parents refused to sign the contracts for us. And, so, we all forged our parents signatures on it." He called this incident one of the worst mistakes of his career saying it hurt even more later on when they couldn't prove the forgery in court.
In a July 2011 radio interview, drummer Bill Ward told BBC Radio host Tony Livesey that back in their early touring days that Sabbath, "…made due with less. We were all actually survivors. I guess that's a way of putting it. He said early on the band drank and smoked marijuana occasionally, and that 'somebody might have some hashish' but that nobody in the band did cocaine or partying to an excess in the early days." He then admitted that Sabbath learned about cocaine in America.
The story of how the music on this acetate wound up on Bit Torrent or YouTube is one that can't be told simply because nobody knows who did it (and, as you can see, there are a lot of details to keep in mind). Yet. If they ever find out. Those who do know are certainly not in a position to divulge. The band themselves have mentioned the recordings in three of the four major books written about them in the last decade, including both of Martin Popoff's excellent works, "The Black Sabbath FAQ" and "Doom Let Loose." That's not to say they are eager to discuss it. In print the band is quiet and dismissive in regards to their first year as a band, often deflecting answers.
It took about four or five years for the song to make its way to the general public via Internet. Much like any scarce file, it completed its lifecycle in stages. The songs went from the hands of the owner to Bit Torrent to file sharing sites, and then got pressed onto vinyl and CD, then back onto the internet via YouTube.
If you're a diehard Sabbath fan, "The Rebel" and "When I Came Down" will make you crack a smile. The bad news of this story is, out the two leaked studio tracks, one is incomplete. "When I Came Down" cuts out after just 53 seconds, which you may find heartbreaking after hearing how magical the chorus sounds. But then in 2005, starting with a YouTube video, "When I Came Down" got remixed by an anonymous fan. By doubling the first verse and tacking it onto the 53-second sample, somebody extended the song to almost two minutes long. Believe it or not, this fan-edited version is now the version that appears on both the CD and vinyl bootleg. You can clearly hear where the tape loops, it's a clever splice job hacked together on Audacity gives a good idea where the song was headed, but it's not the entire song.
Other than Iommi the only person who has talked in detail about the 1969 recordings is former CBS A&R executive, Jim Wyper. In Popoff's FAQ book, he provides a lot of background for Sabbath and Simpson, who ran his own management company called Big Bear Music. He talks about the rarest of all Sabbath songs, one called "Song For Jim." Speaking about that song in the book, Wyper said, "You won't have heard it. It's never been released."
In his "Doom Let Loose" book, Popoff says it all. He finally confirmed the existence of a 7" vinyl acetate, and stated that only one copy of "The Rebel" acetate exists. "The only 7-inch acetate of that track was handed to a mate and helper of Iommi's in 1969 after he had given Tony a ride home from the pub." You read that correctly. Iommi gave away his first recording like an old donut. The rarest record in rock history was left sitting on this guy's passenger seat. This conversation put an end to the question that was first asked back in 2003 when the songs leaked. There was only one copy of the acetate. One record to rule them all.
In that same book, Butler talks about hearing the acetate years later. Geezer says, "I remembered the song once I heard it, but I had completely forgot about it." He told Popoff that it was Simpson who insisted they record the track. Jim's …"favorite band was Chicago and they had just come out with their first album. He had been a trumpet player, so he loved brass sections." Ward said he recalled the acetate, noting that they recorded the entire song in one take and never looked back.
Soon after the songs leaked online, they appeared on YouTube and Bit Torrent. Shortly after that a bootleg CD and a vinyl version appeared. As of February 2013, all sources of this bootleg are culled from the same vinyl rip, which is incomplete. The CD version is most definitely a bootleg, perpetrated by Crackly Records in England. It also contains the home edited version of "When I Came Down," so don't get your hopes up.
In August of 2011, the songs were released in Europe as a split LP called "Coming Of The Heavy Lords." The record is billed as a split release between Earth and The Flying Hat Band. The A side features three of the four Sabbath's acetates, ("The Rebel," "When I Came Down," "Early One Morning") along with a live version of "Blue Suede Shoes," the audio of which was ripped directly from the DVD that came inside Sabbath's box set, The Black Box. To add insult to injury (or perhaps to avoid a lawsuit) the whole LP is incorrectly attributed to Earth. Supposedly they pressed 400 of these; at least that's what they claimed for the marketing phase of the records release.
The record label is based in the UK and goes by the name Acid Nightmare. I don't know anything about who runs the label, but they appear to be a legitimate label. From what I've seen, they exclusively put out nice looking bootlegs of rare psych rock from that era. They've also done beautiful gatefold reissues of hard-to-find acid rock gems like an early Samuel Prody LP from 1972 (originally released on Global Records) as well as an LP from Alkana called "Welcome To My Paradise." They also recently reissued an Alpha Centauri LP and 1977 demos from Decatur Illinois's hard rock pioneers Crystal Haze. The B-side of the LP is pretty unremarkable, it has four demo songs from The Flying Hat Band which was Glenn Tipton's band before Judas Priest.
While the legal status of the Sabbath recordings drifts through obscurity, the songs themselves are all over the Internet. Some of Acid Nightmare's releases are reportedly being distributed by legitimate sources. For example, about a year ago, YouTube user Classic7890 stated in a public comment he heard Alpha Centauri's "Hard Life" on iTunes Classic Rock Armageddon Radio. I can't vouch for the authenticity of his claim, but if it's true then it means that the distribution of pirated music online has stumbled unknowingly into a new area that is very gray. All of this begs the question: are there distribution channels of online music currently paying out royalties to bootleggers? Additionally, if the industry can't control vinyl bootlegging at a time where there are less than fifteen companies manufacturing vinyl records in the world, then how can the internet do it?
"The Rebel" and "When I Came Down" (or some combination thereof) have been bootlegged no less than three times here in the states. There is currently one for sale right now on a popular music site— a bootleg 45 that makes no attempt to appear like the original, but instead looks like like a blank test press. It's being sold for about $9, which is pretty steep for a bootleg. The comical appeal of this record is absurd, but we can all assume it's selling pretty well. It's a bootleg of a demonstration disc that simply wants to trick the buyer into thinking it's authentic. Who wouldn't want that in their collection?
The only user name still attached to the leaked files online (that I could find) goes by the name AurÈlio ZZaura on Bit Torrent. His profile states that the files were sourced from a silver CD, I'm 99% positive that his source is the badly produced Acid Nightmare release. His notes read: "This album is a collection of samples and studio sessions played by the pre-Black Sabbath band called Earth." The files don't say much else. The physical version of the CD is well done I suppose, it has interesting liner notes that were worth reading. It took me months to track one down, but it was slightly better in quality, even though it's still sourced from the same person in 2005.
The Bootleg CD is the strangest spoke in the wheel of these missing songs, partially because one of the songs on the disc is a complete forgery. The CD bootleg also includes a song called "Thomas James" which is touted as an early demo with Jim Simpson on trumpet. The liner notes give scant information on the song, saying "it's unknown exactly when and where this was recorded but it's likely an outtake from the 1969 sessions." We can call shenanigans for several reasons. For one, there is no way that is Ozzy, Bill Ward or Geezer Butler. If it is Iommi on guitar, then the song would forcibly alter the history of the band forever, for he would play the same exact pentatonic riff in the song "Black Sabbath." Iommi is not known for recycling riffs in any capacity, especially not his signature one.
Many fans have commented on "Thomas James," which is also sometimes referred to incorrectly as "Thomas Jam." My honest assessment of this song is that it is not Sabbath. Whoever this guitarist is, they are damn good (and they like Sabbath) but their choice of notes and picking style don't sound right. It simply doesn't sound like something Iommi would play. Sure I admit that there is a trumpet and a guitar, which Sabbath used early on. But that doesn't mean it's Sabbath. People also point to a second piece of evidence to prove their claim that this is Sabbath, which is the pentatonic dirge-y ending to the eight-minute jam. I'm just not convinced. Just so we're clear: I don't think it's Sabbath. Nobody from the band or the band's management have addressed the song formally.
The final song on the bootleg is called "Early One Morning Blues" which the label boasts is "from a rehearsal tape rather than an official demo session, and as the title suggests, it's a blues romp with lashings of fine fret mangling courtesy of Iommi." Again, this is more misinformation. The song is actually a Mythology song, captured live at Rugman's Youth Club in Dumbfries, Scotland on November 16, 1969. It's originally an Elmore James song they covered, and as I mentioned earlier, this is the only known recording of Mythology so it's easy to trace its origin. "Early One Morning Blues" isn't the only lost song from this era. Mythology also played an early Sabbath sketch called "Blue Blood Man" that supposedly features Iommi "doing his best Alvin Lee impersonation." This song never made its way online, so there is no way to tell. Although the tape does exist in the Sabbath archives.
In "Doom Let Loose," Popoff states that "The Rebel" was scrapped because it sounded too commercial. He also mentions "Song For Jim" that Wyper said nobody has ever heard. A small clip from it appeared on the Sabbath DVD, but that's it. Geezer Butler said that the song is unreleased because "it's too jazzy." Popoff notes that Iommi is the one who is reluctant to issue any Black Sabbath rarities. He also mentioned that Iommi can't find the master recordings of "The Rebel" and "Song For Jim," which I'm not sure I believe. Iommi clears the air, saying, "…we wouldn't release anything we weren't proud of. I've got stuff at home, 24 multi-tracks donkey's years old…I'm just not going to start releasing stuff just to make money out of it."
In trying to make sense of the lost acetates, I stumbled onto an even larger myth in the Sabbath canon. Several people have alluded that there may be an entire session missing from the 1969 studio sessions. Sabbath may have also recorded a five-song EP called simply "For Jim" around the same time. It is not known if this EP exists or if the entire thing is made up, but that hasn't stopped people from looking for it or talking about it. The only person who has publicly mentioned this recording is Simpson himself. On the official Black Sabbath DVD release, Simpson states in an interview that Sabbath had several incomplete works, even mentioning one of their early compositions called the "Evening Song" that was considered their staple song. If this rumor is true, and Sabbath has another lost EP, then I sincerely hope it gets cleaned up, remastered and released.
After recording the acetates and heading back home, the band shifted gears and went into publicity mode. One of the first things Simpson and Haines worked on was getting Sabbath on the radio. On November 11, 1969 they recorded four songs with John Peel, which were later broadcast on his Top Gear show and later re-broadcasted at least three times in 1970 on his Sunday Concert series. Peel was an early supporter of Sabbath after seeing them at The Lafayette Club in Wolverhampton, a medium sized city in the west Midlands. The show was set up and promoted by Simpson about a month before Sabbath signed their record deal, and was specifically put on for Peel.
Peel played Sabbath on the air and supported them, even appearing with the band in Birmingham at The Mothers Club in early February 1970 as a cross-promotion for the self-titled 1970 LP. The following week, Jim Simpson began courting Sabbath to the major labels. By the end of the year, fourteen different record labels had officially rejected him and the Sabbath recordings. Undaunted, Simpson and Sabbath stepped back and tried a new tactic. Simpson invited Tony Hall to hear Sabbath play live in Birmingham sometime in late 1969. Hall liked the band and arranged for the band to record a two-song single for the Philips Records subsidiary Fontana Records in January 1970.
Their two-song single for Fontana got them signed to Vertigo, but to this day remains largely unheard here stateside. "Evil Woman (Don't You Play Your Games With Me)" is a cover of an American band called Crow, a biker band from Minneapolis (the song originally appeared on their 1969 LP Crow Music). Sabbath's cover appeared in the UK a few months later, but was not included on the American version of their debut LP. In fact, the song was even widely disputed as a hoax by fans for years. In 2002 it was officially released in America on their Symptom of the Universe: The Original Black Sabbath 1970-1978 collection and their Black Box Box Set. Even then the song is kind of hidden away. The name of the song doesn't even appear on the eco-friendly CD packaging although they did print the name of the song on the CD and on the flimsy cardboard sleeve that crept up the side of the packaging. As far as Crow was concerned, Sabbath's cover song changed their lives forever. Upon the original release of the Crow version, they were accused of stealing the main riff of the song from a Jeff Beck song. When Sabbath redid their version, they weren't quite sure what to think. Then the first royalty check rolled in and the rest is history.
"Evil Woman" is classic Sabbath, even though it's a cover. That statement is somewhat contradictory, but it's important to understand how Sabbath used and abused the resources available to them at the time. They were told (in no uncertain terms) that to make a record of their own, they had to record cover songs. So they did. This mirrors the experience of many young hard rock bands at that time who were trying to make a career out of playing music, including Van Halen covering The Kinks for Warner Bros and Kiss, who were apparently forced to cover a 1959 Bobby Rydell song on their first LP. "Evil Woman" became a Sabbath song the moment they took it over. Sadly, it gets discounted. But Sabbath recorded it in the same place as The Beatles recorded "Hey Jude" and their White Album tracks "Dear Prudence," "Honey Pie," "Savoy Truffle" and "Martha My Dear." It's where Eric Clapton played lead guitar on the Plastic Ono Band song "Cold Turkey."
A month after the "Evil Woman" single came out, Sabbath released their self-titled LP. The record, simply called "Black Sabbath" was recorded mere weeks after they completed the acetates. The bulk of the s/t record was recorded on November 17, 1969 and cost 900 pounds to make. The band had made most of that money from the "Evil Woman" single, and used it as a partial payment to the studio. Iommi said that recording the album was "more like a rehearsal" and that they only rehearsed the songs a few times earlier that week. Rodger Bain engineered the record (this was likely his first recording project on this scale). The Sabbath team worked hard on getting the record to sound right, even contributing the church bells and the thunderstorm sound effects on the title track. Bain also recalled using what he called "a Jew's harp" on the intro to "Sleeping Village." To my point, the Sabbath management team took part in making the record alongside Sabbath the band.
Here in the states, "Evil Woman" never arrived. Neither did the acetates. Reviews of the "Evil Woman" single stateside were virtually non-existent and reviews of the debut LP were pretty scathing. They must have pissed off somebody at Rolling Stone Magazine early on, for they garnished no respect from the very beginning. In the September 17, 1970 review of the s/t LP in Rolling Stone, Lester Bangs called the band a third-rate Cream rip-off. Bangs said the LP was filled with "discordant jams" and"murky song titles and inane lyrics." Clearly Bangs wanted more from a British rock band than rote recital, which is also what fellow Stone writer Dave Marsh thought of them. In Marsh's first edition of the Rolling Stone Rock Guide, each of Sabbath's first eleven LP's received one star. Marsh himself said Sabbath was "eternally foiled by their stupidity and intractability." He went on to write: "In the early 70s their murky drone was all the more appealing for its cynicism… [their] philosophy that everything is shit…[they had] let time pass them by."
Bangs and Marsh accuse Sabbath of being lightweights and phoneys, but history has proven that Sabbath was often censored and toned down by their record labels. Perhaps they would have been more offensive and sickening if they were let off their leash by record companies and censors. Recordings from the 1969 sessions (both at Zella Studios and at the BBC) prove that Sabbath's original lyrics were often more stark, cruel and satanic than anything they later released for a major label. For instance, the early draft of "War Pigs"(the version they recorded for Peel in November 1969) was originally called "Walpurgis." The name is the formal, classic name of the May Day holiday, rarely celebrated here in the states. The lyrics for "Walpurgis" are far worse than the final product with Ozzy originally singing about churches in ruin and dead rats eating people's innards. The original chorus to the song was far more sinister:
"Carry banners which denounce the lord
See me rocking in my grave
See them anoint my head with dead rat's blood
See them stick the stake through me"
Despite what the old guard said about Sabbath, in 2009 they released deluxe editions of their first three LPs. The expanded versions of these records suggest a much different story, now everyone can hear their outtakes and rehearsals for the recording sessions. More often than not, the early drafts of songs were typically more vicious than the final versions. As the songs progressed from being works-in-progress to completed songs, some of them were stripped of their overtones or lyrics.
Whether or not it was deliberate, I think their attempt to soften their image was somewhat welcomed by the band members themselves. Their image has always been somewhat conflicting. I mean, they are named Black Sabbath. There's no getting around that one. On one hand the band is accused of being Satanists, but if they're Satanists, then how come they wear giant metal crosses around their necks? Music snobs and parents sneer at their seriousness, accusing them of being openly proletariat in nature. Sure, they sing about the decadence of sex and drugs and violence, but they also took the time to put those concepts in perspective. Maybe the genius of Sabbath is found in their ambiguity.
I was somewhat disappointed that I couldn't wrap up this story positively identifying the person who leaked the lost songs. I'm more disappointed the leaked songs may be lost forever…that Iommi and Butler's stubbornness is end of the line…that the world would never hear "Song For Jim." I'm disappointed that I'll never get a full version of "When I Came Down", because I think it's important to rock history. The first time I heard the chorus, the hair on the back of my neck stood up. Luckily on the midst of this heartbreak, I did manage to get some answers.
Late one night while reviewing the last pages of the Sabbath FAQ book (intentionally trying to avoid reading about their career in the 1980s), I was bored enough to start flipping through the appendix. The first interview in the appendix is with a guy named Steve Hammonds who worked for Castle Records for about thirteen years and now runs the Sabbath archive. He is the guy who put together the Sabbath reissues of the first three albums. He tells the story of being the luckiest dude ever AND directly contradicts the official statements from Iommi about not having the master tapes from 1969.
In the interview, Hammonds said, "I was very friendly with a guy named Simon Platz, who owns Bucks Music, a publisher, and was doing an audit on all the tapes in his archives. Now his father, David Platz…they were the original publisher off all the Sabbath material. When we found all these multitracks of Black Sabbath in the vault, they said, 'Do you want them?'" And I said, "'Yeah yeah,' and I found out they had all this unreleased material on it. It was like a gold mine."
Hammonds bought the rights to the Sabbath multitracks outright and had them cleared by Universal Music Group sometime in the last few years. He refers to the purchase and work of the Sabbath archive as "a nightmare" and talks about remastering and remunerating all of the multitrack sessions, which he has overseen. For the next nine pages in the book, Popoff gives a full track listing and notes copied directly from the master reels. What Hammond stumbled into was eventually culled into eight CDs, each with about an hour's worth of Sabbath material. The discs contain every single note of music recorded from August of 1969 until spring 1971, which would have been the "Master of Reality" sessions.
I can't even fathom the amount of time it took Hammond to organize these sessions. The very first disc has nineteen versions of "The Rebel" alone. When the band makes flippant remarks about their early recording sessions, they make it sound like they just rehearsed the song once and then cut it. These discs prove that this was most certainly not the case.
Popoff notes many of the recording sessions by their relative uniqueness. He mentions a version of "After Forever" where Ozzy screams out "Save me! Save me!". He talks about an unreleased instrumental passage called "The Haunting", and a raw demo of "Solitiude" without the processing effect on Ozzy's voice.
This part of the appendix is eye opening and answers a lot of questions about the band's earliest recording sessions. And, tellingly, it narrows down the likely sources of the Internet leaks to whoever had access to these discs prior to their transfer to Hammond. With any luck, all the songs on these discs will one day see the light of day. For now, Popoff's notes are all that we have to go by. If you want to read more about the sessions (or Sabbath in general), definitely check out both of Martin Popoff's books.
There is an important lesson to be learned here for bands young and old. First and foremost: Always strive to maintain creative control over your work or else be willing to sacrifice it willingly. Despite whatever legal restrictions were involved with these recordings, it's safe to say the Internet subverted all of them. The fans solved their problem – they got to hear the music and didn't ask for permission to post the songs online. The Internet doesn't give a shit about your lawyer and they most certainly don't give a shit about guarding any famous person's privacy. Even the John Peel sessions have been bootlegged on vinyl, most recently by Shadow Records in Helsinki. That LP captures four of the songs from the Peel Session along with the leaked Internet version of "The Rebel" as the final track.
The Internet played a crucial role in unearthing these songs. A fan contributed to the history of a closely controlled musical legacy. This was unheard of ten, twenty years ago. This fact speaks volumes about the longevity of the band and raises some interesting questions about the power of the Internet. Sabbath fans wanted this record so badly that they found a way to get it online, where it wasn't subject to controls or copyright laws. They wanted to hear "When I Came Down" so badly that they stitched it together themselves. Others wanted to profit from the material. Others just wanted to hear the material.
Fans all pretty much agree that they deserve to hear the songs because of, you know, reasons. Those reasons include, "Sabbath is god" and "It's a part of rock history", and none of those dudes are wrong. Imagine not being able to hear the earliest recordings of The Beatles or the first few singles from Elvis Presley. Music history is written around those recordings.
Bootlegging of pirated music is nothing new in the UK or the US. The last major case to make waves happened in 2004, when someone began selling a ten-disc DVD box set of Live Aid. Bob Geldof's iconic 1985 concert was being ripped off massively; the bootleg manufacturer had assembled the footage for the ten-disc set through his own means. To make the complete concert available they pasted together broadcast television footage along with official multi-camera footage that Geldof still retains the rights to. Lawyers representing Geldof crushed the sale of the bootleg discs online and then apparently had all remaining copies of the box set destroyed.
Too bad that scenario won't play out for Sabbath. As some of us have found out, unfortunately you can't have YouTube destroyed. Perhaps Sabbath should take a lesson from Jimmy Page and embrace their fan base for the wealth of material that they already treasure. In 2000, while Page was assembling the Led Zeppelin DVD he put out a call-for-material and video footage online. Fans submitted hundreds of archival prints and videotape for the project, which Zeppelin commercially released. Call it working with the bootleggers or call it avoiding a series of expensive lawsuits, Zeppelin did the best thing they could. They reached out to the fans for help. People sent in so much material that Page was able to double the length of the Zeppelin DVD.
If Sabbath ever decides to change their tune and release this old material, the fans are going to go nuts. If they take the additional step of reaching out to those fans for assistance, their back catalog will likely explode into new territory. Plus, just imagine what will be unearthed in the process! Until then, we're left with the incomplete MP3's and burning ethical questions. Should fans have access to the private, personal archives of their favorite band? More importantly, who is going to stop them from getting that access?