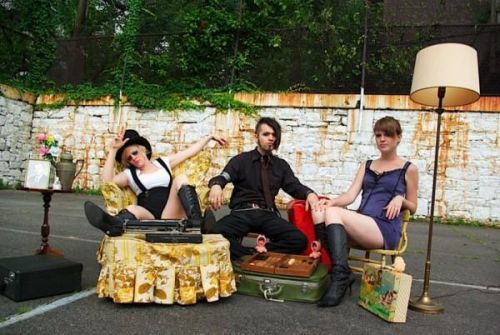 10 July 2009
For an ambitious, up-and-coming outfit, New York City's Her Virgins are a typical anomaly. They fuse dark pop with a glam aesthetic that runs the gamut from Clockwork Orange to rivethead chic, and have clear touchstones in musical heavyweights from Nine Inch Nails to Portishead. Despite this, the band somehow injects an unexpected sound and spirit in the most unlikely of moments. Singer Emily Powers lists the curious trifecta of Tupac, Bob Dylan, and Trent Reznor as her biggest inspirations, bassist Holly Powers is an old school Beatles fan, and guitarist/keyboardist Jabbath Eva brings a punk rock background infused with years of studying classical composition and piano at a conservatory in Colombia.
Live, Her Virgins are a mix of classic and current, familiar and new. Powers concocts a fiery mix of moving and shaking akin to the antics of Peaches, Wendy O. Williams, and Missing Persons' colorful glamazon, Dale Bozzio. Such bravado is offset by moments of melancholia that burst forth from time to time, evening out the emotional playing field. Emily's sister Holly holds down a subtle and sinuous low end on bass, and two accompanying dancing girls flank each side of the stage, cranking out moves from cheerleader to stripper-esque with a modern dance strut.
Together since late 2007, Emily and Holly met Jabbath through a single flyer they left on a whim in the Times Square subway. In an occurence akin to the predestined meetings of other artistic conglomerates, things just clicked. The band name is Jabbath's creation, referring to a yearning for innocence and the warmth of the womb, he explains. Emily speaks of channeling the political elements of the personal in her work, particularly to express her frustrations surrounding issues of sexuality. Jabbath likes to bring in the sex/death metaphor, and it's easy to see how Her Virgins could be perfectly suited for such a name.
While the trio has yet to produce an official release, the recording of an EP is in the works, as is a video for their first single, "The Hit." In performance, this song stood out as most interesting and accessible, blending a downtempo groove with trip hop leanings, Emily's plaintive vocals, the slink of a swirling synth line, and the sounds of rain. While the demo versions of the trio's songs are currently available on MySpace, expect a tightening up of Her Virgins over the summer months. The band's music will also be included in an upcoming film about New York's Israeli mafia, Dead Sea, which happens to be produced by Her Virgins' manager, Michael Madrigal. With time on their side, the band is only bound to arouse an increasing interest across the NYC scene.