29 January 2006
This is an odd topic, but it is one that I don't believe has ever been written about at any length. Most people are quite attached to their eyebrows (no pun intended), so what happens when they do away with them completely – and, more importantly, what does it mean in the world of rock? There is a great untold history of eyebrow-less people in rock 'n' roll, and it's time that their hairless brow bones were noticed.
Surely the best and most beautiful example of an eyebrow-less rocker would be DAVID BOWIE during the Ziggy Stardust years from 1972-74. Along with his deathly pallor and rail thin body, Bowie's lack of eyebrows made him totally believable as an alien rockstar.
The next important purveyor of the eyebrow-less look would be BOB GELDOF in the PINK FLOYD film, The Wall. In his character Pink's supposed descent into madness, the act of shaving off his eyebrows (rather messily) symbolizes leaving the world of sanity and giving into his true (insane?) self.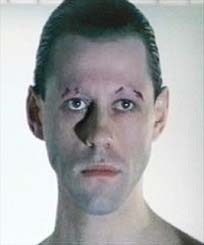 There's something freeing about being eyebrow-less – it takes you away from the socialized world in some way. When Bowie wanted to become more 'mainstream' with Young Americans, along with making different music and wearing different clothes, he grew his eyebrows back, which was surely purposeful.
The next prominent eyebrow-less rock star, who no doubt took a cue from Bowie, would have to MARILYN MANSON. The God of F**k took the whole thing a step further, however, when he drew on stitches, flames, or random designs where his eyebrows would be to further emphasize their removal.
Today the trend continues, and it's almost de rigueur to shave/pluck/wax off your eyebrows in some areas of dark rock. Bands like the MURDERDOLLS, CRADLE OF FILTH, MY RUIN, and the DRESDEN DOLLS all have members that remove their eyebrows. The eyebrow-less ones in the last two bands happen to be women, TAIRRIE B. and AMANDA PALMER respectively. (It's not nearly as strange for women to remove their eyebrows – it was quite in vogue for movie stars in the 1930's, such as JEAN HARLOW, to draw theirs in.)
So what's the point of all this? Well, to give voice to some of the eyebrow-less ones out there for starters. It's also to promote a cleaner, prettier aesthetic, because to me, eyebrows are just little fuzzy caterpillars that live on your face. I can only hope that maybe someone (especially someone in a dark band!) might read this and consider removing those useless things. And if you're interested in the subject of hair removal (I know I am!), check this out for a real historical perspective.
Carpe Noctem!
comments powered by