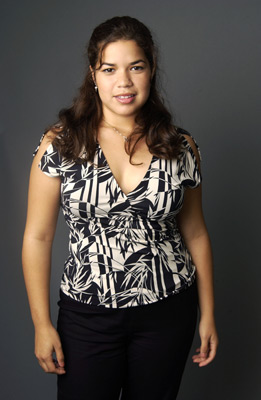 24 April 2006
A few weeks ago as I was walking along Ditmars Boulevard, towards the subway, I saw a few trailers and film crews and noticed that a movie or TV show was being filmed in a house nearby. I read the poster for it on a lamppost, and found out that it they were filming a Disney TV show called Ugly Betty, and that it stars AMERICA FERRERA, who is perhaps best known for her roles in the movies Real Women Have Curves and Sisterhood of the Traveling Pants.
I did a search and found out that she plays the title character, an 'ugly' secretary trying to advance herself in the rough and tumble world of the Manhattan publishing industry.
Of course, this raises a few questions. Aside from the slightly troubling realization that my Queens neighborhood may be becoming a hip setting for films and TV shows, the bigger issue I have is with the title of the show and the actress playing the title character. Don't get me wrong: Obviously this show is still being filmed and I don't like to judge things before I see them, based on their titles alone.
Regardless, America Ferrera is not ugly. She's a rarity in that she's a relatively normal, real-looking woman in an industry dominated by anorexic-looking model-types. Once again, it just shows how skewed television's perception of 'ugly' is. In Hollywood, any woman who doesn't fit a particular mold is automatically classified as fat and unattractive, when in many cases, this is far from true. I automatically have a bias against this show from the start, even though I'm curious to see it, especially since it was filmed in my neighborhood.
I don't mean this to come across as a feminist rant. It's just that I believe attraction and beauty are in the eyes of the beholder. I'm opposed to someone else (like a TV show) telling me who's 'ugly' or not. Beauty can and should encompass all shapes and sizes. And yes, for the record, "I like big butts and I cannot lie," as SIR MIX-A-LOT once famously sang.
comments powered by