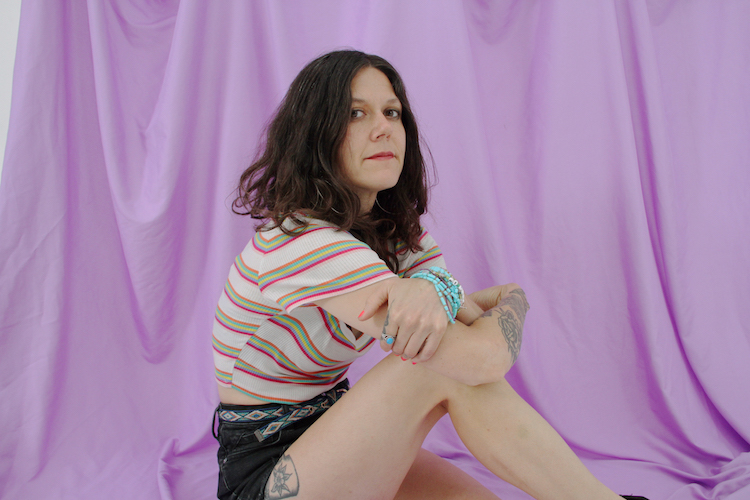 25 October 2021
Photo by Dylan Reyes
Lilly Hiatt was born with a familiar last name that draws attention. The daughter of legendary singer-songwriter John Hiatt has been forging her own identity since the release of her debut album, Let Down, in 2014. While one might expect Hiatt to have a decidedly country sound based not only on her lineage but also the ZIP code in which she lives (Nashville, Tennessee), Hiatt grew up just like every other kid in the early '90s with a steady stream of indie and alternative rock (Pixies, Pearl Jam, Nirvana, etc) and, like so many of her peers, it's hard to slap a label on the music she makes.
Coming off her first release for New West Records, 2017's Trinity Lane, Hiatt seemed poised to take things to the next level as both her songwriting and live performances became stronger with experience. Unfortunate timing led to Walking Proof being released on March 27, two weeks after the world was put on hold due to the global pandemic. While the album earned critical praise from the likes of Rolling Stone, Pitchfork, and Paste, the lack of touring killed any momentum the album had.
While many artists in the same situation would have just hung tight waiting for venues to start opening up again and touring resuming, Hiatt used the downtime to her advantage, writing another album, Lately, and recording with members of her touring band and her boyfriend, Coley Hinson.
Hiatt checked in from her home in Nashville shortly before hitting the road with Lydia Loveless.
You released a new album, Walking Proof, shortly after the world shut down in 2020 but were not able to go out and properly promote it. Despite the challenges, the album got overwhelmingly positive reviews. Is that something you pay attention to?
LILLY: It always feels really nice to have somebody say they like what you did. I want that so I'm so grateful for anyone that takes the time to review what I've done. Those things do mean a lot but a lot of other things fulfill me as well. It was interesting having only that kind of reception and not balanced with the reception of a live audience. Anybody liking what I've done means a lot to me.
You didn't get a chance to tour for the record. With the joy of putting something new out and getting great reviews, was it a bummer not being able to play the new songs in front of fans?
LILLY: That was hard. It really bummed me out, if I'm being honest. But, people are going to listen to music always in any way they can so it made me grateful that I make records and have been able to do that.
You were one of the first artists to start postponing dates.
LILLY: My record came out kind of at the beginning of everything going awry along with a bunch of other records. Everybody was like, "What do we do?" We just had to make some quick decisions about things we had planned for a long time. That was that, we had to do it. We rescheduled a few times and then everything got canceled. If this is any insight into that, finally we get to do them in February of next year. Those tours got postponed for about two years. At least I got to get a grip on it quick and I feel for everyone right now.
Schools opened up this year and kids are returning to class. If you were still in school and had to give a presentation called "What I did on my summer break," what would you say?
LILLY: I had a pretty fun summer. I hung out a lot at my house with my pets and my boyfriend. We went to some really fun shows. We got to see Phish. We got to see Sleater-Kinney. That was cool, getting to go to shows again. And, I also got to play some pretty fun fests this summer so just having some things to do and getting to travel again and getting back into the festival world was pretty cool. I got to start to get back to work but have some time to appreciate everything.
In my part of the world – Columbus, Ohio – it seems like October through April is grey and cold. Is Nashville similar?
LILLY: I think Nashville isn't too far behind. I feel like in Nashville, the toughest winter months … yeah, November starts getting grey. There are some sunny days in there, for sure, but there are some months that are just grey, tepid weather. I almost prefer it to just get really cold or something rather than be 40s or 50s. But, the fall is cool. We get through the winter when it comes.
I'm really excited that you're going on tour with Lydia Loveless. Have you met her before or is this the first time you'll be meeting?
LILLY: I do know her and I really like her. I'm looking for to it. I'm sure we'll have a great time and maybe we'll get to do it again and take it to the East Coast.
I also saw that you're involved with the Allman Family Revival Tour this winter.
LILLY: Yeah, I'm going to do that in December. That'll be fun, it's a different thing for me. I know those guys, I think I met them for the first time at Americana Fest in 2017. Devon Allman had gotten in touch with me and asked if I wanted to sing with them and I said, "Of course." There's been a couple of other times they've included me in their show. It's always been fun. With your musician peers, you just kind of feel familial with them so when they asked me to do that, I'd never done anything like that. I've never gone on a tour that isn't my music. I'm really looking forward to being part of that.
Is there a time of the year where you feel like you're more creative? And, on the flip side, a time of the year that feels better for touring?
LILLY: Songs come when they come and periods of inspiration change seasonally for me. I have toured in the winter, and it's been a blast. I've toured in the summer, and it's been a blast. Fall and spring, all the seasons. There's not one that stands out to me more as being "the time." There is the summer fun concert feel but that's kind of a different thing because there's festivals and a lot of outside stuff. But, I also love playing little clubs and stuff. I have made a few records in the winter and some in the spring.
I'm not sure if this was intentional but most of the song titles on the new record are just one word. I went back to see if the other records were similar and I feel like the other records, song titles are two words. Is that something you did consciously?
LILLY: I love that you noticed that. I've never really noticed the two words thing. My four previous records are all two word titles. This one, I wanted every song to be one word. I couldn't bring myself to call "The Last Tear" just "Tear." I felt like the songs were in this straight-forward fashion so I wanted the titles to simply say that. A lot of times I come up with a title after I've written a song. It takes me a sec to get the title.
Does the fact that the album starts off with a song called "Simple" play into that idea of these songs being straight-forward?
LILLY: Yeah. I felt like it gave the right lighting to the record from the beginning.
Do you record with all the same musicians on each record?
LILLY: I've had a lot of different musicians on all my records. I've had a lot of different bands over the years. There are different people on all of them which is fun for me.
Did the pandemic play any part into either allowing you to play with different people or having some people you wished could have played on the record not be able to because of COVID and travel restrictions?
LILLY: I think because so many people were around, I was able to get musicians that I had always wanted to play with. There's only 6 or 7 musicians on this album so I worked with the band that we had planned to tour Walking Proof together. I was really excited to finally get the chance to work with them completely on a project. It wasn't what I expected, which was a year-long tour. It was making a record together. My boyfriend plays on a couple of songs and that was really cool. His dad plays on quite a few of the songs. My friend, Micah [Hulscher], who plays keys, who I'd always wanted to work with – he plays with my friend Margo Price – people were around so I could call and see if they'd come by.
I saw you in San Francisco in 2017 opening for Blitzen Trapper. Are the guys who were in your band on that tour part of your band now?
LILLY: Interesting you ask that because, this is the cool thing about band stuff, Robert [Hudson], who played bass with me for a long time, I've worked with him pretty consistently over the years. He'll be with me on this upcoming tour. And Ryan, who played drums on that tour, I haven't played with him in some years but he will be joining us for this tour that is coming up. That's really special to me because the last time I toured with him was years ago. I've got a couple of those people and then a guitarist that I've never toured with before.
I know you're a vinyl fan. Back in the '70s and '80s, there were hype stickers on album covers that had the focus tracks. "This album contains these songs." You released "Lately" as a single so that's got to be one of the focus tracks. I would pick out "Peach" as another focus track. What would be the third track on the hype sticker that you want people to check out?
LILLY: I want people to hear the song "Better." There's something about that song that I want people to hear.
How did "Lately" become the track that you made a video for?
LILLY: It's what the record is called. I feel like it's got this kind of playfulness to it but it's distraught in it's own way which kind of shows where I was at when I wrote it. I'm hoping that other people can glean something from that. I just want people to enjoy it. It's sing-songy and it feels good.
Most of your songs have a particular vocal range but in "Peach" it sounded like you hit some higher notes which came as a surprise.
LILLY: I was trying to sing a little more gently and a little bit higher. Me and my boyfriend play guitar on that song.
You mentioned that you enjoyed the chance to hang out with your boyfriend during the pandemic when we all had to put the brakes on. Did the last year-and-a-half allow you to try new things and/or discover some things about yourself?
LILLY: It did change things. I've just lived this life on the move and I kind of preferred that. I still do but, without traveling and without being in groups of people for the sake of music, it was really different and I really missed that. That's one of the things that brings me a lot of peace. But, learning how to try to find that in a different place, that was good for me in a way.
It was exciting to turn on the TV earlier this year and see you and your dad perform two tracks on CBS This Morning.
LILLY: That was another cool thing. We got to do quite a few things together last year. We were both home and that was a special thing to share with him. I think somebody just asked if I wanted to do CBS This Morning with my dad and I said, "Of course, I do." I can't remember who made that happen but I'm so thankful for it.
Was there the kind of response that I would expect would come from being on a nationally televised morning show?
LILLY: It's so hard for me to tell any of that stuff any more. I used to really look into "What's the response?" or go check the views and stuff like that. I realized how depressed that made me. I just can't go there. I get really weird when I do. What I have learned is that everything I do in life matters and every opportunity I've taken has been beneficial on some level.
Lilly Hiatt / Lydia Loveless Tour Dates
October 20, 2021 – Houston, TX – The Heights Theater
October 21, 2021 – San Antonio, TX – Paper Tiger
October 23, 2021 – Austin, TX – Continental Club
October 24, 2021 – Dallas, TX – The Kessler Theater
October 26, 2021 – Tucson, AZ – Club Congress
October 27, 2021 – Solana Beach, CA – Belly Up Tavern
October 28, 2021 – Los Angeles, CA – Lodge Room
October 29, 2021 – San Francisco, CA – The Chapel
October 30, 2021 – Sacramento, CA – Goldfield Trading Post
November 3, 2021 – Bend, OR – Tower Theatre
November 4, 2021 – Portland, OR – Doug Fir Lounge
November 5, 2021 – Seattle, WA – Tractor Tavern
November 6, 2021 – Seattle, WA – Tractor Tavern
November 8, 2021 – Boise, ID – The Olympic
November 10, 2021 – Denver, CO – Globe Hall
November 11, 2021 – Denver, CO Globe Hall
November 13, 2021 – St. Louis, MO – Off Broadway
November 14, 2021 – Nashville, TN – 3rd & Lindsley