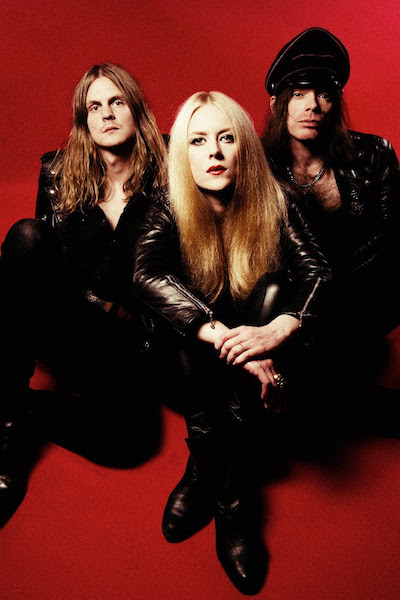 4 July 2019
When so-called "heavy magic rock" band Lucifer took the stage at last year's edition of Psycho Las Vegas, it was as if the band had invoked the spirit of Black Sabbath as part of some unholy mass. With Swedish vocalist Johanna Sadonis dressed in a fringe jumpsuit just like '70s-era Ozzy, and her bandmates backing her up with groovy hard-rock riffs, the similarities were spot-on.
Turns out the spell Lucifer cast on the crowd worked: This year, the group — whose members also hail from Germany and Austria — was one of the few to be invited back for a repeat performance. The band, which has undergone some lineup shifts since its inception in 2014, also features Sadonis' writing parter, drummer Nicke Andersson (of the Hellacopters and Entombed), lead guitarists Martin Nordin and Linus Björklund, and Austrian bassist Alexander Mayr.
Lucifer are slated to play this year's Psycho pre-party at Daylight Beach Club on August 15 as part of their second headlining tour of the U.S. They'll continue to mine their critically noted second album, Lucifer II, which dropped in July 2018 on Century Media. (The band is currently working on the follow-up, due early next year.)
As part of our ongoing series profiling bands playing at this year's Psycho festival — taking place through August 18 at the Mandalay Bay Resort and Casino — the Big Takeover caught up with Sadonis via email to talk about chilling with the frontwoman of influential and like-minded band Coven, and how to beat the heat in the Vegas summer.
Why are you particularly excited to play Psycho? From your point of view, what makes the festival special — both from a performance perspective and as a personal experience?
SADONIS: The location! I am very excited to play the pool stage at Psycho's new spot, the Mandalay. I haven't been there yet, but it looks insane. We truly had a great time last year at the Hard Rock. Great crowd and outstanding hospitality by the festival. Can't wait to go back.
What were your favorite moments of playing Psycho last year?
SADONIS: We got to spend the whole festival at the hotel. We gambled, met up with old and new friends, had a drink too many. It was great. I especially enjoyed watching the Hellacopters, Danzig, Coven and sharing some good laughs with [Coven singer] Jinx Dawson backstage! We were supposed to hang out more that evening, and I went across the street to buy a bottle of champagne for the two of us. She got held up by an interview, and I ended up drinking the bottle by myself, watching Nicke play with the Hellacopters side stage.
Do you have any surprises planned for your Psycho set, whether they be songs you wouldn't normally play, added stage elements, etc.?
SADONIS: If I tell you, it wouldn't be a surprise, now wouldn't it?
Do you prefer playing in the heat or in the cold? Indoors or outdoors? What are the advantages and disadvantages of playing at the time and on the stage where you're scheduled to perform?
SADONIS: I'm hoping for the sun setting as we play and a bouquet of stage fans to keep me from passing out. I am as pale as they come. Like a corpse, really. I function better in cold climates. However, indoors, outdoors, it's all rock and roll to me, and I'm thrilled for the experience.
Tell me something that happened to you in Vegas that was supposed to stay in Vegas.
SADONIS: That's not how it works, man!
What other bands are you most excited to see perform at Psycho?
SADONIS: Unfortunately we will only attend Psycho on show day as we will be in the midst of our West Coast tour run so I will definitely check out Danava! If I could, I'd also see Arthur Brown, Carcass, Black Mountain, Uncle Acid and probably Led Zeppelin 2!
What friends of yours are also playing at the festival? Who are you planning or hoping to hang with in your downtime?
SADONIS: Well, we're just there for this one day. Last year I also ran into a lot of friends unexpectedly, so I'll just let it come to me.
What can fans and newcomers expect from your performance(s) at the festival?
SADONIS: A good dose of old-fashioned heavy rock and roll. I can't wait to play!!
For previous installments of the Big Takeover's Psycho Las Vegas preview series, check out our interviews with:
• Colin H. Van Eeckhout, vocalist for Belgian post-metal purveyors Amenra
• Jason Shi and Scott Key, singer/guitarist and drummer, respectively, for melodic hard-rock masters ASG
• Stephen McBean, singer/guitarist of long-running psychedelic-rock project Black Mountain
• Greg Meleney, vocalist/guitarist for Portland psych-rock mainstays Danava
• George Clarke, vocalist for shoegaze/black-metal powerhouses Deafheaven
• Victor Vicart of Scottish progressive-metal quintet Dvne
• Zack Simmons, drummer of blackened death-metal demigods Goatwhore
• Emil Amos, drummer of experimental post-rock band Grails
• Julien Chanut, guitarist of French sludge-doom band Hangman's Chair
• Tony Campos, guitarist and founder of thrash revivalists Hell Fire
• Nashville cosmic-riff connoisseurs Howling Giant
• Joshy, drummer for crusty death/doom-metal outfit Ilsa
• Stuart Braithwaite, founding guitarist/vocalist for beloved post-rock legends Mogwai
• Thomas Eriksen, centrifugal force behind true Norwegian black-metallers Mork
• All-female Motörhead tribute band Motorbabe
• Tobias Grave, frontman of shimmering post-rock trio Soft Kill
• Derrick Vella, guitarist of death-metal arsonists Tomb Mold
• Niklas Källgren, guitarist of Swedish fuzz fanatics Truckfighters
• Los Angeles Satanic doo-wop duo Twin Temple
• Sean Killian, vocalist for cult-favorite Bay Area thrash band Vio-lence
• Bruce Lamont, frontman of experimental heavy-jazz project Yakuza and Led Zeppelin tribute band Led Zeppelin 2
• Aaron Rieseberg, bassist of Oregon doom-metal dealers Yob
Also, don't miss our special feature in which Deafheaven's Clarke and Mogwai's Braithwaite discuss their mutual affection for each other's bands, whether Deafheaven should play their Mogwai cover at Psycho Las Vegas — and the possibility of a collaboration between the two projects.