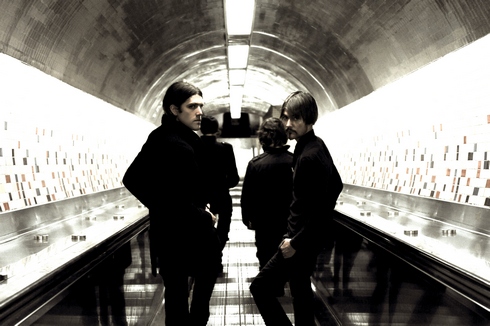 23 February 2012
The Morning After Girls, (TMAG) formerly based in Australia, are a NY psych pop band with an edge. Even when they make you swoon with the dreamy "Part of Your Nature", they kill you with a song like "Who is They". The band consists of Sacha Lucashenko and Martin B. Sleeman (both vocals and guitar), Anthony Johnson (drums), Alex White (keyboards, percussion, and backing vocals), and EJ Hagen (bass). The latter two members do double duty in the excellent shoegaze band, Highspire.
TMAG recorded 2011's sublime Alone in a church, which accounts in part for its expansive sound. The band collates many disparate influences, from modern classical to straight ahead psychedelic pop. And they do it so seamlessly that you don't realize what's hit you until after one song fades into the next. These guys made my top 10 of 2011 for a reason, and I hope my words influence some of you to latch onto this great group. Thanks go out to Alex and Sacha for arranging this interview.
What was it like to work with Alan Moulder on Alone? Any other legendary figures you'd like to hook up with?
SACHA: Very natural. At first it seemed completely foreign to suddenly open up something very personal to us mid-process to a complete stranger – though a few days into it, we simply became two entities with mutual respect trying to get the best result possible.
Was recording in a church responsible for that massive sound you achieved with Alone? Might you use that space again for the next record, or are you aiming for something different?
SACHA: I think the environment we recorded in is completely responsible for how wide the scope is on Alone.
We're unsure if we'll use the same location – as long as we don't repeat ourselves, that's the most important thing; never attempt to recreate what's already been done, where's the thrill in that? Our new record could go either way; even larger or a lot more intimate.
How was the writing accomplished on Alone? Do you both write music and lyrics, or does it vary?
SACHA: Most of our songs are completely co-wriiten between myself and Martin. Lyrics, progression, everything. If I can't find a chorus for a verse, or the other way around, he'll locate it for me and vice versa. If something composition-wise isn't working, we don't hesitate to tell one another – song structure is paramount to us.
What songs are you most proud of?
SACHA: I'm not sure I have the answer to that. I believe each song we write is so different, so I relate to each piece on a different level for varied reasons I suppose..
How does the US music scene compare to Australia?
SACHA: Each scene varies so much within each state of the US – the East and West coast differ completely. There seems to be a lot more camaraderie in LA than New York. We haven't existed in Australia for quite some time, so it's hard to compare. The ambition seems to be a little higher there however..
You share two band members with Highspire, and even toured with them. How did that work out?
SACHA: Alex and EJ were admirers of the group before they joined – not in a creepy way. We met Alex first through a mutual friend who then introduced us to EJ. EJ showed up to his first rehearsal after drinking 16 beers and nailed everything, that really impressed me.
How would you describe your art to someone who's never heard your music?
SACHA: Sonic melodic hypnotic, with teeth.
Has the Internet helped or hindered the band?
SACHA: Both. Like it's done to everything, it widens the audience; however most of that audience doesn't want to pay to get in.
Do you get tired of comparisons to typical psych bands such as Spaceman 3 or Brian Jonestown Massacre, or are you used to it? I myself hear bits of Oasis, The Verve, and Engineers in your vocals, especially in the dynamics of quiet and loud across the record. Can you expound a bit on this?
SACHA: Those psych comparisons are really boring for us – especially when regarding Alone. It almost guarantees the journalist or whoever concerned hasn't even listened to it. You're right, I'd draw more comparisons to the ones you've mentioned. Also modern classical composers like Arvo Part and Gyorgi Ligeti were major influences. Plus the rock records that were coming out by New Order, Interpol, and Oasis in the early 2000's. That was a great period for consistent albums coming out from bands. I just think we sound a lot like The Morning After Girls.
Are you working on the next album, and can you tell us anything about what we can expect?
SACHA: It's going to be our masterpiece I believe. More cohesive and sophisticated. I want to take what we do and make it more immediate to far more people, though not necessarily in a commercial sense. Break down those genres we're compared with, and let the songs exist and breathe for what they truly are.