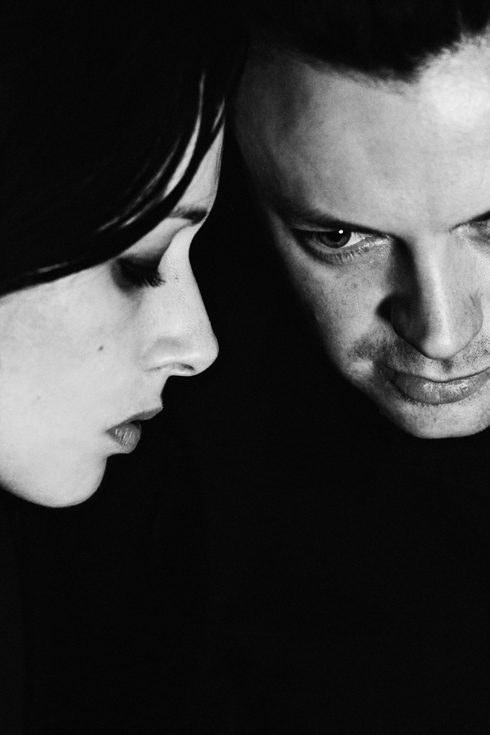 22 June 2012
Aimee Nash (vocals, guitar, keyboards) and Scott Von Ryper (vocals, guitar, keyboards, bass) are Australian musicians who spent time in The Morning After Girls before settling in the US and forming The Black Ryder. Combining Aimee's sultry vocals with shoegaze, dream pop, bluesy riffs, and delicate folk, they bring a cool amalgamation of those genres to the table. Just coming down from a successful tour and appearance at SXSW, the band is hard at work on their next album. Aimee took time between recording and getting married to chat with me.
You are usually compared to Black Rebel Motorcycle Club and Mazzy Star. I do hear a bit of Hope Sandoval in your vocals, or maybe Trespassers William, but that is my only frame of reference. Are you sick of these labels, or are they apt?
AIMEE NASH: I hadn't heard of Trespassers William until now, but I am of course familiar with Hope Sandoval and Black Rebel Motorcycle Club. There are certainly worse people to be compared to and it's certainly flattering being likened to artists you have an appreciation and respect for, although I tend not to think about how people will interpret or define our music.
I'm working with the voice that I've been given, with a sentiment that I hope translates the intention that I have for the song. Buy the Ticket, Take the Ride was the first album we'd ever made. I think this was the first time I found and worked with my voice, and at times it's made me uncomfortable. It's a different scenario singing with people, to writing your own music and singing your lyrics. There's a lot more vulnerability in that. I had to be okay with my voice, and the only way I can do that is to use it as much like an instrument as I can. Melodies, phrasing, timing, pitch, lyricism, it's like a sonic jigsaw puzzle and I have to put all the pieces together and approach it with all those things in mind to make it work. We had both Leah Shapiro and Peter Hayes (from BRMC) contribute to some of the recordings on the album, so I'm not too surprised people are likening our music / sound there.
I understand the band is working on your second album. Can you elaborate on that a bit?
AIMEE NASH: We started working on new material not long after we left Australia in 2010. We weren't really sure how to approach this. We left any comforts, all familiarities, friends, family and any sense of stability behind when we left Australia. It's been an unpredictable experience. There's been highs and lows… divorce, death, and another marriage since our last album, so no doubt there will be an entirely different energy to this new body of work. I feel like there's a sense of maturity to what we're doing too.
I was initially worried about how we'd get this started, however, it wasn't too long before we found ourselves working on 30 or so songs, that we cut back to 13 focus tracks, which we'll trim down again, and more than likely write a couple of new ones before the end of this cycle, edit and refine, and who knows… have some surprises up our sleeve for something else.
There's definitely a sense of taking what we learnt from the last experience, and so many others, and applying it to what we're making now and going the extra mile in terms of the album experience.
We don't feel any pressure to stay in any one style or mood; there's a broad spectrum of material here and I'm excited to see what it will become. It's been such a source of purpose for us, we've put so much of ourselves into it, we don't want to do anything half-assed. We want to make something that exceeds our expectations.
Will the upcoming album move in a new direction stylistically?
AIMEE NASH: This time around we spent some time recording at Ocean Way Studios. This was the first time Scott and I had worked in an actual studio with another engineer, as opposed to Scott doing all the engineering and us steering the vehicle together the whole way (which has been a difficult process to retain perspective along the way, really).
There was an exciting energy in the building. Plenty of photos of a variety of artists who have recorded there, Frank Sinatra, The Mamas and the Papas, *Ray Charles, to more recent bands like Radiohead, Hole, and Snoop Dogg. It definitely felt like another world far away from the studio we created back in Sydney. It was a very positive experience for us and it's certainly raised the production quality a fair few bars.
This is our second album, until the last we hadn't tried to do anything like that before. We made the most of what we had, and did the best that we could do. This time around, it doesn't feel like such an arduous task.
How was SXSW? Was that your first time playing there?
AIMEE NASH: It was the first time that The Black Ryder had played SXSW. I'd say the shows were some of the best shows that we'd played to date. We had a dream line up as far as people and players were concerned: Jennifer Fraser on bass (formerly of The Warlocks and now Zaza), Gregg Foreman on keys (Gregg is a multi-instrumentalist and plays with Cat Power, Pink Mountaintops, and is amazing), and Graham Roby on drums, who's been playing with us regularly since we got over here in 2010.
I was really sick and had a fever leading up to the shows, I couldn't make the one rehearsal we had the night before we were leaving, which was a concern for me because it was a fresh new line up of players (again). We managed to rehearse the morning of the first show and it all came together beautifully. So the shows were great, but as far as anything tangible coming out of it, I'm not sure. The jury is still out on that one.
Could you tell us a bit more about playing with Brian Jonestown Massacre?
AIMEE NASH: Scott and I have known the Brian Jonestown Massacre for either 8 or 9 years I think. We toured with them when we were playing in The Morning After Girls. Some Brian Jonestown Massacre albums are some of my favorite albums. It's always an experience to see them live, each show I've seen or felt something different in their performance or their songs, and over the years I feel like they've just gotten better and better. I've seen those guys in more parts of the world than I've seen a lot of other people, they are quality people. I appreciate the honest place that the music comes from. I appreciate the men that play the music. I admire Anton for being an inspiring songwriter and artist, and for making the music that he makes.
Ricky Maymi (longtime guitarist with BJM) stayed with us in Australia at the time we were working on writing and recording, so he ended up appearing on various tracks on B.T.T.T.T.R. Scott also worked with Ricky and Steve Kilbey of The Church on his Painkiller album, and most recently the David Neil record.
The recent shows I saw them play were some of the best I've seen. I was at the Fillmore (SF) and Wiltern (LA) shows and I was completely drawn in and felt so connected to the music. There's such an emotive quality to their music. You can go through so many different human emotions in one entire show, that's the kind of music I want to see and listen to. I'd seen a couple of other artists at this venue in the same month and didn't feel anywhere near the same level of engagement or connection. There's a reason for that.
Are you still on the EMI label, or out on your own?
AIMEE NASH: The deals that were in place on the first album, including EMI, were made specifically for the first album only, so we had more flexibility (and not feeling like we'd have any pressure) on our second album. It's early days as far as any label discussions go. To be honest, I've personally wanted to avoid that and too much business talk during what is supposed to be a 'creative time' can be a real buzz kill.
How does songwriting and arranging work with you and Scott?
AIMEE NASH: Every song is approached differently. No song starts the same way.
Usually it starts with an idea, a mood, a sound, a phrase. It could either be a guitar part or vocal melody, and we layer it with sounds and parts and build it from there. Some sounds are more exciting than others, and that's usually how it goes. You have to step back and figure out where to put your attention first.
Leaving Australia meant transporting our studio over here, so it really was a case of starting all over again in a whole new space. Scott is calm and laid back, I can be neurotic and overly sensitive at times. Scott is patient and cool-headed, I am the opposite. But we both strive to get the best of anything that we're doing. We each bring a different energy to the room, most of the time it works. We have chemistry and history behind us. We're usually on the same page on most things, and if we're no,t it's always a case of trying as many different ways we can until it works for both of us. We usually spent a lot of timing thinking about things too much, wanting to explore which avenue we want to take. It's an entirely collaborative effort.
Has social media helped the band gain new fans or publicity?
AIMEE NASH: Sure, it's completely changed the way bands can connect to people worldwide. We've got Facebook / Myspace (although does anyone really use Myspace anymore?), Twitter, Spotify, iTunes, and last.fm. You can reach so many people in so many different ways, but how is it possible to keep up with it all?!
If you're a new band, you're lucky if you can build up some sort of presence for yourself, hopefully people have heard of you and the good word spreads. If you're clever, you try and engage with up to date content, but then, there's a lot to be said spending time away from it all and getting back to creating, writing and making something.
How do you like living and working in the States? Are you still in LA, or somewhere out in the desert? The latter is appropriate, since your music sometimes evokes widescreen imagery.
AIMEE NASH: We're based in Los Angeles, although we've been to the desert numerous times. There's something about being out in the middle of nowhere that can be the most comfortable feeling in the world.
We're living in an age where a lot of people are in a hurry, everything has to be done quicker, easier, more efficiently, faster, faster, in this over populated, wasteful, polluted world. I'll take any chance I can to get away from that and find some clarity and peace amidst it all.
What can we look forward to in coming months? Do you think your album will come out this year?
AIMEE NASH: I know that the plan is to have it finished by the end of July. As far as release dates and who will put it out, I guess we'll see.
Right now it's about making a monument to our imagination + trying to create something that is beyond ourselves. And then move onto the next thing.
Catch up with the band on Facebook, Twitter, and on their home page.
Photo by Angel Cellabos.
comments powered by