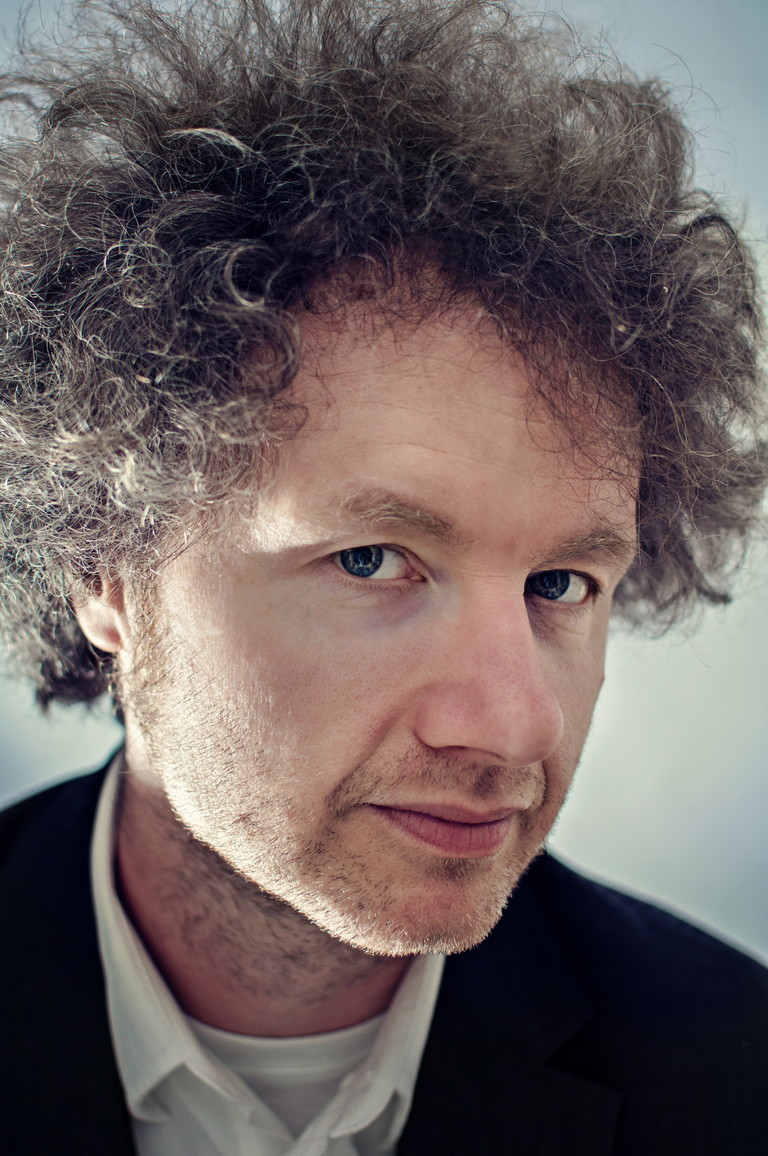 31 December 2014
photo by Mary Wycherly
Martin Carr may just be the best songwriter you've never heard of, unless you've slavishly followed the career of his band, The Boo Radleys. Perhaps best known for their monumental work Giant Steps, the band released a host of wonderful albums, including Everything is Alright Forever and Wake Up. Martin was there through the band's many style changes, having written a large portion of the band's music along with playing guitar. He's now added singer to his bag of tricks on his new album, The Breaks. Listening to his charming voice may remind one of Guy Chadwick, Neil Halstead, and John Lennon. Helped out by BT favorite Corin Ashley throughout, Martin raises the roof (a bit) with his pensive ballads and outsider looking in status in the music industry.
Martin, with The Breaks, you've made a fine record laced with a myriad of styles. Can you trace your journey from the days of The Boo Radleys to Brave Captain through your last solo record to where you are now?
MARTIN: The Boo Radleys split up because I didn't like the music we were playing, and we had hit a brick wall in terms of progressing musically. I was listening to a lot of electronic and dub music, and didn't want to be in a band playing psychedelia. Looking back, I should have looked for collaborators in the electronic arena, but ended up recording a couple more albums of psych pop. I wasn't thinking straight in those days.
I started making music on the computer, just messing about on Fruity Loops, the results of which I squeezed onto my 2002 album Advertisements For Myself, scattering those small nuggets of primitive electronica amongst the psych rock that made up the rest of the album. I think it was here that I stopped listening to anything resembling a tune altogether. Kid 606, Lesser, Cex, Prefuse 73 (a genius), Knifehandchop, Anticon, Tigerbeat, etc made up the bulk of my listening.
In 2003, I started doing laptop gigs which were largely unstructured and possibly quite boring, and I made an album All Watched Over By Machines of Loving Grace which I recorded at home and was the first step in merging the electronica I loved with the psych pop that falls out every time I pick up a guitar. I carried on gigging with a drummer, a laptop, and a Rhodes piano; these concerts were more accessible and possibly less boring than my laptop gigs.
I was dropped by Wichita while making the next album (I say dropped, they just stopped talking to me), and my confidence hit an all time low. 2005 was a very productive year for me, I recorded a single every month for members of my website, an album Distractions, which progressed nicely from the last album, and an album of electronic tracks under the name The Black Serpent Choir. I ended up giving Distractions away for nothing. I hit rock bottom and stopped writing songs, I just forgot how to do it.
For the next two years, I didn't write a single song and earned money illustrating for a national newspaper. I carried on playing guitar and taught myself a simple fingerpicking technique out of which I started to write songs again. I kept away from the computer and composed solely on the guitar and pretty soon I had an albums worth of songs. Afraid and lacking the confidence to record it myself, I made it in a local studio with an engineer/producer and a band in 2007/8. It's called Ye Gods (and little fishes), I liked the songs, but felt I had taken a backward step production-wise. Nobody wanted to put it out, so it was released through a digital distribution company in 2009. Then I became a father, and although I continued to write songs, I had no money to record anything. I gathered a bunch of these songs together in 2010/11 and sent them to a few labels, but nobody wanted to fund the recordings, I couldn't even get Pledge to return my calls. I gave up and spent an aimless period writing songs and trying to get work writing music for TV. I wrote the music for a TV drama about John Lennon called Snodgrass, which was shown on British television in 2013, but all I wanted to do was to get back making albums. Then, while I was pushing my son on the swings one chilly autumn afternoon in 2013, I received an email from Tapete Records in Hamburg, asking if I had any songs they could hear. I thought it might be a joke at first, but I spoke to them and they flew me out there and got me drunk and they liked my songs and were willing to pay for them to be recorded. I rang a few friends, and in 2014 I recorded The Breaks in Cardiff. I like the songs and they are done well, but I still feel I need to go back to where I left off with Distractions. I still feel that I haven't found a sound to call my own.
What are your favorite tunes on this record?
MARTIN: "Mainstream" is my favourite song, I love it and consider it one of my best. "Santa Fe" and "Sometimes It Pours" are pretty good.
Who worked on this album with you? I know Corin Ashley played on it.
MARTIN: Corin played and sang on just about everything. He's a fine musician, organiser, and one of the most beautiful people I have ever met. I love him.
Can you talk a bit about 'not fitting in' and how that's impacted you creatively?
MARTIN: I think the biggest impact has been my lack of collaborators. I've done so much on my own and can never understand why I've never met anybody who wants to make music with me. I suspect that it might be the vibes I give off, but I don't know.
Your lyrics are fabulous. How do ideas come to you?
MARTIN: Most of the time I'm writing about the things that are going on around me, other times like "Santa Fe Skyway", I'm just describing dreams or images that come to me while I'm playing. If I get stuck, I pick up Masterpieces Of Western Art which sits on my desk and just describe what I see when I open it up at a random page. I rarely use these, but it's a good way to unlock the word machine.
Some songs, like "Santa Fe Skyway", are like miniature symphonies. There is so much going on in that song, from the funky guitar stylings to the bright brass section. It is almost like different ideas were stitched together seamlessly. Is that an organic process, or is it painstaking work to get the exact feel you're looking for?
MARTIN: I worked for a long time on the original recording, the album version is identical but for the rhythmic feel. It's a process of trying stuff out and keeping what I like. I tend to use a lot of messed up samples which give me ideas, almost all of these samples are ditched or replaced.
After some success with The Boo Radleys, you've slid under the radar a bit. Is that your wish, or do you want to escalate this record to something big if that opportunity presents itself?
MARTIN: I was on a downward slide from 1996 until about 2007, it was very gradual. But for a handful of people, nobody was interested in anything I did for much of that time which is fine, that's the business I'm in, but I think people want a certain thing from me and I tried to get away from that for a long time. To me, my music has always been completely accessible, but it didn't help that I was recording stuff at home that were only a couple of notches above demo status.
You've dabbled with many different styles. Are any of them favorites, such as the lovely folk stylings on this record, or maybe even the dub from Giant Steps?
MARTIN: I like it when it's a mix of pop, noise, and electronica. I haven't done it properly yet.
I just wondered if Love is a big influence, because some of your songs remind me of the orchestral parts and general feel from Forever Changes.
MARTIN: I heard Forever Changes for the first time back in the late Eighties, and it had a tremendous impact on me. I started thinking about strings and horns and songs like "You Set The Scene" opened me up to non-traditional arrangements for pop music. I'd grown up listening to pop music on the radio where there was pretty much a universal structure to a song, but with this and things like Smile by The Beach Boys, the songs had a more emotional development rather than a prescripted one. I offered to buy Arthur Lee a drink once, and he asked for eight vodka and oranges. I was happy to get them in.
What comes next for you? Will you be touring in the US at all, or staying in Europe?
MARTIN: I have no plans to tour in the US, although I would dearly love to. Unfortunately, it all comes down to money. I'm not stopping here though, there won't be another five year gap between albums. I knocked it down, and now I'm building it back up.
comments powered by