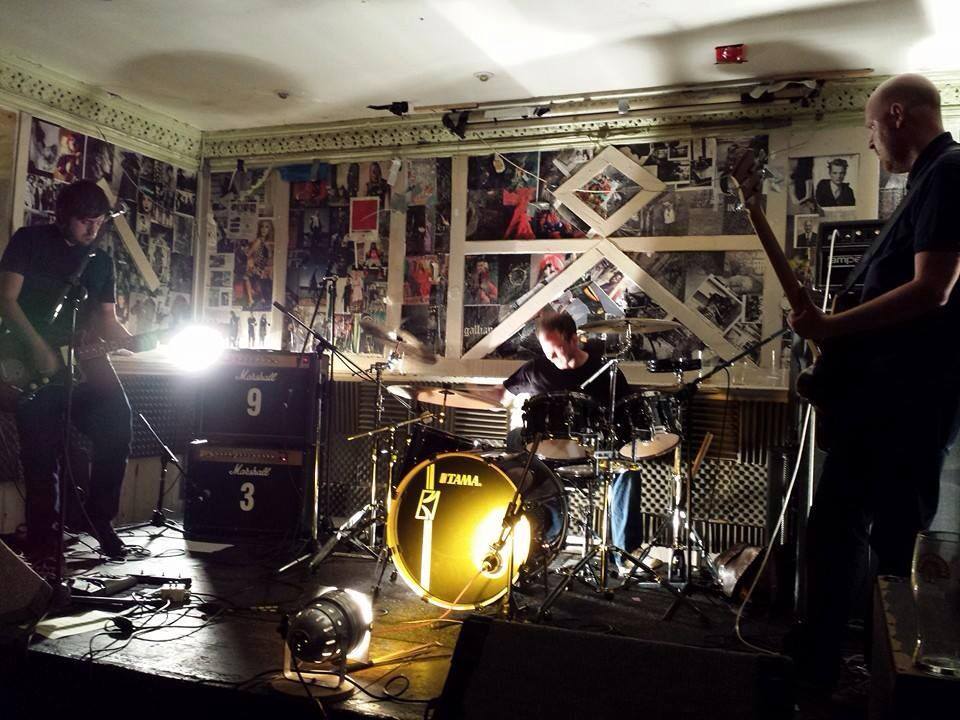 17 May 2015
Doncaster's own 93MillionMilesFromTheSun are a terrific shoegaze band that more people should know about, especially given the resurgence of shoegaze these days. The band just released a new album called Fall Into Nothing, and Nick "Mainline" Noble (guitarist/vocalist) was kind enough to spare some time to discuss what the band is up to.
You released this new album on your own. Why did you decide to do this, and how has it been in terms of work and were your expectations met so far?
NICK: We decided to do it ourselves as the album had been recorded and mixed for months, and while we were in discussions with a few labels everything seemed to be taking too long. It's something I've wanted to do personally for a while now anyway, so it seemed like the right time. We used a great guy called Andrew Rose for the mastering, and when we got the CDs back from the plant I was more than happy. We'd always put our early demos out on limited run CDs and given them away at gigs. We called them White Light Sounds so it seemed an obvious choice for the name. It has been great up to now as Facebook and Bandcamp make it easy to do it yourself. With the label I want to expand it and hopefully have some other artists on there eventually.
Was the recording process on this album any different than on previous releases?
NICK: Not really. It was recorded at 93 Labs which is my home studio where every other 93 release has been done and Jase our drummer has opened up a recording studio in Doncaster called Supanova Studios so part of it was recorded there. It's the first album we have used a drum kit rather than the drum machine, so it was nice to get into a studio and record proper drums. The drum machine still makes an appearance on a couple of tracks though.
How does the band approach songwriting, is it one person contributing lyrics and other contributing melodies, or is it an egalitarian approach?
NICK: Most songs start out with me playing about on the guitar and then coming up with something I like then doing a melody on top. We'll then add stuff like drums, bass, and then build up the guitars. The lyrics usually come last and are based around the melody that I put down at the start. They come together pretty easy and quick once the initial idea is there.
I love the opener "Intro", with the sounds of a summer storm. This perfectly encapsulates all that is great about your sound, both the quiet shimmer of rain and the boom of thunder. Was that intentional, or just one of those things that fell into place naturally?
NICK: I was always going to start the album with "Reflections", but I wanted an introduction piece before it so the guitars that come in on "Intro" are the notes of "Reflections". The rain and thunder was something we'd had for a while, and we were going to use it as an intro to our gigs. We were playing around with different things in Jase's studio and when we played those two things together, totally by chance we all thought that it was great and really worked. The album is a bit epic and a bit of an endurance for the listener, so we just thought it'd work well at the beginning and then bring the rain back at the end. Also, we're miserable northerners so it seemed to fit with us well!
What has a place like Doncaster been like for your creative process? Does being hidden away, so to speak, provide any advantages?
NICK: Doncaster is a terrible place for music. There have been some good bands that came from there in the past, but we've never fitted in with the so called scene there. All the songs have a certain amount of us wishing we were somewhere else in them, I'm sure of that. We've always done our own thing and we've never been bothered if the people of our home town like it.
How do three guys sound so massive? Can you describe some of the production efforts and how you create your art? Any favorite instruments or effects you put into play?
NICK: It's all just drums, bass, percussion, and guitars really. We do build stuff up, especially the guitars and try to get them sounding as big as we can. We use plenty of reverb on everything from drums to vocals. It's a pretty basic set-up in my home studio. I use my live pedalboard and I have a couple of multi-effects units that I occasionally use. I use my Fender Jazzmaster and Jaguar for most of the guitar, and I also use a Gretsch semi acoustic occasionally. Our bassist has a Charvel Surfcaster bass which always sounds amazing as well. Distorted bass, distorted guitars. It all seems to work for us.
What do you think of the resurgence of shoegaze and dream pop? It seems to be part of a larger psychedelic rebirth. Has it helped the band gain more recognition?
NICK: I've always been into 'shoegaze'. I was lucky enough to be there for the first time, so for me I've always looked out for it. When we started in 2007 there were a few other bands around making this sort of music, but now they seem to be everywhere which I suppose is a good thing. I'm not sure if it's helped us or not really. We always set out to be a shoegaze band even though it wasn't really the thing to do back then. It's still such a small underground scene with the occasional band breaking through, but I think people are finally getting it and realising how good it is. The original scene bands like Ride, Slowdive, MBV, Swervedriver etc who are now playing again were so far ahead of their time sonically and musically that their music still sounds like it was recorded now.
"Reflections" is a perfect distillation of your sound. It is an immersive experience, cocooning the listener with these gorgeous swirling layers of sound. When you are playing music like this in a live setting, does it affect you similarly?
NICK: I'm usually too busy trying to remember the words! If everything is sounding good up on stage, then I can get carried along with it all. It's happened on quite a few occasions. When It all comes together you can get lost in it all. We're usually battling with sound men who don't really get what you're trying to do. They are so used to doing rock that they don't understand when you tell them to bury the vocals in the mix and push the guitars right up. We're rehearsing "Reflections" for our upcoming gigs so hopefully we can get it sounding right and blow people heads off!
Do any other forms of art (literature, film, etc) inform your work?
NICK: I paint, watch plenty of films, and when my little boy lets me, read quite a bit but they don't really have a conscious effect on what we do. I would love to work on a film soundtrack at some point as I know I would have to approach it differently, but I think some of the soundscapes and more epic moments would work in the right environment.
What are your touring plans behind this album?
NICK: Up to now we're getting some dates together. We're heading up to Scotland in June with our good friends Kontakte for gigs in Glasgow, Inverness and Edinburgh. We have a gig in Manchester with The Cult Of Dom Keller, and we're doing a special one of show in Doncaster as a kind of warm up for Scotland which won't be in a traditional gig venue which we're looking forward to. There will be dates later in the year in London and more down south but nothing confirmed yet. If it's the right sort of night for us, then we'll be happy to come play.
comments powered by