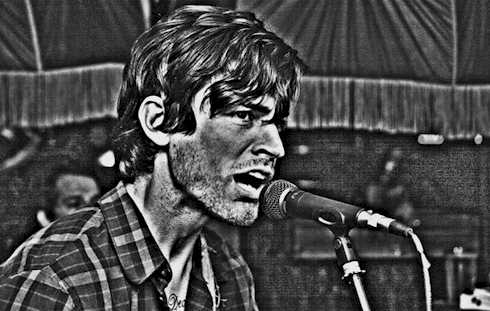 28 February 2011
Cat Party exist in the delicate space between two genres, specifically punk and post-punk. Somebody described them to me as "a hybrid of early Joy Division and early TSOL," which almost immediately sent me on a mission to find their record. But Cat Party is much more than a shallow imitation of that 1981 sound. And they've managed to avoid all the cliché pitfalls that have sunk the countless other bands who've tried to straddle this sound. That means no lyrics about hanging out in a graveyard, no extended synth explorations and no naive drama. In 2008 they released a split single with Cut City and a 7" called "Jigsaw Thoughts," both of which laid the groundwork for their 2009 self titled LP, recorded at Bionic Ear and released on Flat Black Records. The band is made up of three guys from Southern California, Jason Richardson on bass, Roger Fowler on drums and Ryan Nichols on guitar and vocals. Their new LP, Rhapsody In Black, will be out this spring.
AJ: How did you guys meet?
ROGER: Ryan and I met while skating. We've both skated our whole lives, we just saw each other at the park and decided to start playing music.
RYAN: I used to see Rog at the park in San Clemente all the time. Then one day I went to jam with this hippy kid and he was there playing drums, we immediately had musical and romantic chemistry. So like a week later he called me up and asked me if I wanted to skate and start a band. We went to the Etnies park, shredded, then started writing songs that afternoon.
AJ: Were any of you playing music before Cat Party?
RYAN: I played in a few punk bands and used to write a lot of acoustic songs.
ROGER: Ryan and I were in a weird punk band called In The Flat Field before we focused on Cat Party.
AJ: How did you come up with the name Cat Party?
RYAN: The name came from a folder on Rogers desktop. It had pictures from his birthday and pictures of his cats. The folder was titled Cat Party and that seemed fitting. It sucks trying to come up with a good name. You wanna seem like you care but not too much but you don't wanna come across too dramatic. I think Cat Party suits us.
AJ: Cat Party seems to play a lot of shows with a wide variety of bands, everything from indie rock to skate punk. Is this something that you're consciously aiming for?
ROGER: We definitely look for diversity in our shows. A little something for everyone. If all the bands sound the same it gets boring.
AJ: I agree. It's better not to be pinned down to one genre.
RYAN: I like playing with different bands. You get different crowds and it's good to expose yourself to as many people as possible. I don't just listen to one type of music so why would I only want to play with one type of band?
AJ: How did you get involved with Flat Black Records?
RYAN: I think it was through word of mouth from mutual friends who had heard our Jigsaw Thoughts 7" and were going to the shows. They mentioned it to those guys. Then Ryan and Davey started coming to our shows and told us they wanted to help us put our music out. The timing was perfect since we were just finishing up the full length.
AJ: So tell me about Costa Mesa. What's going down out there?
RYAN: Binge drinking and homoerotic one man dance parties. Also I go to school here.
AJ: What were some of your favorite bands as teenagers?
RYAN: TSOL, The Cure, Malevolent Creation, Black Flag, Adolescents, The Cult. Metallica. Fuckin' Slayer.
AJ: Tell me about your new LP. I want to spill the beans on this.
RYAN: It's called Rhapsody In Black. It's 11 songs for Europe and 10 here. A label called Sabotage Records out of Germany is releasing the vinyl. Nothing yet locally, it just got finished this week so I'm going to try and shop it around to a few people. In the meantime we're going to put out limited cd versions while we wait.
The songs are either really punk or really weird slower songs. I think most of the stuff we've done in the past has been very mid-paced where these songs either go above or below that. Also this record was done by Roger and I, him on drums, me on guitar, bass, and vocals.
AJ: Will you be touring to support the new record?
RYAN: Once the record comes out another west coast tour will follow. Vancouver and back. Also Europe is in the near future, it's time to do the damn thing already.
AJ: Let's talk about your song writing process. I'm curious to find out how you guys layer your parts and which order they are put down.
RYAN: In the beginning I wrote most of the songs on acoustic guitar and slowly that's ceased to be the case. I don't even play acoustic guitar anymore. Now it's become a matter of getting together and just hashing out ideas, if something sounds cool we go with it until a song develops. If it sucks we leave it alone. The music comes first. I write lyrics to the music.
AJ: What kind of guitars and amps did you use at Bionic Ear on the LP?
RYAN: I had a Gibson Les Paul (not so) special with P-90 [pickups]. And most of it was on a Fender Twin. We used really old worn out amps that were in the studio. Can't remember specifically what models and years we used.
AJ: Is there anything that makes you worry about the future of independent music?
RYAN: Not too worried about the future. When you play the kind of music we do, you do it for fun. Everything else that happens is just icing. We just wanna put out vinyl and tour. As long as we can keep doing those two things we'll be happy.
comments powered by