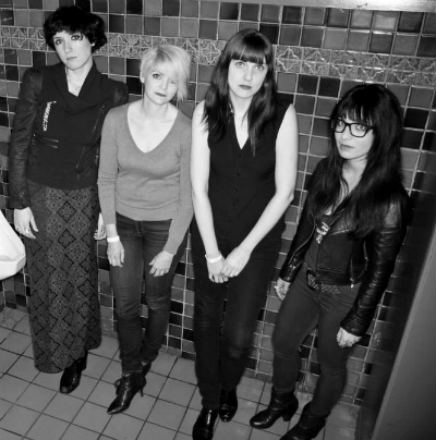 17 March 2014
Hether Fortune is no stranger to trolling. For years, the 26-year-old singer, guitarist and feminist of Bay Area post-punk ensemble Wax Idols has taken her fair share of flak from trollers online for everything from her brash, fearless persona, to her honest, confessional nature as a songwriter.
"Everything about my personality and the things I project as an artist is really confrontational," Fortune (aka Hether Fedewa) says over the phone from San Fransciso. "I'm used to people hating me or thinking that I'm just awful. I've been dealing with that forever!"
Usually, she brushes it off. But her relationship with the late Jay Reatard, whom she met on tour with The Reatards, was dissected by commentators following his death in 2010.
"I dated Jay, briefly," Fortune explains, "and I was in love with him when he died. It was really fucked up. Any song I wrote, people would ask, 'What's this song about?' and I'd say, 'It's about Jay.' And any interview about me that would pop up after he died, trollers would say nasty things. They said I was using Jay's death as a means to get ahead. People have said crazy things—but that's the only thing that's ever really hurt."
While such denigration was painful, it strengthened Fortune as an artist. And with her job as a professional dominatrix cultivating a sense of self and sexuality, she formed Wax Idols, and emotional pop gems such as "Gold Sneakers" and "Dead Like Me" for their debut, No Future [Hozac] developed her confidence.
"Earlier, the songs were immediate and reactionary to my situation," Fortune explains. "It was more personal. And with our recent record, it's still personal—but broader. I was writing from different perspectives. I was working harder as a writer and taking my time with what I wanted to say."
Melding traditional pop ("I love pop music and I am, at heart, a pop writer") with the sullen, synthy cadence of 80s post-punk, Discipline and Desire shows Wax Idols in their darkest hour. And calamitous tracks like "AD RE:IAN"—dedicated to two other deceased inspirations, Joy Division's Ian Curtis and The Sound's Adrian Borland [another, living BT fave, The Chameleons' Mark Burgess, plays bass on one song—ed.]—present an eerie paradox between life and death.
"It's about finding stability, focus and order among chaos," Fortune reveals. "It's an unsettling—and then very lush and enveloping—record because I was going back and forth between that [her emotions] the whole time."
With this push and pull driving the record, Fortune is the bondage belt that anchors it all. [OK!—ed.] And today, in regards to trollers ("I could really give a shit about what they have to say!") Fortune's finally too preoccupied to care.
"I never wanted to do anything other than be a producer, or artist, or performer. When I was younger, I might have done a school project about 'My Future Career as a Lawyer.' People have always told me I'd be a great lawyer. I'm all about justice and shit."
Justice is hers, at last.