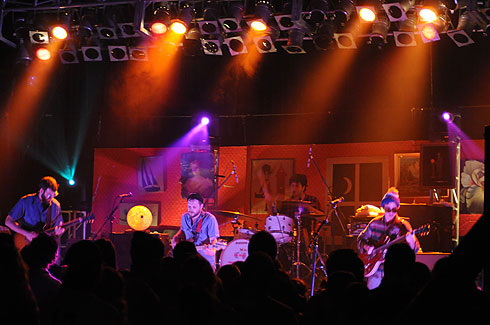 18 February 2012
Written by guest contributor Stefan Rogenmoser
While barely slowing down their touring schedule, Dr. Dog has recently been preparing to release a new album, entitled Be The Void. I caught up with organ player Zach Miller and drummer Eric Slick for a few minutes on November 14th at the Music Farm, in Charleston, SC. Slick played with Project Object and Ike Willis, of Frank Zappa fame, before joining Dr. Dog.
How long have you been on tour this time?
ZACH MILLER: We're at the two-week, out of three week portion. This is going to be our most intense stretch coming up. Five shows in a row. We haven't done that in a while.
Where are y'all heading after this?
EARL SLICK: Athens, then Knoxville. The last time we were in Knoxville there was a folk music store that had an Indian Sahara instrument called a bulbul tarang, a cross between a keyboard and a set of strings.
MILLER: It's like a hurdy gurdy. You strum. It's got the keyboard over here and you just strum on the other side.
SLICK: I want to play that. I didn't really get to try it out. I hope they still have it. Knoxville's a great town, and Athens is a great town too.
MILLER: Classic college town.
SLICK: Classic college town. (Laughs) I went to a couple of thrift store the last time I was there. When you're on tour, that's kind of how you keep yourself going. It's always so rewarding when you come home and you go through the effort of putting it in your suitcase.
MILLER: It survived the trip.
SLICK: I used to do that all the time. I would pack vinyl at the bottom of my suitcase, and hope that by the time I got home it would be okay. I used to pack less clothes, so I could put more vinyl on there. Especially when I was traveling in Europe. The quality of record stores over there is so high. You can find rare jazz stuff over there you could never find in America. They're very serious jazz fans. I was able to find Sun Ra records over there. So I would go over and bring stuff for my friends.
What are your favorite places to play?
SLICK: One of my favorite places to play is the Great American Music Hall in San Francisco. Actually, the Great American Music Hall, and the Fillmore are two really top-notch venues.
MILLER: They have incredible stage sound.
SLICK: Being in San Francisco I think we have a lot of appreciative fans there. It's a great music town, a great art town. There just seems to be this culture there that's real interesting all the time. Great record store there. Amoeba Records. Those are really the two best ones. The Bijou in Knoxville is really nice, too. Last time we played there, great sound, great place, great crowd. Stubb's was great, in Austin.
What about Philly? Johnny Brenda's?
SLICK: Johnny Brenda's is a great place to see a show. It's just so nice. It's all-around awesome. Great food.
MILLER: There's a new place in Philly, too, that I wanna really go, too.
SLICK: There's a new venue in Philly called Union Transfer that's an 800-capacity place. It's an old train stop. I'd love to check that place out. Apparently they can convert the venue and make it smaller depending on the size of the show.
MILLER: The stage moves.
SLICK: Yeah, the stage moves back and forth. The lighting rig moves. You can put up curtains, so if you want to have a 500-capacity show there you can. It used to be the spaghetti warehouse. At first it was a train station, then it was a spaghetti warehouse.
How long have y'all been in Dr. Dog?
MILLER: I'm going on 11 years. It sounds crazy. I met those guys in 2000. They started in I guess '99, or '98. I met those guys. I was playing with them in 2000. I played a few shows. But Slick joined two years ago now.
SLICK: Yeah, two years in January.
Did the old drummer do a solo career?
Slick: Yeah, Juston [Stens] is doing his own band now called Get Real Gang. He's played with David Vandervelde a little bit, and he's also in the Generationals.
You switched record labels from Park The Van, to Anti- for Shame, Shame. What's it like to be on a different label?
SLICK: You can tell they've listened to the records. They definitely sit down and listen to it as many times as they possibly can before giving us their opinion. All the stuff they've said has been constructive.
MILLER: Very austere musical observations, which is refreshing. You hear stories that major labels say there is no single. You never get anywhere with that kind of mentality. You have to be true to what you want it to sound like. If it works for you it's more likely to work for an audience. The single is not a physical single anymore. It's a little bit of a misnomer in this day and age.
SLICK: We do EPs and 7-inches, but it's mostly for the fans who like a special thing.
What about the double single that came out around the time of Shame, Shame with the songs "Take Me Into Town," "Nobody Knows Who You Are," "Black – Red," and "The Sound?"
SLICK: We just call it the 7-inch. That was the first stuff I did with the band. That was such a cool experience. I was pretty new, finding my way out to go into the studio and figure out what the recording process was like. Working with these guys was a real special thing. With this new record, we would pass around a lot of demos from Scott [McMicken] and Tobey [Leaman]. We'd take them into the studio for a little while and play around with them until we felt comfortable, or we'd rework it.
MILLER: For us the recording process has been a part of the writing process. We never have anything solidified.
Are y'all still recording on tape in your studio?
MILLER: Our engineer, we shared a studio and he has a studio of his own. Bill Moriarty. He co-produced. He recently moved out to his own place. Shortly after that, our friend Nathan, an engineer from Tucson, decided to move back to Philly. We shared the studio with him. We did some renovations. We put in a control room, which we didn't have before. We recorded the whole thing on tape, and then mixed it in Pro Tools. It worked out great. This is the most songs we've ever recorded for an album. It worked out really great.
Is this going to be a longer album?
MILLER: We trimmed it down. It is the longest record we've made so far, by a few minutes.
SLICK: Not by much. It's about 48 minutes long. We usually try to keep it around 40. We ended up with about two records worth of material. It was really hard to shave it down. We will definitely use those songs in some way in the future.
How many songs did y'all record?
SLICK: Twenty-five. That's where we topped out. There were like 30 demos floating around. We recorded 24, or 25. Twelve songs will be on the record.
Are there any major stylistic differences?
MILLER: It's a little more straightforward, a little more of the live sound. There are a few songs on there that were more of a studio piece. We were able to get a lot of the live energy into the recording, which is something we were trying to do. The basic tracks were recorded live with bass and drums, but some tracks had almost all live instruments.
SLICK: It was about capturing that energy. We tried to make sure that the bass and drums were recorded at the same time. It ends up giving it a really cool saturated sound that you really can't get if you try to do each thing individually. So you know there's tons of microphone bleed, but it ends up making the songs sound so warm. Recording to tape doesn't hurt either.
Where do you find that kind of tape?
SLICK: We order it from a company called ATR.
MILLER: Around the time of Shame, Shame we went back and forth about whether we should record on tape or on a computer. Right around that time they started making this really good tape. It's that kind of old tape they used to use. I guess they had been making kind of like off brand tape that wasn't good and didn't have quite the same characteristics that the tape that had been available. This ATR stuff is really good. That's what we used and it ended up sounding great.
comments powered by