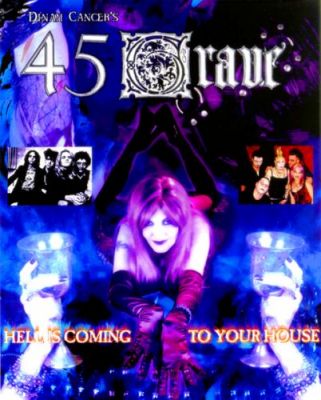 9 April 2006
Before a revamped 45 GRAVE took the stage for a hellacious set at CBGB on March 5th, I had the honor of speaking briefly with lead screamer and reigning queen of deathrock, DINAH CANCER. While Ms. Cancer is the only founding member remaining in the group, the sepulchral spirit of 45 Grave is still very much alive. Fresh off the road, the band had just enjoyed a spooky sojourn around old witch haunts in Salem, Massachusetts that morning. Dinah, unfortunately, was battling a sore throat by the time they arrived in New York, so I kept the chat short and to the point.
When did you decide to resurrect 45 Grave?
Dinah Cancer: It started back in July of 2005 when I was talking with my management, Dark Moon Entertainment. I gave a call to PAUL CUTLER, the old 45 Grave guitar player, and I asked him if he would be against me going out and using the name to promote some re-releases. It took him about three days, and he called me and said that since I'm co-owner, take good care of the name and go out and rock it and give it the respect it needs.
What do you see as the key differences between the scene you grew up in and today's goth/punk/deathrock scene?
DINAH CANCER: When I was first starting out back in '78, it was more of a family type thing. All the bands played on the same bills, we got our money so we could eat and pay rent, and it was more like a family. It wasn't really punk — it was called "The New Wave." There were metalheads, deathrockers, you name it. Everyone got together and we were all listening to the same music. It wasn't until now that you have so many sub-categories. My daughter tells me about all these sub-categories. It's like, god, how anal can you get?!
Are there any new bands that you like in particular?
DINAH CANCER: There's a band out of Dallas, Texas called SHADOW REICHENSTEIN — also GHOULTOWN, they actually have a pretty hot single. ROCK CITY MORGUE, [which is] SEAN YSEULT from WHITE ZOMBIE's band. I really enjoyed listening to their CD in the van. There's so many bands that are coming around and it's hard to keep up with everything.
I read that you're writing an autobiography/45 Grave biography — is that in the works now?
DINAH CANCER: Actually we are going to start writing it, and it's going to be more of like my memoirs. People go, "Dinah you need to write a book about you!" And I haven't really sat down and thought about it, but it's probably one of the projects I'm going to get back into when I get home on April 1st!
You have such a distinct sense of style. Where do you get your clothes?
DINAH CANCER: Most of the time right now I'm very lucky to still find stuff in thrift stores. I do take my daughter to Hot Topic though. Every once in a while I'll find something cool and I'm like, "I wish I had that when I was 18!" And then I go, "Wait a minute, I'm an adult — I can buy that now!"
Do your daughters like your music? Are they fans?
DINAH CANCER: Yeah, they've come to a couple of shows. They're more into punk, and I'm trying to let them express themselves. [They love] bands like GREEN DAY, GOOD CHARLOTTE, but they also like the RAMONES and love BLACK FLAG. They listen to a lot of the old stuff along with me. They like [my] old albums and they go, "Oh yeah, that's Mom!" Even though they're not full-on deathrockers, they're finding their own way. And I'm happy for them. I just want them to be happy.
Dinah's Homepage
Dinah's MySpace
comments powered by