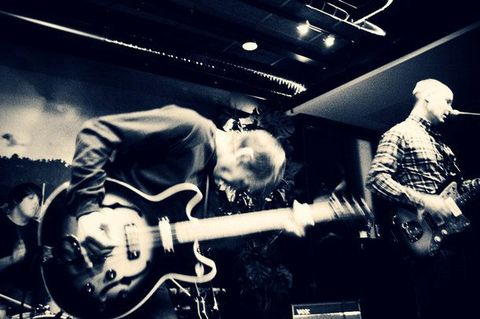 4 May 2014
Sweden`s fantastic psych band Youngteam recently released Fading Into Night, another splendid piece of work, filled with the band's stunning dark shoegaze, replete with majestic melodies and swooning vocals. Peter Ericsson recently corresponded with me and agreed to answer some questions on what the band is up to.
Some may know that your band's name is derived from the Mogwai album "Young Team". Was that album especially influential on your work, or is Mogwai a big influence in general?
PETER: Young Team meant a lot for a very long time, and is in my opinion still among the better things Mogwai has done. The energy and playfulness was more clearly, and simply more interesting, dark and beautiful. Otherwise Mogwai hasn't directly affected us ,though the track "Dead Sun" actually went under the working title "Mogwai Song" for a long time.
Music reviewers love to hang labels on bands, but some musicians hate being pigeonholed. How do you guys feel about being labeled shoegaze, and how would you describe your sound?
PETER: Darkgaze perhaps.. It's really hard to label your own music. To be honest, every song has its own expression, a certain feeling, and meaning. When we make our music, it's mainly a feeling in some chords, a baseline or beat. Shoegaze is probably not wrong to say, but I guess you'll have to read in something more to it to understand what it's all about.
Please describe how the creative process came together for "Fading Into Night". When did you start writing songs for this album, and who does the majority of the writing? Do you have a favorite track on this new release?
PETER: It was actually recorded only two months after our last album Daydreamer had its release. About half of the songs where written by the time we went into the studio, and the rest got put together by fragments and ideas while in there. Fredrik writes lyrics and comes up with ideas and arrangements, and then it's put together by all of us. Over time, songs may be altered or scrapped before making it into the studio or onto an album.
Is the song title "Dugpas" at all related to dark magic and sorcery? I read somewhere that the word has a Tibetan origin. Listening to this song as I type this, I am swept away by its dark majesty, so the song title seems fitting.
PETER: Yes that's true. Dugpas are the black magicians from Black Lodge. The song is actually related to the Black Lodge/Twin Peaks. I guess David Lynch got inspired from a lot of things associated with Tibetan and Buddhism related stuff. We are huge fans of David Lynch, and especially Twin Peaks. And I've always been very interested in magic and dark sorcery, from my teenage years until today.
Can you tell us about your recent show toplining the Northern Star Weekender? Was that your first time touring England?
PETER: It was great fun, we've played there a couple of times and also in other London venues. We'd like to get back to the UK and do shows in a cuople of more cities next time.
Is "It's Getting Dark" the first single off the album? Because it's a firm favorite, constantly finding its way to my music queue. I hear so many wonderful influences ranging from Opal to Mazzy Star, and maybe even the Brian Jonestown Massacre (on "Into Light"). Am I off on those influences?
PETER: We never try to get the music to sound like something else existing. We just make music that we would want to listen to ourselves. Of course influences can be heard, but I really think we have an unique sound. BJM is a great band, and we love their earlier work. I guess we combine the psychedelic with some harder approach though, and darkness, sadness etc.
From art, literature, music, and film, can you pinpoint what has informed your work the most?
PETER: As said above David Lynch can be mentioned. As there are four of us, the total ammount of inspiration and inputs regarding different arts and music has been very large over the years, obviously. The nice thing is that none of us is into any narrow interest like say shoegaze and pretty photos of trees or something. Anything might apply really.
How does the band achieve its monstrous and spacious sound? What engineering/production techniques are employed, and are there any favorite guitars, effects pedals, and other equipment you commonly use? How about special tunings?
PETER: Both Thurston Moore and Kevin Shields have been my influences for 20 years…and pretty much just them. We always try to create a unique sound, make up chords, create a certain feeling. I never use standard tuning, and I find new type of tunings all the time, and it's sometimes a problem some as I can't always remember how to play a song, or how it was tuned. We love Jazzmasters and Jaguars because you really get so many different sounds out of them, and of course the use of the tremelo arm. Loads of delay, reverbs, and modulators tend to be used. Recording on mainly analog equipment also helps to get that big sound without getting those awful digital edges.
Where is your biggest fan base to date, and would you consider touring the US at some point? Perhaps if Scott Causer brought over his fantastic Northern Star lineup, it would be a big hit in some major cities.
PETER: It's hard to tell, it sure ain't Sweden, that's for sure. Maybe the UK since our label is present there. Playing the US would be great. Let's hope the opportunity comes and we'll be there.
Looking ahead, what can fans look forward to?
PETER: We're gonna try to do more live performances in the near future. Work on the next album has already begun, and some raw material will be put up on Soundcloud or likewise pretty soon.
Photo credit: Johan Dahlroth
comments powered by