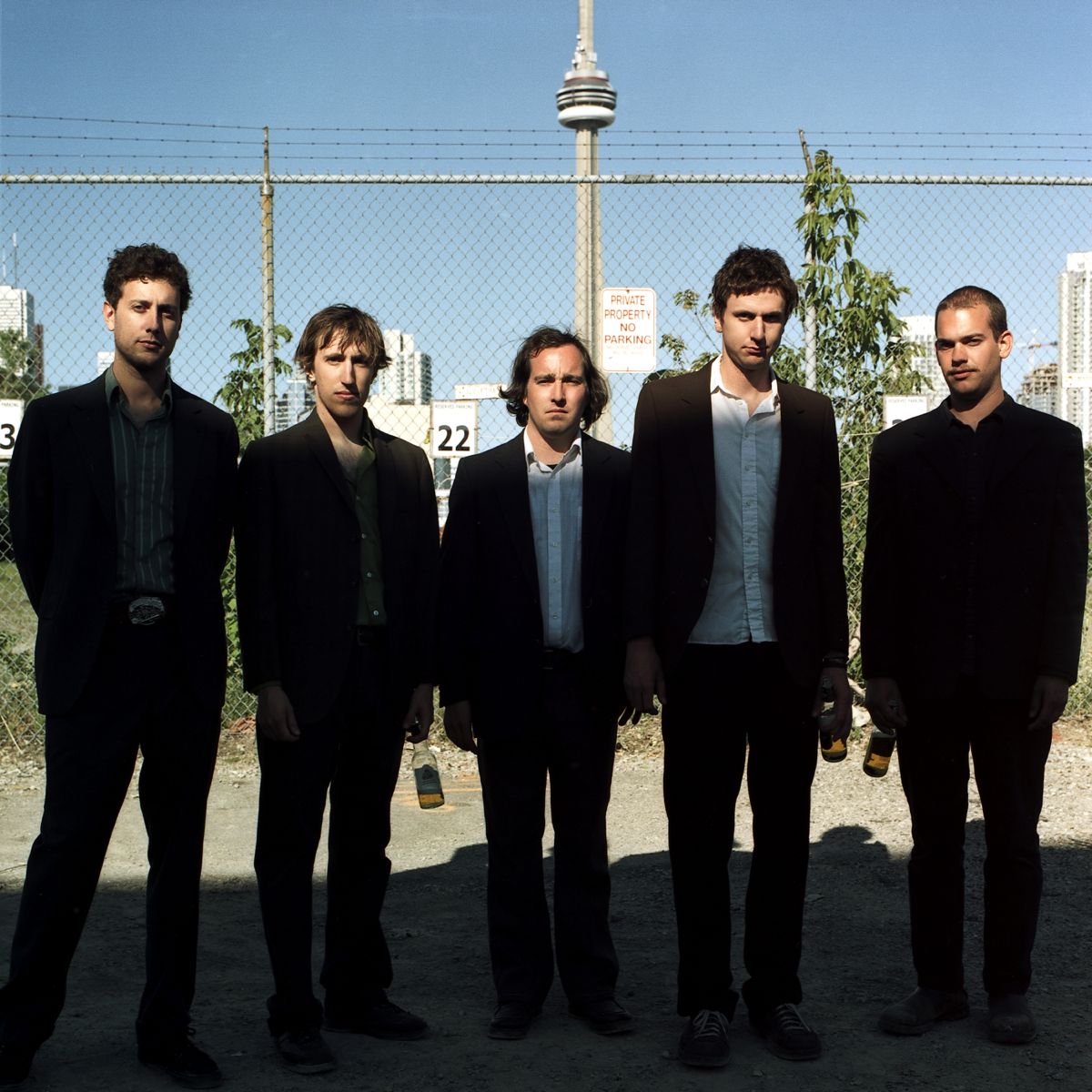 25 September 2014
Photos courtesy of Sub Pop Records
Constantines' 2001 self-titled debut came packaged with a book of matches. Apropos, because the Canadian band was on fire, its no-pose rock'n'roll offering much-needed relief from the pop-punk schmaltz and electroclash sass popular at the time.
And man, did they bring it live, giving small-club showgoers performances fit for stadiums, drawing — and earning — Clash, Fugazi, even Bruce Springsteen comparisons.
Not bad for a couple young bucks from a humble college town, Guelph, Ontario.
After numerous tours and three more solid LPs — '03's Shine A Light, '05's Tournament Of Hearts and '09's Kensington Heights — Constantines (Cons, for short) stepped back for a couple years before re-emerging this year for their first gigs since the hiatus, the same five-piece lineup intact.
With Sub Pop's 11th-anniversary Shine reissue now in stores and a new generation of passionate punks claiming Cons as an influence, the timing certainly feels right.
Singer-songwriter-guitarist Bry Webb checks in.
CHARLIE ZAILLIAN: Constantines' re-emergence is kind of hard to quantify. You've been gone long enough for people to notice, but not so long that there's been a dramatic buildup to your return. What's the nature of these shows? How have they been so far?
BRY WEBB: The shows have been wonderful… overwhelming in a lot of ways. Having opportunities to see all of these people that we haven't seen in many years is probably the best part. I'd like to think this isn't just commemorative, though none of us has any idea where it's going, beyond continuing to book shows as people express interest. When we stopped, it was because we weren't in the right space to keep playing. Everyone kind of exploded into different corners of the country, or complete autonomy from each other. Over the last few years, we had chances to reconnect, and eventually, this past winter, a few people asked if we'd play shows. We asked each other, and the answer was yes. I think we've all been surprised to learn that people still care so much about this band.
CZ: Was the hiatus a by-product of feeling you'd pushed Constantines as far as it could go? Were there needs that weren't being filled by playing together at that point?
BW: I remember feeling that there wasn't enough energy in me to move things any further. I was getting ready to become a father, and couldn't imagine touring with that new responsibility in my life. There was also some uncertainty about what we were doing as a band, and where we could go next… a bit of an identity crisis, maybe. We spent all of our twenties together, and as we got older, we each had priorities outside the band that needed attention. Everyone has done amazing work in the years since we stopped — [guitarist] Steve [Lambke] has Baby Eagle and the You've Changed label, [keyboardist] Will [Kidman] tours with Julie Doiron, [bassist] Dallas [Wehrle] has an incredible band called Deloro, [drummer] Doug [MacGregor] plays drums with City and Colour, and I started a family, made some mellow records and started working at a community radio station. All of that validates the decision to stop for me. Now, we're able to come at the band again with the attitude that if it doesn't seem like a fun thing to do, we won't do it.
CZ: Looking back, Constantines and Shine A Light were a mightily impressive start to a career. Was there ever a sense within the band, later on, that you might've set the bar too high? Or do you hold all four albums in similar regard?
BW: Our energy was pretty unrelenting in those first years. There's a rawness [to the] first two records that may have been smoothed out [if we'd] had a bit more time [to record]. The studio was a weird place for us… tricky to navigate. Some bands are amazing in that situation, [but] I was pretty baffled by it. There are songs I love — and songs I dislike — on all four records.
CZ: Part of why I think Constantines' catalog has held up so well is that it never subscribed to surrounding trends. Did playing this music, especially in the early 2000s, feel at all like swimming upstream?
BW: No, I can't say that it did. We were always surprised by any attention our band received. From the day we started, there was a new, amazing thing that happened to us pretty much every month of [our] career. It never felt like we were fighting trends. We couldn't have been any bigger than we were, because not one of us is industry-savvy, and anything we ever did that was savvy was most likely a fluke. We all admired bands that had a distinct identity in their own time, though — Talking Heads, Patti Smith, [Neil Young and] Crazy Horse, Violent Femmes, Replacements, Nation of Ulysses.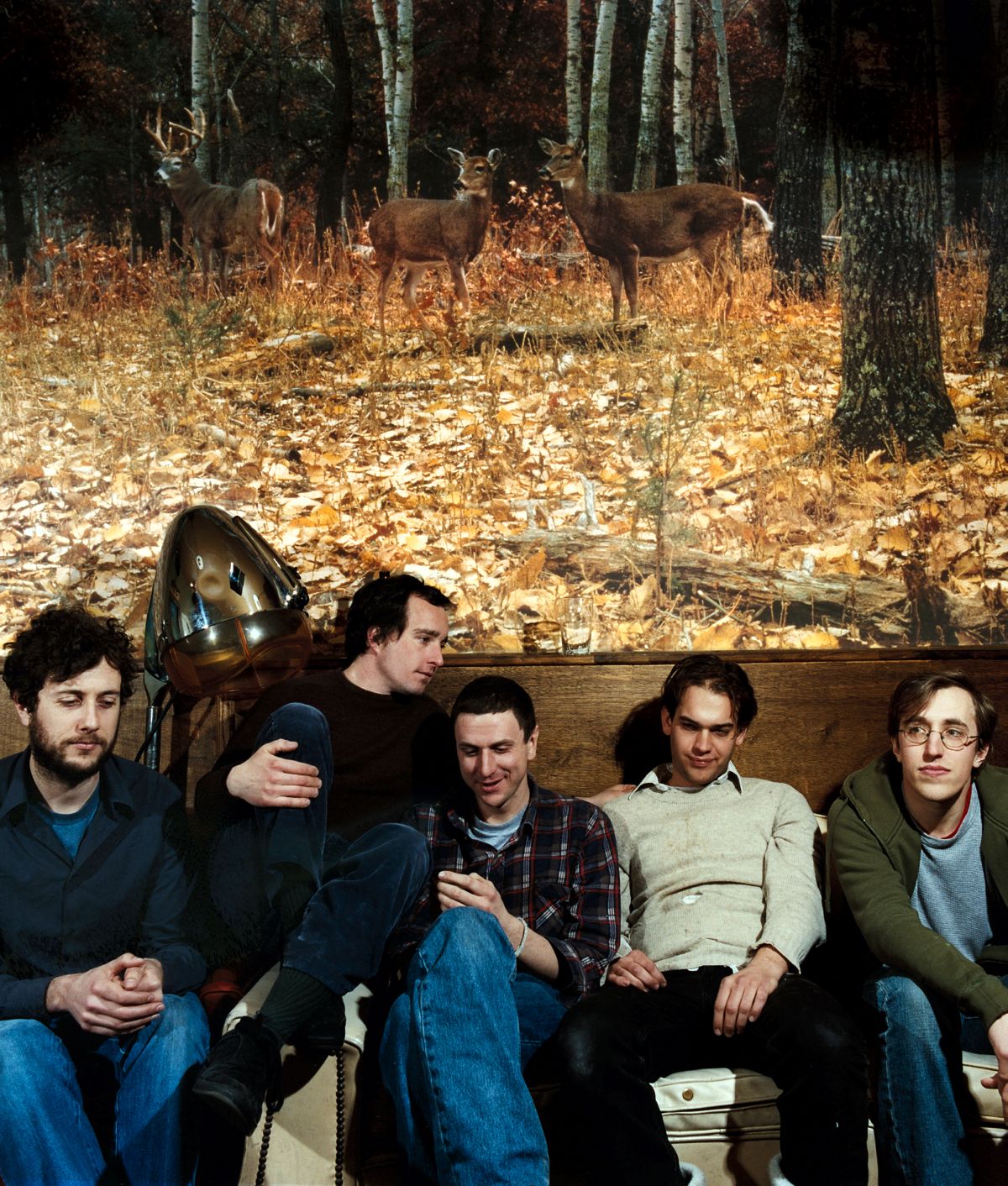 CZ: Are you noticing Cons vibes in some younger bands? Have you heard the Toronto group Greys' cover of "National Hum"?
BW: One of the greatest things that has come from my life in music is hearing a band mention us as an influence. The idea that anything we did made someone else want to make music makes me feel like I made some good decisions. I haven't heard that cover, but someone told me about it. That's a big honor. It's really moving to hear somebody else play one of your songs. That means more to all of us than most other measures of success.
CZ: Convenient as it might have been for journalists, did you ever feel boxed in by that erstwhile Fugazi/Springsteen equation used to describe Cons' sound?
BW: Some of the most important things that happened to us in terms of shaping the kind of band we became were the tours and friendships with Royal City [from Guelph] and Oneida [from Brooklyn]. Those bands were massive influences on us, not only [sonically], but also in figuring out how to be a band. In a lot of songs I can hear us trying to fall somewhere between the open-hearted, super-sensitive songs of Royal City and [the] ecstatic, unified sonic freakout of Oneida. I think that's more accurate than the Springsteen/Fugazi thing. We liked that music too, but it became an ongoing joke that that hybrid comparison was going to be mentioned in every interview, review and reference to our band forever.
CZ: Describe Guelph, Ontario for someone who's never been.
BW: It's a mid-sized university town in southwestern Ontario that's attracted a lot of hippies and artists over the years. There's a vital activist presence, an agricultural school and a wealth of improvised and experimental music. There's also a large mental health facility, which is interesting, because it means [those] issues tend to be more visible here than in other towns of comparable size… and that's important. All these things have led to it being a weirder town than most [similar] cities. It cultivates a lot of interesting, creative kids. I moved away for ten years, [then] moved back to raise our son here.
CZ: When Constantines began, what were you all looking to get out of it? In what ways did your hopes and dreams for the band change and evolve over time?
BW: We all just wanted to be in a really great live band. Gradually, we wanted to sustain ourselves financially and travel as much as possible. Eventually, our priorities grew in different directions. Now we just want to be a great live band again.
CZ: To maintain the same five-member lineup for over a decade is no small feat. Would you not have re-convened if everyone wasn't on board?
BW: There's no way. It isn't a Constantines show if the five of us aren't there.
CZ: What are your and your bandmates' nonmusical passions? What else do you get up to in your spare time?
BW: Dallas has always been into model making, kit hacking and working that into visual art. For the last several years, he was building models for an architectural firm in Toronto. Doug is a history buff, reads about five books a week and has a memory like a steel trap. He still remembers my parent's license plate from when we were in high school. Will has spent the last two years in Haida Gwaii, on the West Coast. It's a beautiful, wild place, and he sends me kale seeds in the mail. Steve has been travelling a lot with his partner Sherri Boyle, an incredible visual artist, and I think he's getting into painting watercolors. I've been studying electronics. My hope is to learn to fix amps and old stereos as I get older.
CZ: What's the rest of 2014 — and beyond — looking like for Constantines?
BW: We're adding shows as people ask and schedules allow. The main thing is to keep it in a joyful place.