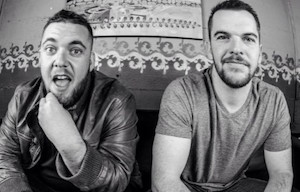 27 June 2016
Although its a bit late- I had the unique opportunity to talk to both Matt and Mark Hill, the duo making up funk-electronic group The Floozies. Here's what they had to tell me at Bonnaroo 2016:
CONNOR BURGESS: I suppose it's a good idea to start from the beginning. You two hail from Lawrence, praised as the "liberal oasis" in Kansas. What was it about growing up there that influenced you both? Does the statement stand true?
MARK HILL: Yeah, it's literally like a bubble. You'll see people with blue hair, "punk" kids in Lawrence, you won't see that anywhere else in Kansas, that's for sure.
MATT HILL: It's where the University of Kansas is, so it makes sense that it's a more liberal town.
CONNOR BURGESS: I've heard the campus is gorgeous, but that's about it?
MARK HILL: We actually started there, believe it or not.
CONNOR BURGESS: Really?
MATT HILL: Man, we used to play these house parties when we first got there, and things just kind of took off from there.
CONNOR BURGESS: So you guys have played at Summerset, Camp Bisco, you're joining Griz at Red Rocks, its a sold out show… so what makes Bonnaroo different?
MARK HILL: It's just about the atmosphere, you know? Everyone seems super chill here.
CONNOR BURGESS: So you're excited to perform with Griz?
MATT HILL: Hell yeah dude, he was like one of our first bigger inspirations.
CONNOR BURGESS: We're living in an age right now where computers are beginning to take over the music industry- I'd certainly consider you guys to be a "last bastion" of true funk, what do you think about all that?
MARK HILL: I don't get the hype against computers, a musician is gonna use what he needs to make himself sound best, so of course people use computers. It's a tool, like anything else, why hate on it, you know?
CONNOR BURGESS: I had a friend once tell me that music without words isn't music. What's your response to that?
MARK HILL: Beethoven.
MATT HILL: (points) What he said.
CONNOR BURGESS: That's about all I have for you guys. Have a good set!