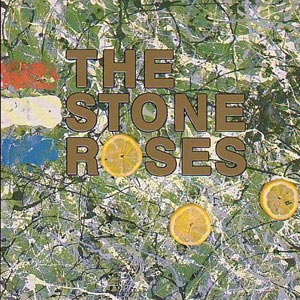 16 July 2014
I'm kinda proud of this lengthy 1600-word essay I wrote for the 25th Anniversary of The Stone Roses' immortal self-titled debut album, for Amazon's Essentials page. (And it was fun looking up quotes from my/our 1989 Big Takeover issues 26 and 27 to read the unabashed gushing I did about the pre-album single, then the album and the London live show I saw on an English vacation, within a week or so of the album's release.) Thanks to William Goodman for knowing what a kick I would get out of composing this and sharing my longstanding memories and thoughts about the band and the album and that period of British music. I love writing about my favorite music, past and present, and I still love this album like nobody's business.
And I hope everyone enjoys this! And if you don't have the album, needless to say I still recommend it.
Lastly, if you enjoy this piece and would like to read the original review I wrote and published in Big Takeover issue 27 — see back issues to order, it also contains an equally long live review of the Stone Roses' Dingwalls show that's referenced and quoted in the essay — here is what I wrote then, when it was all new, a quarter century ago:
The Stone Roses
The Stone Roses
(Silvertone/RCA US)
Funny that the best album of 1989 would be blown away by the band's live performance. John Leckie did a great job with the production, but Manchester's Stone Roses, in particular singer Ian Brown, seem almost cautious here in comparison to the Dingwalls gig this past May in London. Still, this LP bursts on a scene desperate for new bands that could somehow replace all the recently fallen giants of the early 80's, and with their flair for egocentric self-promotion and arrogance, they've bolted to the top, much as the Smiths did. They're a combination of boldness and the talent to back it up. John Squire is one hell of an inventive guitarist, and he and Brown combine on a collection of songs that are (this is what we've been looking for) both meaty and priceless, thick yet subtle, and damn impossible to get out of one's head. The harmonies of Brown and hot stylist drummer Reni (he of neo-reggae beats, sharp hi-hat touches and strong drive) compact each tune for unplanned subway singing, and though the press release mentions the Byrds, Buffalo Springfield and The Beatles, it seems it's closer to a cross between The Hollies (such nice harmonies) with The Bunnymen (power and sweep), and even that's not going to give you a good picture. "I Wanna Be Adored" opens up, slowly building towards quick bursts of fire only to be extinguished momentarily again. Stone Roses have this up/down habit of toying with the listener that has a great effect. "She Bangs The Drums," "(Song For My) Sugar Spun Sister," "This is the One" and especially the incredible "Made of Stone" (the best single of 1989, and not surprisingly the best cut on the LP, why is it on side 2?) are the pop classics that will galvanize disparate people that all is not lost on the pop front. "Elephant Stone" (not on the UK LP, a good addition here) is the catchy dance song, "Waterfall" and "Shoot You Down" are the two moody ones, "Don't Stop" is "Waterfall" backwards (!), and the quickie "Elizabeth My Dear" is a condemnation of the monarchy set to one verse of Simon and Garfunkel's "Scarborough Fair." Last and best is the closing eight-minute monster, "I am The Resurrection," which combines the inherent building drama of "I Wanna Be Adored" with their heaviest chorus of the LP, "I am The Resurrection and the light/I couldn't ever bring myself to hate you as I might" (I think that's it, there's no lyrics sheet), which smashes with each snare hit by Reni into a mighty release, but there's more: A free-for-all yet strictly constructed power-groove ending with a dash of funk follows, that stops for good only to come out of retirement for another two minutes or so. What a climactic finish on a near perfect album (very few of those these days!), one so well crafted yet transcendent, it's a relief to have come across it! Perhaps Stone Roses are the resurrection of music that can lift you up to the clouds, with sound and songs that exhilarate in jet-streams of the ecstatic mind. The best thing is that the LP gets better and better with each play; its lasting power is remarkable, Squire's guitar has seen to that! Buy buy buy buy buy buy buy buy.