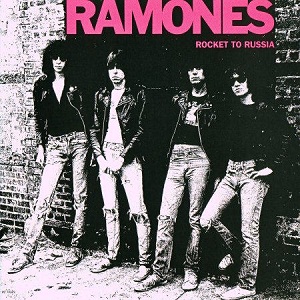 25 July 2014
It can't be true, can it? All four original Ramones are dead, now? One wracks one's brain, trying to think of other immortal rock'n'roll bands whose members themselves are all no longer mortal. (Close: Badfinger and Big Star are down to one each.) Some groups that began a generation before the Queens, New York City "brothers," such as The Hollies (whose Hollies Live was in singer Joey Ramone's LP collection when it went to auction last year), haven't even one dead member—not to mention founders still with us like Fats Domino, BB King, and Little Richard, who all began their careers by 1951. But with the July 11th passing of drummer Tommy Ramone from bile duct cancer, the original quartet that launched 1,000 others are consigned to memory, film, and record.
Here's my second post for the Amazon Essentials folks — dedicated to the memory of Tommy Ramone, and all four now-dead original Ramones (may they all RIP), and the final album all four originals recorded together just before Tommy left (as least as the drummer), Rocket to Russia, the record they worked towards for three solid years of effort and striving, in this, the 40th anniversary of their emergence on the New York/CBGB scene. Enjoy everyone!
And again, if you don't have the album, needless to say I still recommend it! The first four Ramones albums still appear on my turntable with regularity, so many years later.
It's been great fun writing these pieces so far, no question!