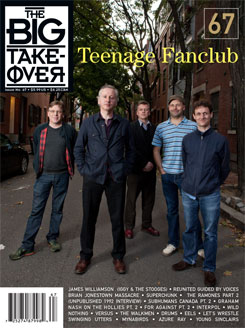 9 December 2010
Order - Subscribe - Renew
Great X-mas gifts including four brand new children's size t-shirts, men's and womens' shirts, beer cozies, magnets, 30th Annivesary Festival posters (signed if you want), buttons, subscriptions, back issues, and CDs!! Ho Ho Ho!
Good news! Big Takeover #67 Fall 2010 issue with Scotland's Teenage Fanclub on the cover and concluding part twos of our awesome interviews with The Ramones (a previously unpublished 1992 interview), For Against, '70s Vancouver punks Subhumans Canada, and Graham Nash on The Hollies, is out on the stands! A full description of its contents, including several juicy sample quotes, is just below!
Remember, we only come our twice a year, every Spring and Fall, so you don't want to miss one of our jam-packed 184-page issues!
And since the issue has been mailed to subscribers and is appearing in the best book, record, and magazine shops near you, now is an excellent time look for it there or contact us via our secure online Yahoo Store to order it if you would like to receive it in the mail, or subscribe if you've been meaning to, or renew your subscription if it has run out.
And just a reminder that there's still time for the perfect holiday gift: Big Takeover magazine subscriptions and back issues!
And speaking of which, for more great holiday gift ideas, announcing our six new children's sizes for our T-Shirts in three colors, as well as our new Big Takeover Accessories (Beer Cozies, Buttons, and Magnets!) and (signed if you like) Color 30th Anniversary Festival Posters!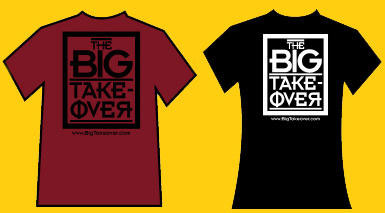 That's right, in time for the holiday, Big Takeover issues, subscriptions, back issues, t-shirts in three colors, black, white, and burgundy red in thirteen sizes (including our new children's sizes, 2T, 3T, 4T, and 6MO, 12MO, and 18MO onesies!!!!! The coolest X-mas gift ever for the kids!), and our brand new accessories (BT beer cozies for only $5, BT buttons for only 50 cents, BT magnets for only $1, and 12 X 18 color BT Anniversary Festival Posters for $4, which I will sign if you want me to!), as well as our related CDs (including the limited edition Springhouse CD album, From Now to OK), also make the perfect birthday and X-mas/(or belated Hanukkah) gifts! Especially in this time when we are all trying to economize.
This means our t-shirts still come in three colors (black, white, and dark red) and are only $12 for adults and $10 for kids's shirts and onesies, even including postage!).
Also, all but two of our back issues are still available (if your friends like a specific band we've featured; and there's always the mega-deluxe gift, the complete set of all of our 67 issues to date, including the two that are out of print!)
And we are also offering used, good-quality CD copies of the three out of print SPRINGHOUSE CDs from 1991-1993 as well as sealed, limited edition art-package copies of Springhouse's 2008 third LP From Now to OK (see why it got an 86 in Paste!), as well as CDs by EVEN WORSE, LAST BURNING EMBERS, DOUG GILLARD, NON-LINEAR THINKERS and EDP!
So if you want to subscribe or renew or give the gift that keeps on giving, just go to our secure online Yahoo store (and feel free to indicate which issue you'd like to start with (or have your friends start with), issue 66 (Spoon cover), the new issue 67 (Teenage Fanclub cover), or the Spring, 2011 issue 68. It's only $20 for four issues (save 23% off the newstand price including average sales tax), or $32 for overseas. Or, for those in the U.S. you can send us a check made out to "Big Takeover" for $20 to the following address:
The Big Takeover
356 4th St., Upper Floor
Brooklyn, NY 11215 USA
Or if you want to order just issue 67, you can send us a check for $6 to that address or order it.
Here, again, is what's in the new issue 67, with some sample quotes:
Interviews
Teenage Fanclub (cover)
[On being lauded by super-fans:] "I suppose it doesn't happen all that often. But funnily enough, when I went to do the interview in the bar down the road just before this interview, the guy said to the girl who was managing the bar, 'Is it OK if we sit down' and she looked at me and said, 'Ahh, I really loved you guys in high school!'" [laughter]
The Ramones (unreleased 1992 interview!) pt. 2
"Touring is fun. It's like being an athlete and playing the game. It's great when the fans are behind you. When the day comes to not do it any more, I know I will miss it. And I do see why bands never retire--they miss the buzz, and many don't have an outside life."
Brian Jonestown Massacre
[on the infamous Dig! documentary:] "They came on the scene when I already had five to six albums out, so think about that--they didn't exactly come in at the beginning, and it wasn't even accurate what they had in the movie."
Graham Nash on The Hollies pt. 2
[Looking at the cover of the Hollies' out-of-print, 1966 Beat Group:] "This was taken on the beach just outside of Paris. Yeah. I actually made love to the photographer! [loud laugher] She was great, I'm telling you. Has she got a credit here? No, I don't see a credit."
James Williamson (Iggy & the Stooges)
"I would hope we can definitely at least show some younger people kind of 'how to rock'! One of the problems these days that I see is that young people don't know how to rock anymore. It's more like they emote--sort of embellish things. To me, at least, it doesn't work very well."
Superchunk
"I feel like that term 'indie rock' in some ways doesn't mean anything about what a band sounds like. We don't sound like Lambchop, and The Magnetic Fields don't sound like Polvo--and that's just Merge bands, much less if you're talking about bands on, say, Matador. It's all over the map."
Guided By Voices reunion
"I've been listening to and going over the set. Songs from Propeller to Under the Bushes. Mostly stuff from Bee Thousand and Alien Lanes. Having distanced myself somewhat from that era, I realize that there was a load of really good songs!"
For Against pt. 2
"We're really, really lucky, because we have fans who have stuck through the whole catalogue. And to be able to travel and see the world playing songs people want to hear, and to see their excitement, and all the good friends we have made abroad, and in the U.S.--there's nothing so gratifying."
Let's Wrestle
"I'm pretty happy that everyone knows I like Cheap Trick. They're the best! I went to [bandmate] Mike's mother's wedding dressed as Rick Neilson! Like I had the red cardigan and hat thing. I looked pretty good. It was quite a posh wedding as well, and there I was dressed like Neilson!"
Late '70s Vancouver punks Subhumans Canada pt. 2
"One of the things about punk rock is that it was kind of self-referential, self-critiquing. There was an attempt to break down the barrier between the performer and audience--it involved an analysis of how that culture worked. That kind of critical attitude towards those structures of culture was part of punk rock, and I think 'Celebrity' was kind of carrying it forward a little bit, in terms of the modern version of celebrity, which is much more baroque and sophisticated than it was all those years ago."
Other Interviews
Interpol * Versus * Drums * Wild Nothing * Mynabirds * Azure Ray * Walkmen * Eels * Young Sinclairs * Swinging Utters
Editorials
Rabid: The Beatles, My Son, and Me * Ackerman: In Praise of Gatekeepers * Sommer: The Continuing Brilliance of PiL's Metal Box/Second Edition
Live Reviews
Buzzcocks * Circle Jerks * Joy Formidable * Nada Surf * New Model Army * New Pornographers * Specials * Mark Burgess (Chameleons) * Avengers * Channel 3 * Sleepover Disaster * Springhouse * Don McGlashan * Visqueen * Steve Drewett (Newtown Neurotics) * Jon Auer * Flower reunion * Libertines U.S. * Paul Collins * The Sharp Things * Curtain Society *
Hundreds of CD Reviews
Arcade Fire * Bad Religion * Band of Horses * Bastards of Melody * Belle & Sebastian * Best Coast * Black Watch * Blueboy * Ray Charles * Concrete Blonde * David Cross * Dag Nasty * Darker My Love * Depreciation Guild * D.O.A. * Everly Brothers * Galaxie 500 * Granite Shore * Guess Who * Jimi Hendrix * Kristen Hersh * Hoodoo Gurus * Darryl Jennifer * Jigsaw Scene * Killing Joke * Kris Kristofferson * Los Lobos * Naked Raygun * Nils * Oasis * Off! * Orange Juice * Pains of Being Pure at Heart * Parties * Pipettes * Posies * Lou Reed * Savage Republic * Silent Boys * Someone Still Loves You Boris Yeltsin * Spoon * Stars * Sunshine Ponies * Swans * Tears Run Rings * Thee Sgt. Major III * Richard Thompson * Three Hour Tour * Vaselines * Wipers * X * Young Rival * Zambonis * and more!!
Hope you all pre-order it, or buy it now it's out! And/or hope you subscribe, as that is still by far the best way to support the print magazines you love if you want them to keep going. It means a lot to them!
And hope you can share the gift of reading with your friends!
Cheers!
Jack R
IMPORTANT: If you are a subscriber and you need to update your address, please tell us. Send updates to me at
jrabid@bigtakeover.com