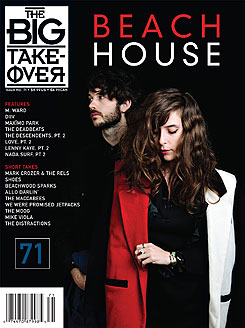 8 December 2012
Great X-mas gifts including four brand new children's size t-shirts, men's and womens' shirts, beer cozies, magnets, 30th Anniversary Festival posters (signed if you want), buttons, subscriptions, back issues, and CDs (Springhouse, Even Worse, Doug Gillard, Last Burning Embers, etc.)!! Ho Ho Ho!
Good news! Big Takeover #71 Fall 2012 issue with Baltimore's Beach House on the cover, and concluding part two of our awesome features on Nada Surf, '60s stars Love (on Da Capo & Forever Changes), Nuggets/Patti Smith legend Lenny Kaye, and The Descendents, as well as a fabulous history interview with '70s L.A. Dangerhouse punks The Deadbeats, and newer greats Maxïmo Park, DIIV, and M. Ward, is out on the stands! A full description of its contents, including several juicy sample quotes, is just below!
Remember, we only come out twice a year, every Spring and Fall, so you don't want to miss one of our jam-packed 164-page issues!
And since the issue has been mailed to subscribers and is appearing in the best book, record, and magazine shops near you, now is an excellent time look for it there or contact us via our secure online Yahoo Store to pre-order it it if you would like to receive it in the mail, or subscribe if you've been meaning to, or renew your subscription if it has run out.
And just a reminder that there's still time for the perfect holiday gift: Big Takeover magazine subscriptions and back issues!
And speaking of which, for more great holiday gift ideas, here's a reminder about our six new children's sizes for our T-Shirts in three colors, as well as our new Big Takeover Accessories (Beer Cozies, Buttons, and Magnets!) and (signed if you like) Color 30th Anniversary Festival Posters!
That's right, in time for the holiday, Big Takeover issues, subscriptions, back issues, t-shirts in three colors, black, white, and burgundy red in thirteen sizes (including our new children's sizes, 2T, 3T, 4T, and 6MO, 12MO, and 18MO onesies!!!!! The coolest X-mas gift ever for the kids!), and our new accessories (BT beer cozies for only $5, BT buttons for only 50 cents, BT magnets for only $1, and 12 X 18 color BT Anniversary Festival Posters for $4, which I will sign if you want me to!), as well as our related CDs (including the limited edition Springhouse CD album, From Now to OK), also make the perfect birthday and X-mas (or Hanukkah) gifts! Especially in this time when we are all trying to economize. Especially in this time when we are all trying to economize.
This means our t-shirts still come in three colors (black, white, and dark red) and are only $12 for adults and $10 for kids's shirts and onesies, even including postage!).
Also, all but two of our back issues are still available (if your friends like a specific band we've featured; and there's always the mega-deluxe gift, the complete set of all of our 71 issues to date, including the two that are out of print!—scroll down to the bottom of the back issues page and you will see that offer.)
And we are also offering used, good-quality CD copies of the three out of print SPRINGHOUSE CDs from 1991-1993 as well as sealed, limited edition art-package copies of Springhouse's 2008 third LP From Now to OK (see why it got an 86 in Paste!), as well as CDs by EVEN WORSE, LAST BURNING EMBERS, DOUG GILLARD, NON-LINEAR THINKERS and EDP!
So if you want to subscribe or renew or give the gift that keeps on giving, just go to our secure online Yahoo store (and feel free to indicate which issue you'd like to start with (or have your friends start with), issue 69 (Vivian Girls cover), issue 70 (Nada Surf cover) the curren 71 (Beach House cover), or the upcoming Spring issue 72 (likely Joy Formidable cover). It's only $20 for four issues (save 23% off the newsstand price including average sales tax), or $32 for overseas, or $26 for Canada and Mexico. Or, if you prefer paypal, we can take payment for that at jrabid@bigtakeover.com, and, for those in the U.S. you can send us a check made out to "Big Takeover" for $20 to the following address:
The Big Takeover
356 4th St., Upper Floor
Brooklyn, NY 11215 USA
Or if you want to order just issue 71, you can send us a check (or make payapal payment to jrabid@bigtakeover.com) for $6 to that address or order it.
Here, again, is what's in the new issue 71, with some sample quotes:
Interviews
Beach House (cover)
"I really think music is one of the most versatile, powerful art forms, because it's how people figure out why you're existing, and it helps people to believe in something, whether it's gospel music or the blues or electronic music. It's how in a dark room we find something to hold on to. And I have a particular year in my life when my relationship with music intensified so greatly. It was in my very early twenties, and I have such fond memories of listening to records, and experiences along with those events that were just amazing. You can't substitute that with an iPod."
Maximo Park
[On the prescient "The Kids Are Sick Again"] "We played a few gigs [later] around the time of the rioting, and thought, "There's nothing to look forward to. So why would you expect people to be totally satisfied with their lives?" A lot of people have been marginalized and left behind, across the whole age spectrum. These things are in the newspapers every day, and I thought that this would tie in with the idea of documenting the times that we live in, specifically of a young man in that time and place."
[Arthur Lee &] Love, pt. 2
"Arthur occasionally gave Bryan a hard time about the lyrics Bryan wrote, like 'Orange skies, carnivals and cotton candy and you,' Bryan started wearing a white suit out in public, tie and everything. Arthur didn't like that either, and started calling it 'Bryan's ice cream suit,' because it was like vanilla ice cream. So, if you look at 'The Good Humor Man, He Sees Everything Like This,' and you listen to the words that are all about happy things, the only reasonable conclusion is that this song is Arthur ridiculing Bryan and the subject matter of his tunes."
DIIV
"Our PR guy is a really good friend of Chris [Mintz-Plasse]'s, and he was like, 'McLovin's coming to your show,' and 'Don't call him McLovin.'" [Laughter.]
The Descendents, pt. 2
"'Steve's Boy"' was when my Dad was living out in the desert, in Joshua Tree, and I would try to go out there. The song says it all—I was trying to help him and take care of him, because he was losing his abilities to get along by himself. 'Dad, either I have to take care of you, or you have to go in a nursing home… and I'm not putting you in a nursing home no matter what.' And he would just tell me to go away, and he would call the cops on me.."
Lenny Kaye, pt. 2
[on the early Patti Smith Group's releasing records on Arista Records:] "Clive Davis gave us creative freedom. At the end of every album he would always say, 'Can I have another rock song?' But really, he let us pretty much wander as we will, and because of the particular confluence of the culture at that time, even though our music is so idiosyncratic, sometimes the culture calls out for an artist. I was working in the music business for five years. We weren't naïve kids off the street, but lord love Clive. He really allowed our star to shine."
M. Ward
[On playing the Alex Chilton memorial show:] "I feel like the public very seldom has any kind of funeral or memorial service for an artist or musician who has meant something to their lives. It's a pretty rare and special event that something like that can happen."
Nada Surf, pt. 2
[On Matthew Caws' younger days as a rock journalist:] "I interviewed Stephen Malkmus for Guitar World. [And Mick Jones of The Clash.] And I had a great interview with Oasis's Noel Gallagher. I'd read interviews with him and expected him to be kind of a jerk, but he was really sweet and humble and down to earth and funny and sharp. And when I turned on the tape recorder, he started talking crazy! Everything was a pull quote!"
Dangerhouse late '70s L.A. punk/post-punk legends The Deadbeats
[Geza X:] "My favorite show, the Whisky… We had gone to the beach earlier that day to go swimming, and there were these crazy piles of seaweed. So we put it into a Hefty bag, and took it to the gig. And I was wearing the seaweed on my neck. And then between songs, I took the seaweed off and threw it out into the audience. People thought it was rubber, but when it splashed in their face they all just went screaming to the sides of the room. It was hilarious. People were horrified!"
Other Interviews
Allo Darlin * Beachwood Sparks * We Were Promised Jetpacks * Mike Viola * Shoes * The Moog * The Maccabees * The Distractions * Mark Crozer & The Rels
Editorials
Rabid: "Dump the Electoral College! (and Other Democratic Laments)" * Polk: "Pop Goes The Weasel: Surefire Hits That Missed" * Sommer: "Attention, Old Listeners Like Us: Lose Your Memories, Find Your Ears"
Live Reviews
Beach Boys * Jello Biafra & the Guantanamo School of Medicine * Mark Eitzel * Guided by Voices and The Pains of Being Pure at Heart * Mission of Burma (with Wild Flag)* Bob Mould * Off! * Successful Failures and Bastards of Melody * Veronica Falls * The Zombies and The Left Banke
Hundreds of CD and Vinyl Reviews
Allo Darlin'* Baby Grand * Breathless * Jimmy Cliff * Ry Cooder * Alice Cooper * db's * D.O.A. * Dot Dash * Dum Dum Girls * Ben Folds Five * For Against * Frank and Walters * French * Fresh and Onlys * Half String * Neil Halstead * Indoor Voices * Stevie Jackson * Jigsaw Seen * Killing Joke * B.B. King * Lightships * Los Lobos * Tift Merritt * Midway Still * Mumford & Sons * Willie Nelson * A.C. Newman * Redd Kross * Haroula Rose * Martin Rossiter * Royal Headache * Paul Simon * Sloan * Small Faces * Spotlight Kid * Christopher Paul Stelling * Ken Stringfellow * Sugar * Swans * Booker T. & the M.G.s * Violens * Woods * Repo Man tribute * and more!!
Hope you all pre-order it, or buy it now it's out! And/or hope you subscribe, as that is still by far the best way to support the print magazines you love if you want them to keep going. It means a lot to them!
And hope you can share the gift of reading with your friends! And happy holiday season, everyone! If we can help you, let us know!
Cheers!
Jack R
IMPORTANT: If you are a subscriber and you need to update your address, please tell us. Send updates to me at jrabid@bigtakeover.com