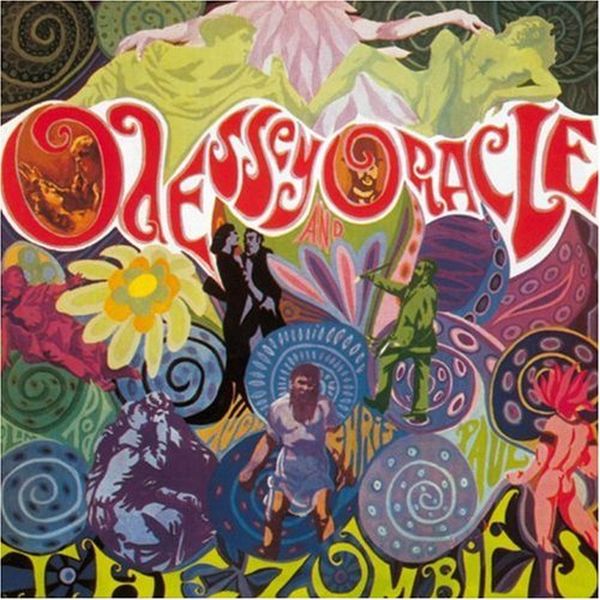 21 March 2017
Readers of this publication know of our long-standing championing of London's '60s British Invasion-era greats The Zombies. Though known for their three massive hits, 1964 #2 "She's Not There," 1964 #6 "Tell Her No", and posthumous 1969 #3 "Time of the Season," there was plenty more gold in their catalog, and the music fully compiled on their 1997 box set Zombie Heaven remains a must for any fan of that era's rock/pop sound.
Now, 49-and-a-half years after the original line-up split, all four surviving original members (R.I.P. guitarist Paul Atkinson), Colin Blunstone (lead vocals), Rod Argent (keyboards/vocals), Chris White (bass/vocals), and Hugh Grundy (drums) have begun a rare farewell U.S. tour together; so rare, it's only the second time they've done it – and the first time was in 2015! It's even more rare when you consider the original line-up only came over to the U.S. once in its young, commercial peak. Best of all, from now until April 29, they are once again performing the high-water mark of their existence, 1968's extraordinary, justly lionized, soft-psych masterpiece Odessey & Oracle start to finish to mark the 50th anniversary of its recording.
As reminder, I thought it might be useful to reprint in this space the review I filed in our issue #78:
"The Zombies (original lineup)
New York Society For Ethical Culture, October 9, 2015
Show of the year, and a dream come true. Although singer Colin Blunstone and keyboardist Rod Argent have led modern Zombies for years, this was the first time in 50 years the original, classic 1962-1967 lineup with Chris White bass and Hugh Grundy drums had toured America. (It was only their fourth reunion of any kind; before guitarist Paul Atkinson died in 2004, all five members did two songs in London in 1997 for the Zombie Heaven box set, appeared again in L.A, just before Atkinson's demise at his ceremony/benefit, then the four remainders did three nights at London's Shepherds Bush Empire in 2008 for the 40th anniversary of their incredible second/final LP Odessey and Oracle, playing that LP—which were filmed and released on CD and DVD—plus a four-date 2009 U.K. tour.
Six years later, the fab four were suddenly in our midst for the first time since their only American tour behind their 1964 #2 smash "She's Not There"—and this time performed the later Odessey in its entirety, aided by modern Zombies Jim Rodford (Argent's cousin, and former Kink), his son Steve Rodford, vocalist Vivienne Boucherat, and Wondermints /*Brian Wilson Band* stalwart Darian Sahanaja.
What difference! Odessey is, along with Beach Boys' Pet Sounds, the greatest soft-pop album ever made. Yet the Zombies broke up before it was released in 1968, so this show was 47 years overdue! And hearing it live, Blunstone, Argent, and White's madrigal three-part harmonies were Brian Wilson -esque (especially on the Beach Boys-esque "Care of Cell 44") with Blunstone's menthol voice smoothing every note. White was the crowd favorite, a study in grace and humility in 1965 (in awkward Buddy Holly glasses) and 2015 (a stately older gentleman thoroughly enjoying this after being out of music so long), as fans know his crucial role in co-writing the band's indelible creations. Ergo, when he stepped to the mic for his only lead vocal, to sing the band's most out of character, riveting song, the creepy, circus gothic anti-war chiller ballad "Butcher's Tale (Western Front 1914)," the hushed crowd seemed awed as White staccato-sung his matter of fact, sad reporting of flies descending on "butchered" boys in "Gommecourt, Thiepval, Mametz Wood, and French Verdun" while Argent coaxed a reluctant 19th century pipe organ (it's cover briefly fell during the song!) standing in for the original harmonium. After White sang "My arms won't stop shaking/My mind won't stop shaking/Please let me go home" to close the song (Erich Maria Remarque's All Quiet on the Western Front come alive) the audience erupted out of the packed-in Society's pews like a church revival. Besides, the innate, timeless beauty of the side one-closing trio "Beechwood Park," "Brief Candles" and "Hung Up on a Dream" alone were enough to justify every last penny of the $90 spent on a babysitter, let alone the immortal "Time of the Season." This was not a concert; this was a miracle."
Best, perhaps not this miss this second, and last, chance if you missed the first one. For full information on the tour dates, and much more, here is the place to go:
Note also that the tour, which is nicely partnered with the U.K. hunger/poverty charity Oxfam, is merely the crown jewel of activity for the group, both in its original and its modern line-up forms (the more current Zombies with Blunstone and Argent released a new album in 2015 as well, Still Got that Hunger, which is also being reissued, and, like the 2015 tour, are essentially serving as the opening half on the show before White and Grundy join in for Odessey.). The original line-up also have a large book newly on the market, as well as vinyl and CD reissues with – this bodes well – unreleased alternative versions. Plus, of course, a limited edition single for Record Store Day.
Here's the full press release since there's so much to report. (See you at the New York show, March 25!):
FOR IMMEDIATE RELEASE New York, NY (Jan 23, 2017) – The Zombies continue their remarkable 21st-century resurgence with a North American tour, the release of a lavish coffee-table book and reissues on CD and Vinyl. The Spring 2017 trek across the U.S. and Canada, which will continue to England and Europe later next year, includes the final full-album performances of Odessey and Oracle reuniting all four surviving members of the group, with Colin Blunstone on lead vocals, Rod Argent on keyboards/vocals, Chris White on bass/vocals, and Hugh Grundy on drums. Along with founding members Blunstone and Argent, the current line-up of the Zombies, celebrating their current release Still Got That Hunger on The End Records includes bassist Jim Rodford, guitarist Tom Toomey and Steve Rodford (Jim's son) on drums. The Zombies just received their second nomination for induction into the Rock & Roll Hall of Fame.
Odessey and Oracle produced the group's biggest hit ("Time of the Season"), and became a musical touchstone for generations to come. 50 years later, it brings the four surviving members back together on stage to perform the album in its entirety for the final time.
The book, which will be published by BMG Books and Reel Art Press in March 2017, will include handwritten lyrics for all the songs on Odessey And Oracle, as well as many of their other popular songs Lavishly illustrated with rarely seen photos from throughout the band's career, the volume also includes original artwork to accompany the lyrics – from both Terry Quirk who created the iconic cover for Odessey and Oracle, and Vivienne Boucherat, who created individual works for each O&O song. The book's text will include anecdotes behind the songs and their recording, all from the original members, as well as reflections from Brian Wilson, Nate Ruess, Clive Davis, Carlos Santana, Susanna Hoffs, and many others. The Foreword was written by Tom Petty.
The Odessey and Oracle is being reissued for the first time on CD in digipak on March 17th. Bonus tracks on the CD include alternate versions and outtakes from the original recording sessions. The booklet contains never seen photos as well as new notes from Andrew Sandoval.
A Greatest Hits LP is set to release on April 7th. Both these titles are being released via Varese Sarabande. There will also be a reissue of Still Got That Hunger on vinyl in baby blue, which will be ready in time for the tour via The End / BMG.
For Record Store Day- April 22nd Varese is doing a limited edition 7 inch "A Rose for Emily" on Rose Coloured Vinyl with the B-Side "This Will Be Our Year". In addition, The End Records is releasing a 7 inch featuring their 2015 version of "I Want You Back Again" with the original 1965 Recording on the flip side.
Oxfam is very pleased to partner with The Zombies on their Odessey and Oracle tour, to help fans join in on the fight against hunger and poverty. Bob Ferguson, the music outreach project manager states, "Oxfam has a long history of working with iconic music artists, and we're confident that this partnership will once again prove the adage that "music can change the world"."
Rod Argent articulates, "It's a pleasure and a privilege to have the presence of Oxfam on our Odessey and Oracle tour. It means so much to feel we may be able to help, even in the smallest way, to fight the hunger and poverty that so very many in this world are condemned to suffer".