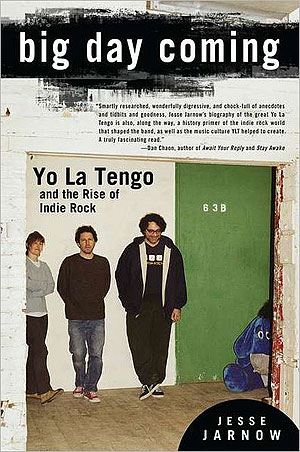 4 August 2012
Having been a fan of Yo La Tengo since 2000's masterful And Then Nothing Turned Itself Inside Out and having seen them play more than any other band since the first time I saw them play in 2005, it almost goes without saying that I was really looking forward to reading this book (which just came out out last month) since I first learned that it would be published last year.
To author Jesse Jarnow's credit, this isn't a straight biography, though for many fans that would have been fine as well. Instead, as the title implies, he traces the beginnings not only of all 3 members of Yo La Tengo from their childhood days to the present day but of what has come to be known as "indie rock" and makes a convincing argument for Yo La Tengo's influence in creating the entire subculture. Tracing the roots of indie rock culture (and its connection to other interests such as comedy and food) from singer/guitarist Ira Kaplan's days as a music critic (first at Soho Weekly News and then at Andy Schwartz's influential New York Rocker) and show-goer at Maxwell's to the band's eventual formation in 1984.
Through the course of the book, subjects such as the band's revolving door of bass players (culminating with James McNew's introduction to the fold for 1992's May I Sing with Me), love of off-the-beaten path barbeque joints and friendships with other seminal bands like Lambchop,the dB's and others (including Matador Records mogul Gerard Cosloy) are covered extensively. Through it all, the band's early struggles and eventual increasing popularity (culminating with 300,000 plus sales of 1997's I Can Hear the Heart Beating as One) and the digital revolution that has altered the musical landscape (and much else) in the last decade or so is well-covered, too.
Well-written and researched, but with the occasional minor inaccuracy and typo (about the only slightly negative thing I can say here), this is a tome well worth reading not just for Yo La Tengo's fans but anyone interested in indie rock's travails from the late '70s beginnings to today.
comments powered by