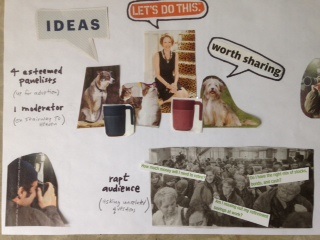 6 April 2014
Remember that British band from the 1970s, The Police Men (1)? They had a song called "Born in the 50s", and that's me. Which would make me aged 50-something. Guilty. Which would make me eminently unqualified to attend SOCIAL MEDIA WEEK. Guilty. But since our judicial system is so porous, I did attend (2).
First up was "Reinventing the Record Label: Lyor Cohen and Kevin Liles Discuss Their New Content Company, 300". This was a showcase for LC to talk on & on (& on), and often in philosophic mode. You know: "wanting the best", "nurturing and branding artists", "the live experience", "let us empower you", … KL was a little more grounded: "300's CFO should also be able to talk about talent", "I'll be the janitor at 300 if I have to", (right, and I'll be your mirror, reflect what you are…). And their how's of choosing bands to support, and whether to release singles or albums, well, it's all been said before. But I don't know, maybe a comma was left out the previous times (3). Some questions from the audience made me think that it truly is a new world order: "What's a good number of hits on Youtube before you're interested?", "Should a band tie themselves with a company before signing with a record company?". And then there was "Is radio relevant?"(4). To those of a certain bent, this was certainly an inspirational positive panel. Though I left saddened; I wish I had a kitten now(5).
A couple of days later was "The Future of Social Music" panel. There was much marketing jargon, like using "technology and algorithms to find what people want". Which includes "guessing album sales" based on the band's various online presences and audience clicks. And there was something about "partnering with the Department of Education", which makes me a little nervous (6). Though this bit doesn't (Much. Yet.): "(Music should) live inside the environment you're in". One example: you read an article and a band or song is mentioned. Well, then click to hear (wait, this is old news). Then the "older" panelists, Matthew Perpetua (Editor of Buzzfeed Music, though I recognize him as the fluxtumblr guy) and ELLIOT WILSON (CEO of Rap Radar), said, respectively, "Things have collapsed, so if you didn't grow up then, there's Youtube", and "I miss those days of THE SOURCE (magazine). … People are tweeting, being instant. So I'm being slower, more thoughtful. Yeezus was dissed at first, but now…". Very nicely said. And here was a nicely asked question, "How many free subscribers does Spotify have?", to which Michele Santucci (Label Relations at Spotify) said that she could not divulge that information.
Relatedly, South By Southwest ended March 22. And based on reading two NY Times articles, I feel expert on their activities. I thank David Carr and Jon Pareles for "A New Model For Music: Big Bands, Big Brands" and "Big Money Upends a Festival", resp. Both ripped into SXSW's same corporate heavy handedness that plagues SMW (though SMW would probably say it is "industry-friendly"). And both writers end on a positive note, listing good bands seen and giving props to Merge Records.
(1) I just made a Flight of the Conchords reference.
(2) It helps that I spoke with a very accommodating PR person at the counter, and, that The Big Takeover carries clout; the NSA knows this
(3) I just made a Marx Brothers reference.
(4) Oops, I still have my notes from the Oct 19, 2013 Radiovision Festival that WFMU put together. Its first panel was "radio stations of the future", which I didn't attend. Never mind.
(5) I often think of the adage "Man's inhumanity to bands".
(6) Wasn't there a Little Steven editorial in the Big Takeover ? Was he pressing for a music syllabus in public schools? I am very for it. And, I take this as an opportunity to say hi to Mr. Oscar Berry, my music teacher in JHS. And I know I didn't show it then, but "thank you for everything".
comments powered by