6 November 2015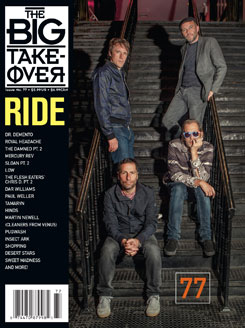 Once again the big news is that Big Takeover #77 Fall 2015 issue was completed in Brooklyn, NY, and Oakland, CA, this month! The issue stars reunited Oxford U.K. legends Ride on the cover, and features the concluding part twos of our awesome, long interviews with all four original members of the 1976-1978 The Damned (and this time 1979 bassist Algy Ward, who also talks about his days in The Saints), and original L.A. punk legend Chris D. of The Flesh Eaters plus Toronto's finest, Sloan, as well as fabulous history interviews with famed, nationally-syndicated novelty DJ Dr. Demento while catching up with Low, Mercury Rev, hot Sydney greats Royal Headache, and folksinger Dar Williams. And there're shorter chats with ex-Jam modfather Paul Weller, Tamaryn, Hinds, Pugwash, Martin Newell (Cleaners From Venus), Insect Ark, Shopping, Desert Stars, late '70s Spokane, WA greats Sweet Madness, and more!
It will begin shipping any day now, so you should see it quite soon! And remember, we only come our twice a year, every Spring and Fall, so you don't want to miss one of our jam-packed 140-page issues! Below is a quick description of its contents.
And since X-mas and Hanukkah are coming, here's the perfect gift for that music loving friend or family member, you can cross off your list early! A Big Takeover subscription—or back issues, t-shirts, CDs (Springhouse, Even Worse, Last Burning Embers, Doug Gillard, EDP, Non-Linear Thinkers), and our other fun stuff like Big Takeover beer cozies, magnets, buttons, signed posters, etc.—might be just the thing! (Even for babies and little children: in addition to our four men's and three women's sizes, we now offer six children's sizes, 2T, 3T, 4T, and onesies 6 months, 12 months, and 18 months! For the cool kid in your world!)
IMPORTANT!!: If you are a subscriber and you need to update your address, please tell us right away, as we need to have the shipping order ASAP. Send updates to me at jrabid@bigtakeover.com
And since the issue will soon be shipped to subscribers and stores, now is an excellent time to pre-order it if you would like to receive it, or subscribe if you've been meaning to, or renew your subscription if it has run out.
If you want to subscribe or renew or give the gift that keeps on giving, just go to our secure online store (and feel free to indicate which issue you'd like to start with (or have your friends start with), issue 76 (Belle & Sebastian cover), or the upcoming 77 (Ride cover), or if it is time to renew and this is your last issue, this Spring's issue #78, due in April, 2016. It's only $20 for four issues (save 23% off the newsstand price including average sales tax), or $32 for overseas, or $26 for Canada. Or, for those in the U.S. you can send us a check made out to "Big Takeover" for $20 to the following address:
The Big Takeover
1713 8th Ave. Suite 3-2
Brooklyn, NY 11215
Or if you want to pre-order just the upcoming issue 77, you can send us a check for $6 to that address (or paypal to jrabid@bigtakeover.com) or order online.
Here, again, is what's in the issue:
Interviews: Ride (cover) * Dr. Demento * Royal Headache * The Damned pt. 2 * Mercury Rev * Sloan pt. 2 * Low * The Flesh Eaters' Chris D. pt. 2 * Dar Williams * Paul Weller * Tamaryn * Hinds * Martin Newell (Cleaners From Venus) * Pugwash * Insect Ark * Shopping * Desert Stars * Sweet Madness
Editorials: Rabid: " Indie Music: From Dearth to Downpour to Deluge" * Sommer: "Re-Assessing The Legacy of The Clash…or Not." * Kelson: "Still Falling and Laughing—Tracing the Birth of Indie Pop"
Live Reviews: Bad Religion * Belle & Sebastian (+ Real Estate) * Buzzcocks * The Decemberists (+ Alvvays) * Ride * Royal Headache * The Spits * Swervedriver * The Thermals (+ La Luz) * The Weirdos (+ The Adolescents and Electric Frankenstein) * The Who
CD Reviews: Able Tasmans * Mike Adams at His Honest Weight * Ash * Lou Barlow * Courtney Barnett * Beach House * Jello Biafra & the New Orleans Raunch and Soul All-Stars * Black Watch * Cheatahs * The Chills * Leonard Cohen * Co-pilgrim * Day Ravies * D.O.A. * Donovan's Brain * Duke Ellington * EZTV * Flyying Colours * Robert Forster * Robin Gibb * John Howard & the Night Mail * Jenny Hval * Idaho * Isley Brothers * Michael Head & the Strands * Killing Joke * Lilys * Motörhead * Nada Surf * Nap Eyes * Willie Nelson & Merle Haggard * Newtown Neurotics * The Nils * Only Ones * Elvis Presley * Roger Lion * Persian Leaps * Pins * Pointed Sticks * Miranda Lee Richards * Salad Boys * Secret Shine * Shifting Sands * Shondikes * Paul Smith & the Imitations * Staple Singers * Stay * Tame Impala * Three Hour Tour * Johnny Thunders' Heartbreakers * Peter Tosh * Totally Mild * Triptides * Conway Twitty * Ultimate Painting * Muddy Waters * Astrid Williamson
Hope you all pre-order it, or buy it when it's out! And/or hope you subscribe, as that is still by far the best way to support the print magazines you love if you want them to keep going. It means a lot to them! And hope you can share the gift of reading with your friends!
Cheers!
Jack R