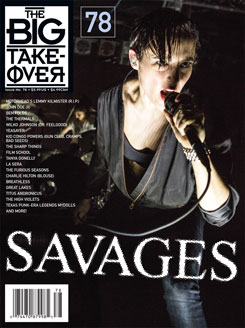 6 May 2016
Once again the big news is that Big Takeover #78 Spring 2016 issue was completed in Brooklyn, NY, and Oakland, CA, this month! The issue stars female London post-punk stars Savages on the cover, and features an "in memoriam R.I.P." previously unpublished interview with Lemmy Kilmister from Motörhead plus fabulous history interviews with Dr. Feelgood guitarist/star Wilko Johnson, X and solo great John Doe, and veteran Gun Club, Cramps, and Nick Cave & the Bad Seeds guitarist and solo artist Kid Congo Powers, as well as equally interesting sit-downs with Ben Folds, The Thermals, Yeasayer, and The Sharp Things. And there're shorter chats with Film School , Tanya Donelly, La Sera, The Furious Seasons, Charlie Hilton of Blouse, Breathless, Great Lakes, Titus Andronicus, The High Violets and reformed late '70s Texas punk-era greats Mydolls, and more!
It will begin shipping any day now, so you should see it quite soon! And remember, we only come our twice a year, every Spring and Fall, so you don't want to miss one of our jam-packed 160-page issues! Below is a quick description of its contents.
IMPORTANT: If you are a subscriber and you need to update your address, please tell us right away, as we need to have the shipping order ASAP. Send updates to me at jrabid@bigtakeover.com
And since the issue will soon be shipped to subscribers and stores, now is an excellent time to pre-order it if you would like to receive it (you can also order any of our back issues at that link!), or subscribe if you've been meaning to, or renew your subscription if it has run out.
If you want to subscribe or renew or give the gift that keeps on giving, just go to our secure online store (and feel free to indicate which issue you'd like to start with (or have your friends start with), issue 77 (Ride cover), the upcoming 78 (Savages cover), or if it is time to renew and this is your last issue, this Fall's issue #79, due in October. It's only $20 for four issues (save 23% off the newsstand price including average sales tax), or $32 for overseas, or $26 for Canada. Or, for those in the U.S. you can send us a check made out to "Big Takeover" for $20 to the following address:
The Big Takeover
1713 8th Ave. Suite 3-2
Brooklyn, NY 11215
Or if you want to pre-order just the upcoming issue 78, you can send us a check for $6 (or $20 for a subscription) to that address (or paypal to jrabid@bigtakeover.com) or order online. (Note: all foreign orders must order online.)
Here, again, is what's in the issue:
Interviews: Savages (cover) * Motörhead's Lemmy Kilmister (R.I.P.) * John Doe (X) * Ben Folds * The Thermals * Wilko Johnson (Dr. Feelgood) * Yeasayer, Kid Congo Powers (Gun Club, Cramps, Nick Cave's Bad Seeds) * The Sharp Things * Film School * Tanya Donelly * La Sera * The Furious Seasons * Charlie Hilton (Blouse) * Breathless * Great Lakes * Titus Andronicus * The High Violets * Texas punk-era legends Mydolls,
Editorials: Rabid: "Music and the Grim Reaper; Thoughts on Death, the Joy of Life, and David Bowie" * Sommer: "Why Pop Must Fight" * Kelson: "The U.K.'s Musical Doldrums of the Mid-'80s… and How it Was Saved by The Smiths, JAMC, C86, and 'Blue Monday'"
Live Reviews: Paul Collins' Beat * The Dickies * DIIV + Tamaryn * Mark Eitzel * Idlewild * The Joy Formidable * Haroula Rose * The Zombies (Original Lineup)
CD/Vinyl Reviews: Alternative TV * Bad Religion * Beach House * Bent Shapes * Black Randy & The Metrosquad * William Burroughs * John Cale * Chatham Rise & Jeff Levitz * Cheap Trick * Ornette Coleman * Defunkt * Desario * Tanya Donelly * Dråpe * Dropkick * Eureka, California * Ex Norwegian * The Fall * Flaming Lips * Golden Bloom * GBV/Robert Pollard * Lee Hazlewood * Honeychurch * Bert Jansch * Ed Kuepper * Lake Ruth * Love * Lush * Magnet School * Johnny Marr * Massive Attack * Métal Urbain * Mott The Hoople * Bob Mould * Nada Surf * Willie Nelson * New Planet Trampoline * Elvis Presley * Penetration * Gene Pitney * Emma Pollock * Iggy Pop * Reagan Youth * Rogue Wave * Runaways * Jeffrey Runnings * Sonny Sharrock * Spires * Starling Electric * Joe Strummer * Supermoon * Tacocat * Teenage Jesus & the Jerks * Trash Can Sinatras * Lucinda Williams * Wire * Wreckless Eric * Various-Still In A Dream: A Story Of Shoegaze 1988-1995 (Box)
(Lastly, thanks to our Patreon sponsors, who make our magazine and weekly radio "Big Takeover Show" at realpunkradio.com (all archived at bigtakeover.com/radio) viable, without whom we'd have to stop one or both! If you'd like to join them and help support and sponsor us, it is easily done at that Patreon site, or you can always send a check to big takeover to our address as a kind donation. We're very grateful!)
Hope you all pre-order it, or buy it when it's out! And/or hope you subscribe, as that is still by far the other best way to support the print magazines you love if you want them to keep going. It means a lot to them! And hope you can share the gift of reading with your friends!
Cheers! Happy spring!
Jack R