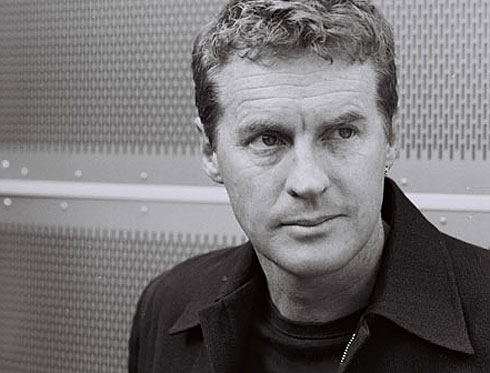 17 September 2011
Check out the New Zealand living legend Don McGlashan's live in the studio session from Brooklyn's fabulous Kennel Studio, as well as a pleasant, humorous, good 30-minute interview with me, Big Takeover editor Jack Rabid. You won't regret it! Everyone who has seen him says the same thing: McGlashan really shines with just a guitar to accompany him, and as our session and his American live concerts have proved over and over, he has no need for overdubs (overdubs are for wimps, ha ha) or second takes. His singing and songwriting is just incredibly, humbly, modestly moving.
Who is Don McGlashan?
You may have seen him opening for Crowded House on their 2008 U.S. tour; or playing last year's Big Takeover 30th Anniversary Festival at Bell House in Brooklyn; or playing with his incredible '90s New Zealand/England band The Mutton Birds on their lone North American tour back then (all four of their albums were flat out INCREDIBLE); or the music/comedy/satire band The Front Lawn, which also toured here before that and influenced fellow Kiwis Flight of the Concords to form and try something quite similar. Or you may have just gone gaga over his generous back catalog's recordings, his two great solo LPs the last two years, his four Mutton Birds albums (plus a host of live stuff), and his work with The Front Lawn and original punk-era outfit Blam Blam Blam or even the New York dance troupe The Laura Dean Dancers and percussion group From Scratch.
Not bad for a New Zealand north island classically trained musician who seems to play his amazing horn, the euphonium (which you will hear on this session, leading off the stunning Mutton Birds classic "When a Man Holds a Thing Well Made) instead of guitar on every New Zealand album I love of late, notably the last Dimmer LP (ex-*STraightjacket Fits*) and Humphreys and Keen LP (ex-*Able Tasmans*), and who makes his living composing for TV shows and Movies (for example, he wrote the score for *Jane Campion*'s award-winning film An Angel At My Table), for which he was won deserved awards on the other side of the world. I could go on all day, but the main thing is to hear him sing, and hear his talk. He's the real deal, no question. WWish there were more like him.
(for a longer bio, go here).
Or if you want to know about his most recent solo LP in my own words, here's my own review, my #3 pick from Big Takeover_ issue 65, to give you an idea of what you will be in for:
don mcglashan & the seven sisters
marvellous year (Arch Hill NZ)
Solo album two is every bit as beautifully sensuous. Oh lordy, if this writer does little else, can I introduce you to this talented man at long last? Going back to four incredible Mutton Birds (1991-2002) albums, the classically trained, mild-mannered, 50-year-old New Zealand singer-songwriter/multi-instrumentalist has written and sung music as divinely, quietly moving as the greatest by The Chills or other Kiwi countrymen—filled with understated romantic sentiment and that island nation's subconscious undercurrents. As ever, the marvelous Marvellous has tunes as drop-dead wonderful as 2006's Warm Hand_'s "Harbour Bridge" or "Toy Factory Fire," or his immortal Mutton Birds classics ("While You Sleep," "Ngaire," "Come Around," "April," the list is long!); songs so lovely, you're drawn to them like Star Trek tractor beams. Start with the crystalline guitar pop of "Bad Blood" (with its haunting "And nothing is the same, anymore" tagline), the nervous "Not Ready" (its perturbed strings forming striking counter-tension) and the playful title track. But like _Warm Hand, one could drop the needle, laser, or iTunes pointer anywhere, and be securely enveloped by its beautiful blanket of soulful sound and feeling—for this composer and evocative lyricist's pen is once again dipped in buckets of gold. (archhill.co.nz)
Plus, I play songs by New Zealand '60s stars The Fourmyula, Humphreys and Keen (ex-Able Tasmans folks), Mutton Birds, Don solo, and The Front Lawn. Listen in for sure!
And don't forget to tune in again next month, on October 12 when we present New York '60s legends The Left Banke and November 9, when we will bring you original (and still current) Sex Pistols and Rich Kids star, Glen Matlock! Only on breakthruradio.com!