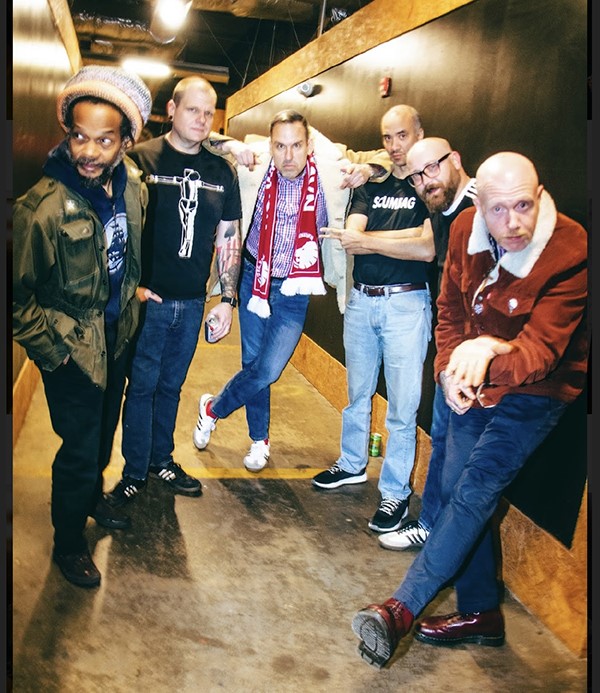 7 March 2022
"Oi street punk, punk rock, it's all good! All of that music is rock & roll from the heart and street so I have no problem with any of those labels attached to us," stated Antagonizers ATL singer Bohdan Zacharyj.
In a genre rife with the limited topics of working class ethos, street justice, and labor politics, Antagonizers ATL succeed by encompassing the hallmarks of 'street punk' without placating fans that may be unwilling to see the genre broaden itself. Incorporating politics within music can be risky and any time a group takes an uncompromising political stance, they run the risk of alienating their audience. Zacharyj maintains his objective is bringing people together by utilizing the positive impacts of music.
"I don't force politics on people because I'm not about alienating people, I want to welcome people in and share the positive feelings music can facilitate. The feedback we've been getting about our lyrics has been supportive because we don't stick to topics about drinking, fighting, paying bills and going to work and being frustrated. I think we work to be more diverse and I'm proud of that," said Zacharyj.
Antagonizers ATL released Kings five years after Working Class Streetpunk, which featured more melody than their peers and may have surprised any casual fan that judged the group solely on the record's title. For Zacharyj, judgment offers the group an opportunity to accept the challenge to slowly chip away at the paradigms that have forced the genre into a creative corner. Despite the time between releases, Antagonizers ATL have earned new rejuvenation with their growing fan base and support of their new label, Pirates Press Records.
"The overall goal with Kings was to work to become more positive. We work to highlight community issues and the pain that an individual struggles with but working to show them that they're not alone in their fight to heal and improve. We want nothing more than to have people come away with positive feelings from our band because we know everyone has experienced some kind of loss and pain but the power of music can help ease it," said Zacharyj.
Zacharyj celebrates Atlanta's community with unabashed pride, highlighting the diversity and creative support he witnesses on a nightly basis when Antagonizers hit the stage. The city has underwent a media transformation due in part to campaigns seeking to characterize it as a tech hub while actor Donald Glover's show, Atlanta shone a new positive and creative light on the city. Groups such as RMBLR and Biters*(RIP) injected the city with a healthy dose of raucous punk rock & roll and grew the DIY punk scene with independently created and promoted showcases. Indie Punk label, *Spaghetty Town Records continues adding to its roster and offering opportunities to punk's most energetic young groups while the city still receives accolades for its rich Hip Hop history. Zacharyj has certainly taken notice and was quick to praise his peers.
"I strongly believe the city has worked to put itself on the map as a music destination, for many genres. I always see groups attending each other's shows and this has spread to kind of becoming a mecca for music and unity, not strictly limited to one kind of thing. I believe people have been very accepting of the different genres of music they see locally and look proud to celebrate it and keep it going strong."
For Antagonizers ATL, a recent lineup shuffle has offered complimentary keyboards courtesy of Billy Fields which added a newfound dynamic to the group's strong sound. Zacharyj remains intent on bringing the band to as many communities as possible despite the ongoing pandemic.
"The entire music and creative arts community has been turned upside down with everything that continues to go on! It really impacts more people than just artists themselves. It trickles down to every individual/staff member within studios, clubs, agencies; the community of people that band together to help artists and get them on the road. I feel my job as a singer is to ultimately make the audience feel good and come away with something positive during trying times."
He added, "It's not easy to achieve when competing with hearing bad news everyday within media outlets but we're working at it. My goal is to help people feel rejuvenated and to go out there and live another day. I want the best for people within my scene and for those that said our music has helped in some way, it means so much to us."
https://shop.piratespressrecords.com/pages/antagonizers-atl
https://antagonizersatl.bandcamp.com/merch