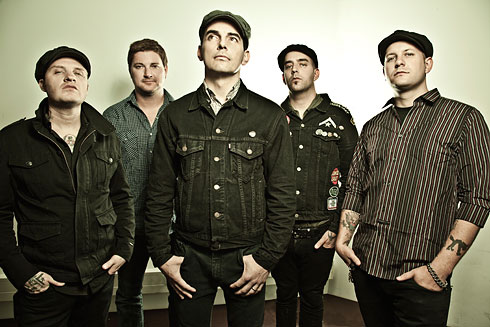 24 February 2011
The revered image of the working man has undergone several revisions, but the basic foundation of this celebrated underdog remains strong enough to traverse any music genre; from Folk to Punk. The appeal of the working class hero has broadened as the gap between rich and poor widens.
Boston's Street Dogs have crafted spirited punk anthems reminiscent of celebrated working class author, Nelson Algren. As Algren chronicled the daily plight of urban sprawl and the street hustler's fight for survival, Street Dogs transformed Algren's ghetto defendant into a symbol for collective empowerment.
"We worked so hard to exceed our humble expectations. We're grateful people have taken time out of their lives to see us and buy our shirts with this economy. We worked together to create something which isn't beholden to radio play or shaking hands with the devil," affirmed singer Mike McColgan.
Upon first glance, McColgan could be simply dismissed as another armchair proletariat dressed in punk clothing, but the band's unabashed shouts in reply to apathy, corporate greed and economic apartheid resonate as the recession deepens. The challenge ahead now lies on how to build upon familiar themes without sounding stale.
"Kids are scrutinizing lyrics and looking back at the history of punk. A lot of kids are slowly getting tired of processed music and they want something more edgy or brash. You have to work harder with this generation because you can't go onstage saying the same thing; you have to be savvy," said McColgan.
Street Dogs may borrow Sham 69's terrace shouts of yesteryear, but McColgan turns the anger into purpose. New songs like Up The Union and Hang 'Em High may be populist in message, but the sincerity remains unquestioned as threats to job security and unions have recently increased.
"We've partnered with AFL-CIO and we hope to spread the message of organizing labor. I get e-mails from fans asking about labor organization. We send them to resources that help them and some fans are responding to it. We try to stand up for what we believe in and put our money where our mouth is," stated McColgan.
As headlines continue to chronicle the recession, the band's material responds appropriately.
"Within the song Up The Union, we support the Employee Free Choice Act. It's legislation for worker's rights and it's still alive in committee. I'm not an idealist, but I believe people should have the right to vote on unions. There used to be a time in America with common decency toward workers but the GOP has routinely demonized organized labor," said McColgan.
McColgan clarified that Street Dogs didn't believe they were going to change the world, but he stated that a diversified, organized labor workforce could ultimately prevail.
"Women need to be more involved and the AFL-CIO has made attempts to do so. It's a sad state of affairs in America right now, but I think there will be a resurgence in collective organizing," he said.
As Street Dogs continue to rest their collective finger on the pulse of civil unrest, recent headlines have captured mass teacher protests in Wisconsin in response to the governor's proposed limit on collective bargaining. Coupled with the successful protests in Egypt, Street Dogs are providing a much-needed soundtrack to an increasingly receptive public.
"I followed the protests(in Egypt) closely. I think what happened there, it's only a matter of time before it happens here. In the U.S. solidarity has been fragmented but I do think it's only a matter of time (before people stand up). I think what things would be like without organized labor and we would regress to the 1920s; no worker safety or advocacy," he said.
Mike McColgan first made his mark with Boston's Dropkick Murphys. McColgan carved out a familiar niche parallel to England's Angry Young Men literary movement of the 1950's. Both mediums championed the working class and explored the competition between identity and conformity. But just as Dropkick Murphy's were poised for cracking a bigger audience, McColgan departed to pursue his dream of becoming a firefighter.
"My uncle was a firefighter and I was blown away by it all! I looked up to firefighters and respected the job. In 1998 I wanted to take the test, but I was still with Dropkick Murphy's. I told the band I was ready to move on because I never wanted to think about what if or should have would have if I didn't pursue my dream," McColgan reflected.
His former band earned mainstream praise and elevated success with their recent contribution to
The Departed
soundtrack. McColgan stressed that despite rumors, both Dropkick Murphys and Street Dogs have nothing but mutual respect for each other.
"After Dropkick Murphy's, I found myself being a fan. They've done well for themselves and I can personally attest to the fact that they have remained true."
After serving as a firefighter for 4 years, McColgan renewed his passion for music and Street Dogs put Dorchester on the map with 2003's Savin Hill.
"We've really been fortunate to record how we want. With this new self-titled album, everything flowed so organically. There was something special going on during pre-production and I'm proud of all our records, but we feel this newest album really represents who we are."
McColgan's dedication to the subculture began to expand after Savin Hill as future songs portrayed the struggle of U.S. troops. McColgan proudly served in the armed forces and believed his experiences made him a more defined individual. Street Dogs occasionally attract fans who actively serve and this broad spectrum of support stands in marked contrast from typical punk fans in attendance.
"If you go back to World War I and II and the defeat of totalitarianism, those victories allow us to be free today. I want to stress that war is brutal and with few exceptions never achieves what it sets out to do, but the reality of the world calls for armed forces. I wish we were in a peaceful place and didn't have that need," said McColgan.
McColgan's stint in the armed forces undeniably injected realism and humanity into songs such as "Back To The World" and "Final Transmission."
"I enlisted in 1988 but didn't deploy until 1989. I went to Germany and served from '89 to '91 when I was honorably discharged. This gave us [Street Dogs] a leg to stand on and many male and female soldiers have thanked us for writing songs like "Back To The World"," shared McColgan. He was quick to add that in no way does he advocate violence or take a hard line 'Go America!' approach.
"I don't think we [Street Dogs] support war. I have a sympathy and empathy for those who served."
As America continues to face economic uncertainty and wage an unpopular war that has been compared to Vietnam, Street Dogs have been able to consistently tour and have fans gravitate to their message. During recessions, art always suffers but the band's tenacity has been rewarded with packed clubs.
"We know it's hard to get people out now because of financial strains. We work to treat all of our fans with dignity. We hang out with them and make sure we're on equal footing with them because we ain't rock stars," concluded McColgan.