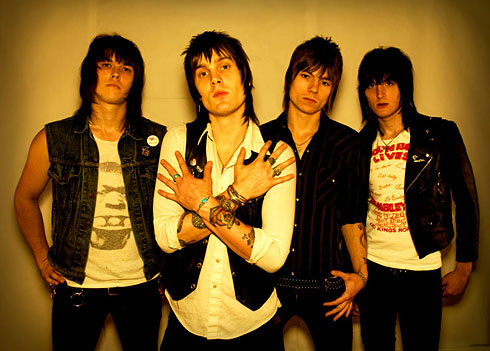 14 March 2011
In a world where soundtracks for nights of lust, fast cars and harmonies are dwindling, The Biters have brazenly resurrected 70's rock swagger with their delinquent twin guitar attack. Front man Tuk and Matt Gabs have crafted rebellious love songs by mixing 60's garage harmonies with punk rock's punch for fans who aren't ashamed to still spin girl group 45's.
"I don't give a thought to pigeonholing music because a good song is a good song," affirmed Tuk.
The former guitar slinger for The Heart Attacks and Poison Arrows has broken free from the drug induced haze that flat lined both bands. Sounding fresh and focused, Tuk's dedication revealed a young rocker with a renewed work ethic.
"I learned a lot of life lessons from The Heart Attacks. I've felt shitty for so long that to do things like that again would be really detrimental to me and The Biters."
Holed up in a Brooklyn dive bar, The Biters commanded the stage that night with a burst of melody and sonic swagger. You could almost picture giddy girls on the dance floor with stiletto toting boyfriends. Almost.
What's impressive is how the band delivers raucous, yet tight live shows while uniquely making older songs sound energetic and ultimately, brand new.
"If you think about it, this is the first time I've fronted a band, with singing. I just go for it and I'm still learning!" laughed Tuk.
Seizing on the buzz of their self-titled debut, The Biters expanded on their soon-to-be hit, Hang Around by beating the sophomore slump with the infectious It's Okay To Like Biters EP. By cutting wait time between releases, The Biters have managed to keep their name fresh while satisfying the demand from new fans. Their consistent output is impressive for a band who debuted over a year ago.
"Our new record, All Chewed Up features seven songs and it's a little more cohesive because all the songs tie together because the lyrics are a narrative; they tell a story about a lifestyle," said Tuk.
He was happy to share the inspiration behind the new record, and reflected how rediscovering old influences has made positive impacts on his songwriting.
"I was watching the old Matt Dillon movie Over The Edge. I first saw it when I was 11 and I was blown away by the soundtrack! It was then that I knew I wanted to play music; it really sparked me," Tuk reflected.
The new record features some harder tracks, such as The Bitch Wants More complete with axe slinging leads to boot. Displaying some new vocal growth and returning to piano interludes, The Biters score again because of how natural the harmonies blend. With momentum on their side, not even the distance between members can slow 'em down.
"It hasn't been a big deal; Gabs flies from Baltimore to Atlanta and we rehearse before hitting the road. There's no real worry cuz real musicians plug in and play. As for music right now; I think there's so much bullshit flooding the market right now that the only way to stick out is to put out quality shit and keep it coming," laughed Tuk.
The ongoing recession has stalled the growth of new bands, as well as hindering established artists from lengthy tours. The Biters made it a point to hit major markets and tour with well-established friends.
"We hit the road for 10 days at a time. We do really well in cities like Chicago and Milwaukee but making an impact in New York is really hard; it's always been hit in miss for us," said Tuk.
He added that The Biters hometown of Atlanta has undergone radical changes within a short period of time.
"In 2005, we had a really great punk scene and I remember The Heart Attacks playing to like 600 people! Now, there aren't any punk bands and people are very focused on being hip and trendy. Right now, we've managed to play up to 250 people."
Tuk believes the internet is the culprit for fragmented music scenes and the impossible pace to which music currently moves to.
"Things move so much faster and because of this pace, a lot of shitty bands have moved in making it harder for quality bands to fight through the herd."
Despite the double edge sword of the internet, no band can truly build an audience without properly utilizing it.
The Biters are currently residing on Underrated, a small label based out of a studio with a handful of releases to its credit.
"Where else were we gonna go with labels folding left and right? We're staked by Aaron who's a real nice dude that believes in us," said Tuk.
The partnership has proven to be beneficial as the band prepares to release_ All Chewed Up_ on March 22nd.
"We do pack records ourselves and we work hard to secure guarantees with clubs and pack 'em as best we can," he said.
In addition, The Biters secured an endorsement with Straight To Hell Clothing.
"It's run by the guy who started Full Breach Kicks, which put out the Poison Arrows single."
The only bump in the road thus far for The Biters has been the departure of their original bassist.
"We got my brother Travis now and I don't have to worry about him. He's not a wild card and he works really hard. On the road, it ain't party time for me like it was when I was in Heart Attacks. That ain't my goal now because I take this very seriously," stated Tuk.
The Biters web site
The Biters on MySpace
Underrated Recordings